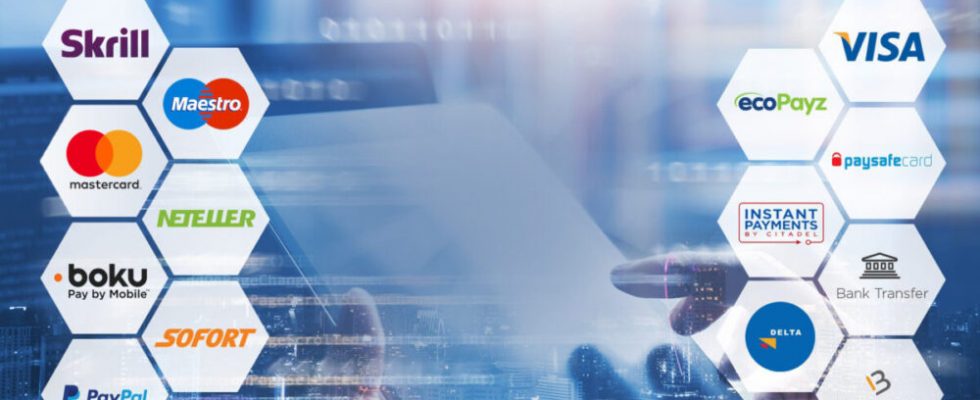 Getting to grips with online casino payment methods isn't quite the minefield it appears. If anything, the fact that a casino accepts an endless list of payment methods is all to its credit.
The more flexible an online casino is where payments are concerned, the better.
Still, an overview of the basics could make the whole thing a little easier to navigate for newcomers. In this post, we'll be taking a look at some of the most important aspects of online casino payments, including the various payment methods players can choose from.
Minimum Deposits
Before getting started, it's worth checking out the casino's minimum deposit requirements. Most online casinos will set the minimum deposit at £10, but you can also find £5 deposit casinos and slots to entice you in with a low deposit commitment. Elsewhere, others impose a minimum initial deposit amount of £20, or in some instances nothing at all.
Debit & Credit Cards
As with most online websites, credit and debit cards are the most popular method to deposit and withdraw funds. The most widely-used are VISA and MasterCard, though you will also see some casinos accepting American Express, Diners Card, Maestro, Electron and more. 
Interestingly, in Ireland, the UK, and Australia, funding gambling using a credit card is no longer allowed. On top of this, in some countries, the bank will refuse to process card transactions if the company is known to be a gambling entity. 
It's therefore worth ensuring you understand your country's rules and regulations on gambling, along with those of your bank. 
Prepaid Cards
The popular prepaid cards come in many forms. NeoSurf, Paysafecard, EntroPay, EcoVirtualCard, and AstroPay Card to name just a few, which come with 16-digit codes used to top up your casino account. 
Prepaid cards are popular because they offer a certain element of anonymity. The payment you make is to the prepaid card company, which means that no gambling transactions will show on your bank statements.
The main drawback with prepaid cards is that a fee is usually payable to the card's provider. In addition, there is usually no option for withdrawing to a prepaid card. 
eWallet Casino Payments
Some of the most popular eWallets include MiFinity, PayPal, Neteller, and Skrill. Not to mention MuchBetter, which won the EGT 2021 Innovation in payments solutions award. eWallets are perfect for multi-currency transactions, they are cost-effective, fast, and offer highly secure transactions.
Depositing to an online casino from an eWallet is generally free, and the transaction is always processed instantly. Conversely, when withdrawing your winnings, the eWallet may take a percentage. For many, that small percentage fee is a small price to pay for the anonymity and speed of paying with an eWallet. 
There may also be a fee payable when converting currencies using an eWallet, so be sure to check the terms, conditions and policies of your provider.
Bank Transfers
While some online casinos accept bank transfers, they are not usually the recommended payment method for online gamers. This is for two reasons – the first of which being the potential for processing times to be somewhat elevated.  It can take several days to process a deposit by way of bank transfer – even longer for withdrawals.
In addition, most casinos that support bank transfers charge fees and commissions for withdrawals. This may be as little as 5% – or a fixed amount of say £5 – but it's still a charge that will eat into your bankroll. 
There are also additional security issues to factor in with bank transfers, which are nowhere near as secure or traceable as card payments or online wallet payments. 
Cryptocurrency
A recent study by SoftSwiss, an iGaming and sports betting platform provider, showed that cryptocurrency betting is catching up with fiat currency betting. See the full SoftSwiss crypto casino betting trends here.
Crypto betting is popular because some of the top brands already offer cryptocurrency enabled games. This includes Play'n Go, Evolution, Ezugi, Pragmatic Play, Spinomenal, and more. With that, players can bet using BTC, BCH, ETH, XRP, LTC, USDT, and other cryptos. 
Another reason cryptos are now popular is because of the fast deposit/withdrawal times they offer. Deposits and withdrawals take 1 to 10 minutes to process depending on the cryptocurrency's network speed. Furthermore, the fees paid to the network for the transaction are so low that they are often unnoticeable – if they apply at all. 
Playing with crypto coins is the same as playing with any other form of currency.  The difference being that with crypto, you're playing with one of the most volatile assets on the face of the earth. One that could climb or crash in value at a moment's notice.
Frequently Asked Questions about Online Casino Deposit Methods
Which deposit method is most commonly used?
In general, debit and credit cards are used the most, but this depends on the country you are in. Some banks in some countries do not allow card transactions with online casino companies.  Where this is the case, eWallets and prepaid cards tend to be the more popular option.
Which deposit method is the most secure?
Security is down to your own perception. Every deposit option connects to a secure and encrypted gateway. Yet, some people would rather not enter their credit/debit card details into an online casino, so eWallets may be the better option. Others do not want gambling transactions to appear on any of their financial accounts, so they use prepaid cards.
Which deposit method is the most cost effective?
Transactions with eWallets often incur charges on deposits and withdrawals, which tend to be comparatively low. Cryptos come with extremely low network fees, but purchasing and selling crypto comes with fees. Prepaid cards come with a small fee paid to the provider which is how they make their money. In general debit and credit cards come with no fees, and so could be considered the most cost-effective.
Can I claim a casino bonus with any deposit method?
It depends on the casino. Most casino bonus offers accept any payment option, while some casinos may exclude Neteller, Skrill, or cryptos. Other casinos may offer an exclusive bonus for a particular payment option. It's therefore important to make sure you always read the casino's bonus terms, in order to ensure your preferred payment method is eligible..
You might also find the following articles interesting:
TRENDING POSTS