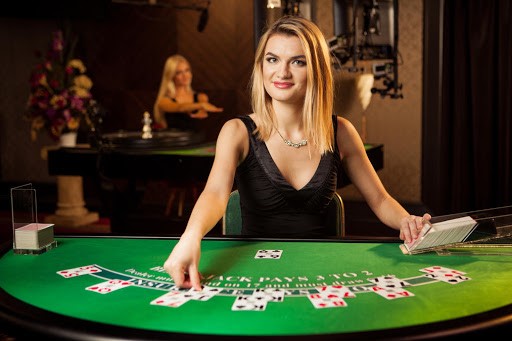 Live-dealer casino gaming has been around for some time. In fact, the first live-streaming casino experiences make their official debut all the way back in 2006. This means we've been enjoying live-dealer gaming in some form or another for over 15 years, and the whole thing has come a long way in the meantime.
Even so, the live-dealer casino gaming landscape remains rife with myths and misconceptions. Some of these have the potential to be off-putting for newcomers, and could really do with being put to bed.
With this in mind, here is a brief overview of six common myths about live-dealer casino gaming, which continue to perpetuate today:
You have to bet far more at a live-dealer table 
First up, it is assumed by many that in order to take a seat at a live-dealer table online, you have to be willing to put more of your money on the line. This perhaps stems from the fact that you can't play live-dealer casino games for free, as is the case with classic software-based online games. 
In reality, it simply isn't true. Minimum stakes vary significantly from one table and casino to the next, with options available to suit all budgets.  If you want to play live-dealer games from as little as £1 per hand, you can do just that.
High-rollers naturally flock to the kinds of live-dealer games where huge sums of money change hands on the flip of a card.  Even so, these make up just a tiny proportion of the total live-dealer gaming landscape.
Contrary to popular belief, most online casino gamers prefer to play with comprehensively modest stakes. 
The odds are never as good
Casino operators who employ talented posts to oversee live-dealer games need to pay them a fair wage. As these are often highly skilled and experienced individuals, said 'fair' wages can be surprisingly generous.
Consequently, some assume that the odds are disproportionately tipped in favour of the house, where live-dealer gaming is concerned. As the establishment needs to raise extra money to pay its staff (compared to running software-based games), this additional money is collected from customers.
In truth, the odds of winning (or losing) when playing at a live-dealer table are exactly the same. In order for a casino to tweak the odds in its favour, it would basically have to break the rules of the game in question. 
From roulette to blackjack to baccarat and so on, the odds are set in stone with every hand played…period. Whether commissions are charged is down to the casino to decide, but under no circumstances would a provider get away with essentially 'cheating' its live-casino customers out of money.
You can count cards where real decks are used 
Real decks take the place of computer algorithms at the live-dealer blackjack table.  As a result, it's theorised that you could technically count cards in exactly the same way as in a regular casino.
There's a degree of logic to this suggestion, but it sadly holds no truth whatsoever. This is due to the fact that deck penetration never gets nearly far enough to facilitate card counting with live-dealer gaming.
To count cards successfully, deck penetration (as in how far into the deck the dealer goes before shuffling) needs to be at least 50% to 75%. With the average live-dealer game, the dealer will shuffle the cards long before deck penetration reaches even 25%.
The simple fact of the matter is that seasoned online casino brands are wise to every trick in the book.  If there was any realistic way of parting them with their money, it would have been exploited long ago.
You cannot play live-dealer casino games for free
You can, but not in the traditional sense. You cannot simply rock up to a live-dealer table and sit down with empty pockets, in order to take part in the action with the other paying customers.
But what you can do is take advantage of as many live-dealer bonus offers and incentives as you like. Some of which (on occasion) come in the form of no-deposit bonuses, where you benefit from a small amount of money for nothing on your part. 
You might only be handed £10 or even £5, but it's better than nothing. 
Once this money is in your account, you can head to the live-dealer section, and play to your heart's content. Terms, conditions, and wagering requirements make it practically impossible to win anything, but still – you're technically playing live-dealer games for free. 
Live-dealer casino gaming is not for beginners 
As a basic mark of respect (and common sense), it is at least worth familiarising yourself with the basics ahead of time.  If nothing else, this will make the whole thing less intimidating for you.
But even if you head to a live-dealer table with zero experience, you could still be in for a fantastic time. As with all online casino games, the software interface makes it practically impossible to do anything wrong.
You'll be presented with the same guiding hands you would get with standard online blackjack, along with automated betting options and so on. It's the classic 'point and click' interface you'd normally get online, coupled with a wealth of helpful resources, FAQs, and so on. 
It helps to have at least some experience to get the most out of the game, but it certainly isn't mandatory.
It's all too buggy and unreliable 
Last up, anyone who experienced live-dealer casino gaming at the very dawn of its creation would be forgiven for buying into this. Back in the day, live-dealer gaming technology was rudimentary at best, and made for an often impossibly buggy, laggy, and generally frustrating experience.
This was perpetuated for some time, but thankfully was confined to history at least a decade or so ago. 
Today's live-dealer gaming technology is no less than spectacular. 100% reliable and flawless in its efficiency, with extensive safeguards in place to protect those who are cut off mid-game. 
Long story short – if it has been some time since you've checked out live-dealer gaming for yourself, you could be in for a pleasant surprise. 
You might also find the following articles interesting:
TRENDING POSTS