If you know Casino Papa, you'll know that we're all about injecting as much honesty and transparency as possible into the world of online gaming. Contrary to popular belief, it's not actually an industry that's populated predominantly by dodgy dealers and con artists. In fact, the overwhelming majority of online gaming brands are 100% legit – major and minor names alike. Still, with such glaring differences from one brand to the next in terms of quality, value for money, general enjoyment and so on, you still need to be proactive when it comes to the choices you make.
Which is why along with carrying out in-depth reviews of any many operators as possible, we also occasionally like to review the reviewers. That is, point your attention the way of the kinds of sites that can be extremely helpful when it comes to making the right choice.
Why do we do this? We'll tell you why; quite frankly because way too many review sites aren't all they're cracked up to be. Put simply, if an online casino or sportsbook pays you to say good things about them, the result isn't exactly a review you can count on as honest. Worse still, if you only ever publish write-ups on the kinds of brands that make it worth your while to talk them up, you end up with a 'review' site full of contrived and biased nonsense. From the perspective of the consumer, a pretty useless and misleading resource to say the least.
Instead therefore, you need to make sure that the reviewers you listen to are those that both know and care about the subjects they're covering. And in the case of Best Betting Sites, we're happy to say that these guys tick all the right boxes.
Dissection Dedication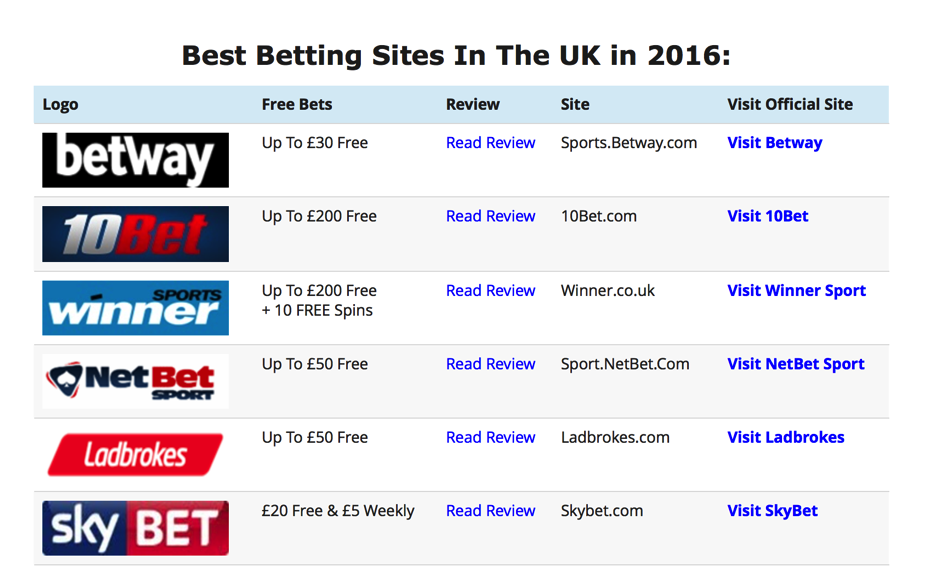 Just as is the case with your friends right here at Casino Papa, the folks behind this particular site built an operation solely dedicated to reviews, ratings and recommendations. They don't offer any games, products or services themselves, other than helpful pointers when it comes to choosing online gaming sites. Established in 2016, they're brand-new to the market and slowly but surely building a formidable collection of critiques. What's more, being a newcomer means being able to take a fresh and untainted look at the market from a 2016 perspective, dissecting sites and services in accordance with what's demanded and expected from today's online gaming community.
So, what can you expect to find on their side of the fence? Or more importantly, why bother giving them a visit?
Well, first of all there's the fact that they're 100% independent and have no direct brand ties whatsoever. Exactly in the same way as we work right here, they carry out their reviews with no bias one way or the other, in order to produce reviews and ratings you can trust. As it's of no consequence to them to be brutally honest about the shortfalls of the sites they review, you can bank on them to be exactly that. Rather than sugar-coating everything to make every provider on Earth sound equally flawless, good betting sites reviews tell it like it is.
Or at least, most of them do.
Along with this, the site as a whole is split into individual sections for sports betting, mobile betting, casino sites, poker rooms and so on. So no matter what it is you're interested in, you'll find your way to what you need in no time. You can find out the ins and outs about the available sites and services, before hitting the relevant links and making your way over to check things out personally.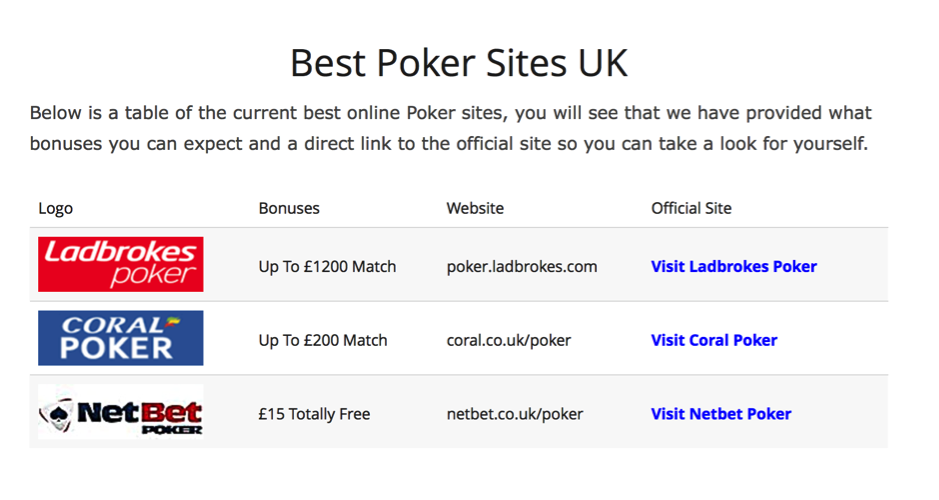 For the time being, the vast majority of the reviews can be found in the sports betting section. As it's often difficult to find sportsbook reviews that are entirely honest and un-fabricated, it's a pretty useful resource for anyone into online sports betting. Find yourself the best deals, the most trustworthy sites and the very best odds, taking the guesswork out of the equation. And as already touched upon, there's also a page dedicated to directing punters to the very best mobile sports betting sites/apps on the web too.
Points to Consider
If you're new to the idea of online gaming and gambling, you might not know what matters when it comes to choosing where to take your business. Sites like Best Betting Sites exist to make things as easy as possible, but at the same time you need to know exactly what it is that matters. It's all well and good being provided with a ton of helpful information – it's something else to know what you're supposed to do with it.
So for those still finding their feet and anyone in need of a little direction, here's a quick rundown of a few points to consider, before signing up with any service provider:
Bonuses: First of all, pretty much every sportsbook, casino, poker room and bingo site will offer some kind of a welcome bonus to attract new customers. It could be a free bet, it could be an extra £10 added to your account or it could (literally) be a 100% match bonus up to £1 million. But the thing to remember in all instances is that terms and conditions very much apply. Sometimes they're lenient, other times you'd need to wager 50X or 100X the bonus amount before being able to access a penny. So even when a bonus looks generous, ALWAYS read the terms and conditions before going ahead.

Odds and Margins: In the case of sports betting, the odds and margins of the brand in question will make a big difference to any wins you pick up along the way. They may not always be made as clear as they could be, which is why this is something to take note of in the reviews you read. Unless they can promise you market-leading odds and competitive margins, you're probably better off somewhere else.

Performance: As for the performance of the website itself, think of it this way. Imagine you were literally one spin or one second away from a £100,000 win, only for the website to crash out on you. Frustrating? More like soul-destroying, but the kind of thing that can and does happen with poor software and substandard platforms. If the reviews you read don't sing the praises of the platform's performance, you're taking a risk with every penny you spend.

Safety and Security: Likewise, it's important to remember that each and every time you submit or release any kind of personal data whatsoever, you are putting your safety and security in the hands of the site you're using. If they don't safeguard your data with military-level protection at all times, you've no idea if or when it might fall into the wrong hands. And when it does, you might just be left with one hell of a mess to clear up.

Customer Service: Last but not least, one crucially important element in every instance is the quality of the customer service package. Can they be contacted 24/7? Do they have a contact telephone number that won't cost you a fortune? Do they even speak your language? All points that must be considered, given the fact that sooner or later it is likely that you will need to contact the customer care team for one reason or another.
Customer Reviews and Testimonials
To round off with one very important point, it's surprisingly easy to be misled by customer reviews and testimonials – especially when it comes to online gaming and gambling. The simple fact of the matter is that if you hammer the name of any casino or sportsbook into Google, you'll find plenty of entries accusing them of scam tactics or generally dodgy dealings. All of which can be pretty off-putting, but there are a couple of important things to remember here.
First of all, people in general are far more inclined to broadcast their opinions when they've had a negative experience than a positive one. While perhaps one in every 1,000 satisfied casino customers will make the effort to pen a review, pretty much every single customer not happy with what they've encountered will share their thoughts and musings with the world.
In addition, when you take the time to read the specifics of quite a lot of the negative reviews doing the rounds, it becomes painfully apparent that those involved simply didn't fully read the terms and conditions (see above) before getting started. They thought the offer of a "£5,000 Welcome Bonus" was free money, only to react with rage when told they'd need to wager £250,000 of their own money before being able to make any withdrawals. Sure, it's a harsh term, but if it's there in black and white and you sign to it, you've only yourself to blame!
Which is why we give our full backing to the kinds of impartial and independent review sites that have nothing to gain or lose by digging deep and showing sites and services for what they really are. Find a handful of independent review sites you can trust and the whole process of selecting the best gaming sites on the market becomes a walk in the park!
You might also find the following articles interesting:
TRENDING POSTS