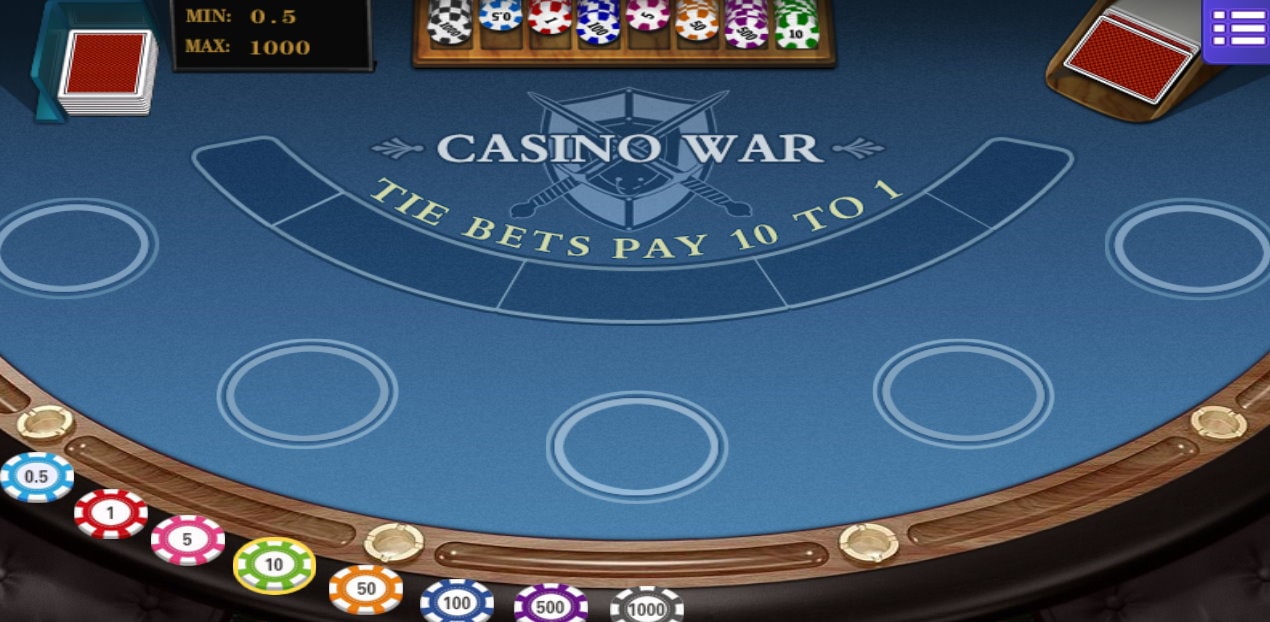 Most people will remember the game 'War' as perhaps the first card game they were ever introduced to as a child. By a huge margin, War is just about the easiest card game on the face of the earth. Hence, it should come as no surprise to learn that Casino War is also probably the simplest casino table game in the history of gambling.
The long and short of it with Casino War really could not be easier. A single card is dealt to everyone in the game, including the dealer. If the card you are dealt has a higher value than the dealer's hand, you win. If the dealer's card is of a higher value, you lose. 
Things get particularly exciting if the card you are dealt has the same value as the dealer's card, which is when you get the chance to 'Go to War' and attempt to beat the dealer a second time with a second hand.
As you've probably figured out by now, Casino War is a 100% chance-based game with absolutely no skill involved. Not that this is to its detriment – it's actually where the fun and enjoyment of the whole thing lies. Nobody knows what's going to happen next and nor does anyone have an advantage over anyone else.
Even if you've never set foot in a casino before, you've just as much chance of winning at a Casino War table than anyone else.
Let's take a look at this super popular and exceptionally simple casino classic in a little more detail. 
What is Casino War?
In 1994, the industry introduced a wide variety of amusing casino games. Many of these games became all-time classics and are still available today. For example, you have the fantastic Let It Ride and the endless Three-Card Poker. 
The industry subsequently took the classic War card game and adapted it to become an amusing and exciting version of the old one. It is no longer just a family-friendly card game played with no real stakes to speak of, other than the bragging rights of winning.
Today, Casino War is a fully-fledged casino table game of epic proportions, where significant sums of money can and often do change hands on the turn of a card. Though it's also possible to play with the bare minimum stakes, if you're more about enjoyment than putting wads of cash on the line.
Basics of Playing
Whatever your preferred casino table games, you can now play them to your heart's content 24/7 on sites like Comeon. But what's important to remember with online casino gaming is just how useful it can be for newcomers.
If you're completely new to Casino War (or any other table game), it makes sense to familiarise yourself with the basics online. After which, you're guaranteed to enjoy a much more confident and perhaps successful experience when heading out to a real-life casino.
There's nothing you can do to tip the odds in your favour with games of chance like Casino War, but you can at least reduce the risk of heavy losses by getting to know the rules.
 When you start, you need to place an ante bet. In most cases, it would be as low as £5. Players can use the tie option and add an additional bet, as it pays 10:1 on your bet when you have identical cards with the opponent.
The basics of the online game can be easily explained. You play a premium high card contest against the dealer. It is played with a standard 52 deck card set – no different to any other deck of cards. The dealer will take two cards, one for themselves and one handed to you. The one that has the better card wins. When you win, you get money equal to your ante bet. When you lose a hand, the chips are won by the house.
As previously touched upon, this is a card game that gets all the more interesting when you and your opponents are handed cards of equal value. If you choose to give up, you receive half of your ante bet by default. If you continue, you have the opportunity to beat the dealer with the draw of a second card. Though in this instance, you only get to keep the additional bet and lose the original ante.
But as this is better than losing or simply getting half your money back, it's a tempting gamble to consider.
A Reasonable House Edge
Another point of appeal with Casino War is the way in which it has a genuinely reasonable house edge. In fact, most gamblers aren't aware of the fact that the Casino War game has a relatively low house edge when compared to most other table games.
With games of pure chance like this, the odds are usually tipped very favourably in the direction of the house.
With Casino War, it totals to 2.88%, giving you a huge advantage compared to some other games. For Example, Three-Card Poker comes with a house edge of 3.37%. Other games such as Big Six Wheel has a house edge of 11.11%. 
Given the fact that you can play and win Casino War without having to learn any complex rules or bring any skill to the table whatsoever, this is a pretty decent house edge. 
Choosing a Reputable Casino
If planning to give Casino War a shot online, the importance of choosing a safe and reputable casino cannot be overstated. Always conduct the following checks before deciding which casino to sign up with:
Licensed and regulated to operate in your area
A decent introductory bonus without excessive wagering requirements
Dedicated customer support available at key times

 

An established track record and plenty of positive reviews
Amicable deposit and withdrawal policies

 

Gaming software from the world's most renowned developers
If in doubt, browse what's on offer at the casino and try out a few games for free, before depositing funds in your account. 
You might also find the following articles interesting:
TRENDING POSTS