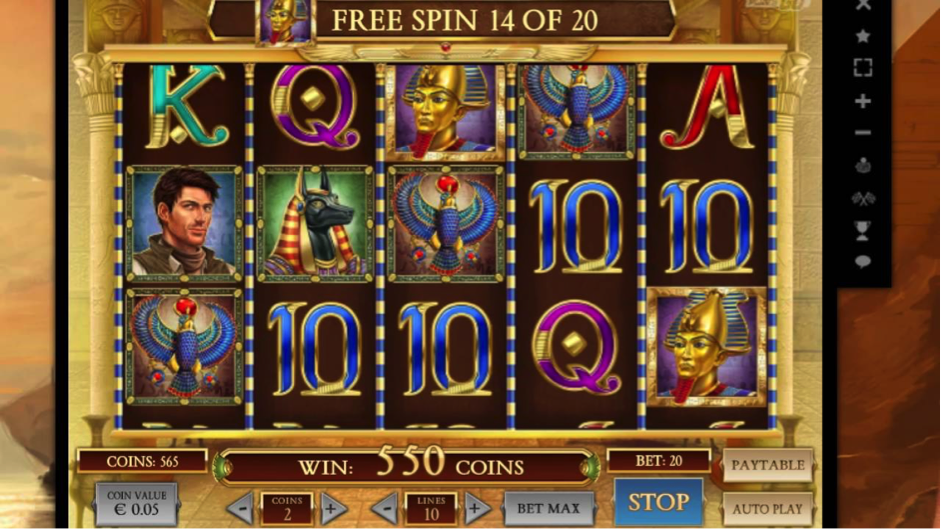 There's a wonderful thing happening right now in the world of online slots. With more people getting involved in online casino gaming than ever before, developers are responding with the most extraordinary online slots the world has ever seen. And it's a cycle that's set to continue – all for the benefit of gamers worldwide.
But even in an era where things are changing and evolving at a frantic pace, certain standards remain. One of which being the popularity of certain online slot themes – examples of which include popular movies, cartoons, gaming franchises, sports, outer space and so on. All incredibly popular, but the undisputed ruler among the best online slots in the UK remains the Ancient Egyptian theme.
The British have had an interest, perhaps even a borderline obsession, with Ancient Egypt for over a century, ever since the nation's top archaeologists started to explore the ancient civilisation and the tombs of its pharaohs. Even now, the British Museum hosts the largest collection of Egyptian artefacts outside of Egypt. All of which has made its mark on popular culture in the UK, with the Ancient Egyptian theme having been adopted by any number of popular gaming and movie franchises over the years.
Exactly what it is about Ancient Egypt that has such appeal and allure is as mysterious as Ancient Egypt itself. Nevertheless, it's a trend that isn't likely to disappear anytime soon. As a result, major developers continue to create new and improved Ancient Egyptian slots, with that all-important touch of 21st century magic.
But which are the very best Egyptian themed online slots in the UK right now? With such a huge library of slots up for grabs, which Ancient Egyptian experiences are topping the table among gamers in Britain?
There's a pretty huge list of quality Ancient Egypt themes games out there, but there are three that never fail to amuse, entertain and even inspire:
3. Temple of Tut
Launched in the middle of 2018, Temple of Tut by Microgaming – via JustForTheWin – landed with sizeable fanfare and was an immediate smash hit. Boasting wilds, super reels, a free spins feature, and a nice-and-easy ten paylines, Temple of Tut offers simple but rewarding gameplay for players at all levels. After falling down in the rankings to make way for new games – as many good slots do – it has since experienced a resurgence in 2019. Perhaps due to a sudden surge in interest in the star of the show. This summer for example, there's been a lot of news covering Tutankhamun – including the sale of a brown quartzite bust of the young king at Christie's London auction house for £4.7 million. Not to mention, the announcement that Tutankhamun's coffin will be restored for the upcoming Grand Egyptian Museum.
2. Legacy of Egypt
Few online slot games are as ambitious in the exploration of a theme as Legacy of Egypt, which it's something gamers seem to appreciate. Despite being released in April of last year, the Play'n Go title remains a hit in the UK. The game features pyramid-centric free spins, a free spin multiplier, the Wheel of the Gods, and iconic symbols like the Gods Ra, Bastet, Sobek, and Anubis. Not unlike the deep exploration Assassin's Creed Origins, Legacy of Egypt tries to bring to life as much of Ancient Egypt as it can. Nevertheless, its main appeal to slot gamers is its high volatility…and its 450,000-coin jackpot.
1. Book of Dead
Last but not least, the undisputed king of Ancient Egypt-themed online slot games in the UK (and perhaps the king of all slots) is Rich Wilde and the Book of Dead. Ever since its 2016 launch, slot gamers all over the world have gone wild (no pun intended) for this astonishing Ancient Egyptian experience. Here, the Ancient Egyptian theme is used as the setting for the explorer's latest adventure, as he sets out to uncover the fabled tomb to unveil its secrets. With a lofty 96.21 percent RTP (return to player), high volatility, ten paylines, and a 500,000-coin jackpot, it's really no wonder Book of Dead is among the most popular games in the UK.
Tips for Choosing an Online Slot
Online slot gaming is all about enjoyment, and themes play a major part. However, there's more to choosing the perfect slot for you than aesthetics alone. It's always better when a slot looks good, but we always recommend prioritising the following:
RTP Rate: As touched upon above, a slot's RTP rate indicates how much money the slot returns in the form of prizes. In the case of an RTP rate of 95%, this would mean £95 out of every £100 is paid out – just £5 being retained. The higher the RTP rate, the better.
Volatility: There's no 'right' or 'wrong' volatility for a slot – it's all about your personal preferences and bankroll. High-volatility slots have the biggest prizes and most impressive jackpots, but can go a very long time without paying out a penny. By contrast, low-volatility slots have comparatively modest jackpots to play for, but are far more likely to pay out smaller prizes on a regular basis.
Casino Quality: Always remember that just because a handful of casinos are offering the same slot it doesn't mean you're in for the same experience with each of them. Nothing matters more than choosing a top-rated and recommended casino, whichever slot you happen to have your eye on.
Enjoyment: Last up, it's pointless to waste any time or money on a slot you don't enjoy playing. Irrespective of how tempting those top prizes may be, remember – enjoyment is what matters most!
Don't forget – there's always the option of playing most online slots for free using virtual currency, before putting any of your own cash on the line.
You might also find the following articles interesting:
TRENDING POSTS