It wasn't more than a couple of years ago that Black Friday wasn't even a thing here in the United Kingdom. Folks over the pond had been revelling in the madness for years, but it wasn't something the Great British public indulged in. That is, until it was realised just how much fun the whole thing can be for businesses and customers alike. Which is precisely why the UK is somewhat making up for lost time now, with a whole world of Black Friday events adding up to billions in freebies and savings.
But what about online casinos and web gaming? What kinds of deals are being thrown around for those with a taste for online gambling?
A Toned-Down 2016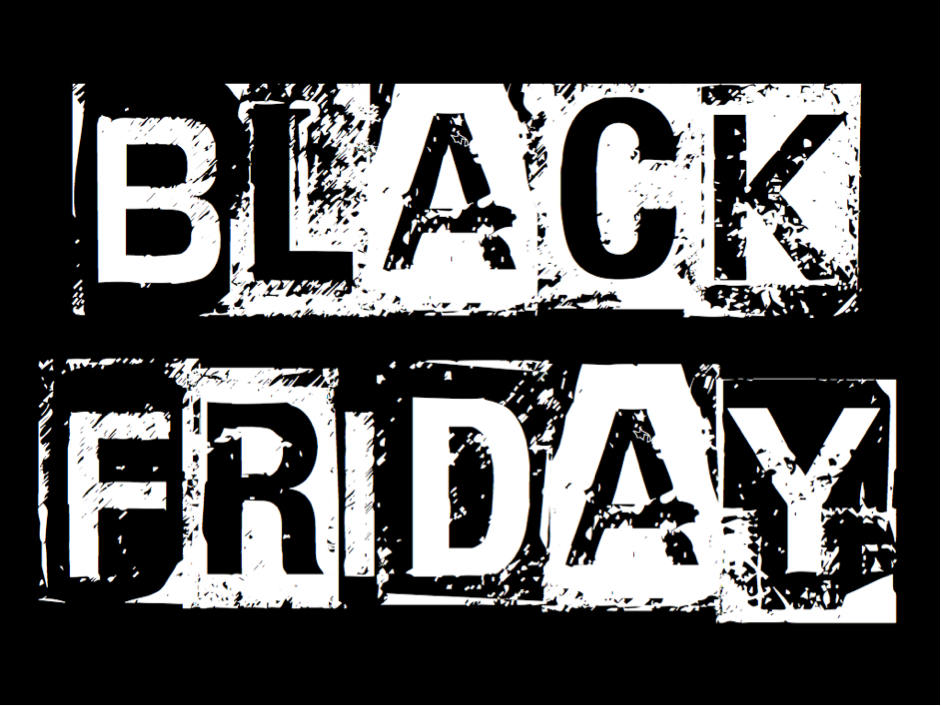 Well, having done a huge scour of the market from top to bottom, the conclusion we've come up with is a little surprising. For the most part, the majority of casinos and gaming sites just don't seem to have embraced Black Friday 2016 to the same extent they did last year. Or the year before, for that matter. But while this may come across as a bad thing, it's not necessarily something to be too disappointed about.
Why? Quite simply because when it comes to big names like Paddy Power, Leo Vegas, Sky Bet Casino and so on, the standard deals and promos on offer are every bit as good as Black Friday deals. So it's simply been a case of most not having to get in on the action, given the way in which they're already giving away all sorts of stuff!
Still, there are quite a few that have thrown their proverbial hats into the ring and announced a whole bunch of Black Friday deals that are worth checking out. It might be a case of straying a little further afield than you normally might, but chances are it'll be worth it. And what's more, you might well find yourself discovering a few brands, businesses and big-time gaming sites you wouldn't otherwise have checked out, which is of course an added bonus in its own right!
Foxy Bingo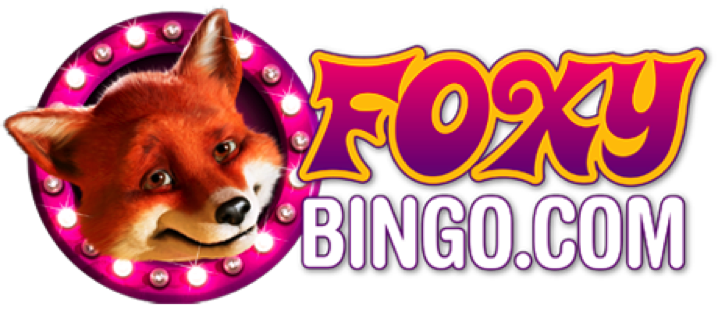 For those out for a bit of bingo, Foxy Bingo has a number of deals on for the whole of the Black Friday week, which are good for extra credit on top of bonuses and free spins alike. Tuesday 22nd November brought a 25% bonus when wagering at least £10 on Starburst, up to a maximum of £30. On Wednesday 23rd November, there's an extra 100% Casino Bonus available up to a maximum of £100, when topping up with £10 or more. Thursday 24th November is good for five free spins on Fruit Abduction, when depositing a minimum of £10. And as for Friday November 25, there's a Mystery Bonus offer for everyone topping up their accounts with £10 or more.
Golden Palace


If you've yet to see what's happening at Golden Palace for Black Friday, you've already missed out on a lot! They decided to go the whole hog with a full Black November month of promotions, starting from November 4 and going right up to November 27. $10 deposits are good for 25 free Starburst spins, $35 deposits will earn you a top-up of $25, $50 and up will earn you a 45% bonus, $75 is good for 55%, $100 for an 80% bonus and $150 or more for a 100% bonus. And if you make use of at least three bonuses during the month, you'll get an extra 33 Starburst spins for your trouble!
Back on the bingo side of things, there's plenty of reason to head over to Betfred this weekend and get yourself in the action. If you're out for some fun this Friday, you simply need to enter the promo code 'sale' and you'll be given a £15 game bonus after wagering at least £10 of your own money on games. On Saturday, there's a great BOGOF offer on Bonus King Room games between 12pm and 8pm. All you need to do is enter the promo code 'BOGOF'. As for Sunday, you'll be needing the promo code 'lovebingo' to score yourself access to a free £5 bingo bonus when spending at least £5 of your own money on bingo tickets.
Vegas Mobile Casino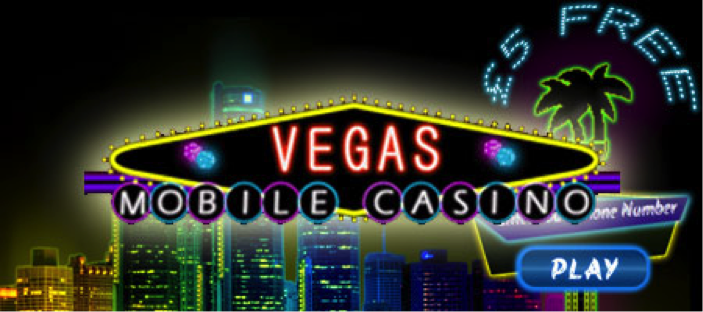 Anyone with a preference for mobile gaming should take the time to check out Vegas Mobile Casino – something that rings true whether it's Black Friday or otherwise. For the whole month of 'Black November' as they're calling it, there's a huge contingency of bonus offers available in the form of deposit match bonuses and free spins. The deals are all good until November 27 and you'll be needing a promo code to make use of any of them – the full details of which being set out in the table below: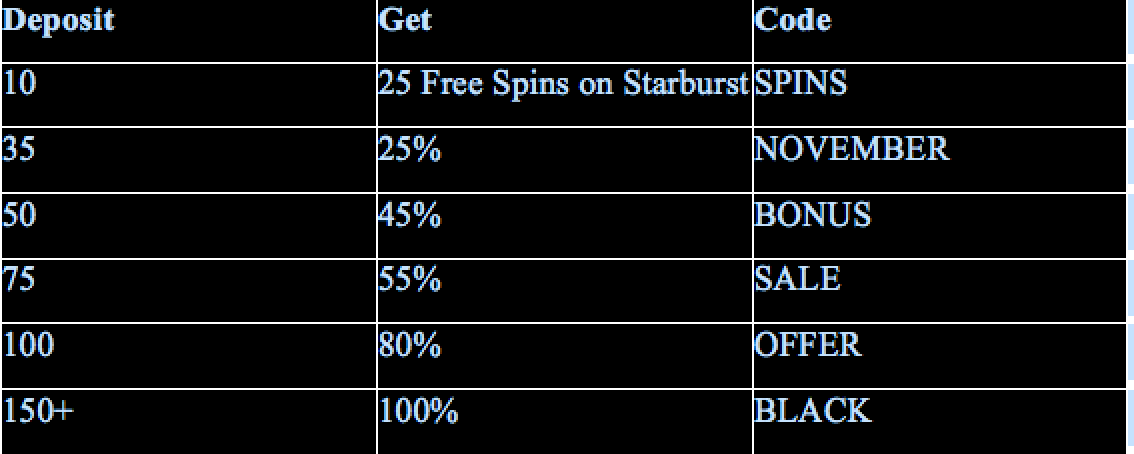 What's also great is that if you use three or more of these promo codes during the month, you'll qualify for a full 33 extra Starburst spins as an added bonus!
CyberBingo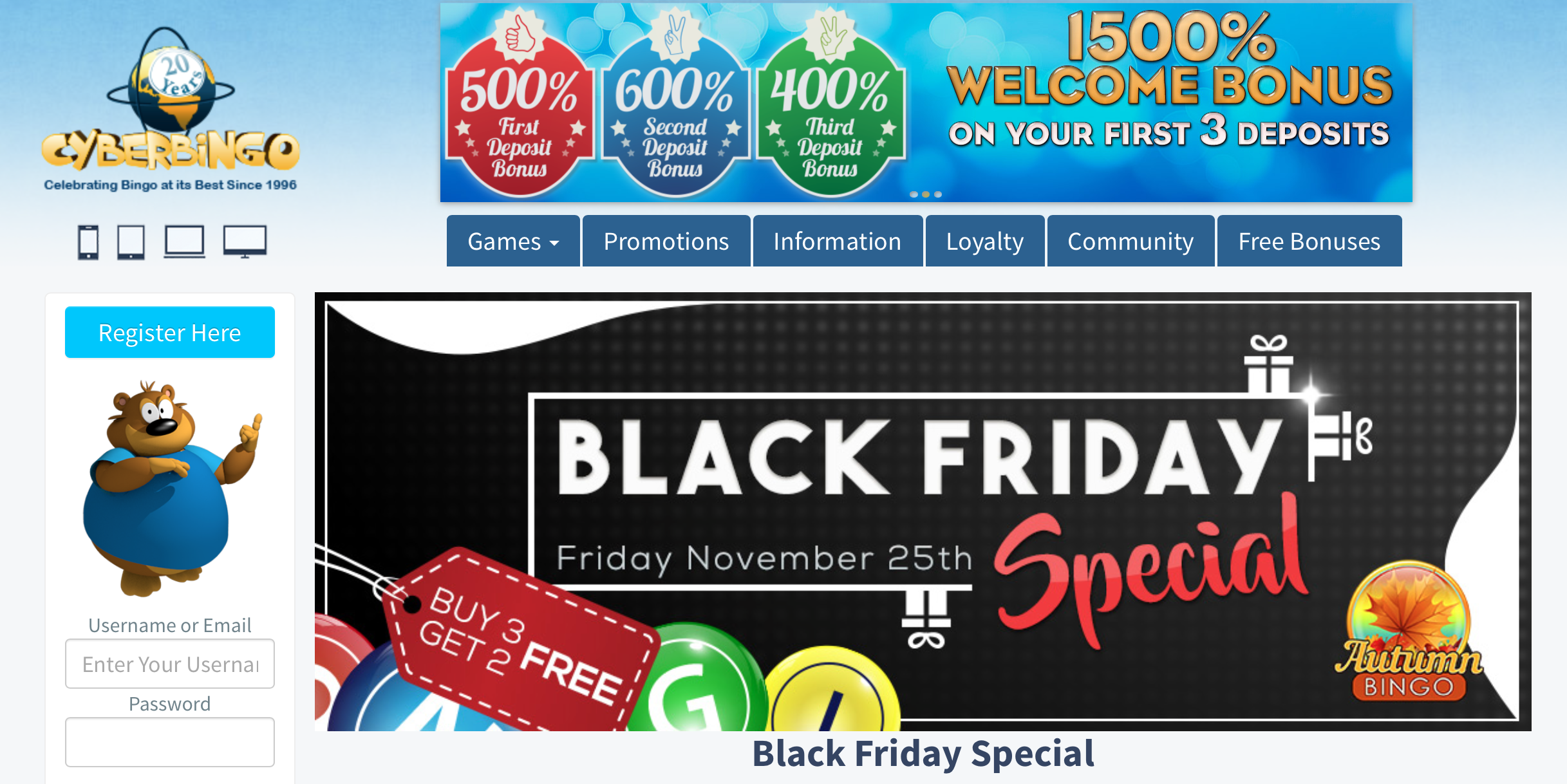 Last but not least, there are some seriously good deals going on over at CyberBingo, which may well be a US-based bingo site you're yet to check out. Staring Friday morning US time, prizes of up to $7,500 will be on the cards, not to mention a range of outstanding giveaways. Black Friday Jackpot Games will carry prizes of $500, $250 and as much as $7,500, with tickets starting from just 75c. They're also giving away a bunch of additional prizes on Saturday, including a $500 Bingo Free Play Bonus and a whole host of gift cards for major US stores. If you don't happen to have access to American stores, there's also the option of swapping your gift cards for bingo bonuses!
Care and Caution
Which is about where it comes to an end, but just as is the case with all the deals and specials you come across, we advise exercising care and caution when it comes to Black Friday deals. It's the usual story – while there are plenty of sites offering great deals that are more than worth checking out, others attach so many terms, conditions and wagering requirements that they may not be worth your time.
So it's simply a case of being sure to read all terms and conditions in full, before deciding which deals to make best use of. Also, remember that there are so many epic deals and promos on the cards every day from the world's best online casinos and gaming sites, making every day Black Friday if you play your cards right!
You might also find the following articles interesting:
TRENDING POSTS