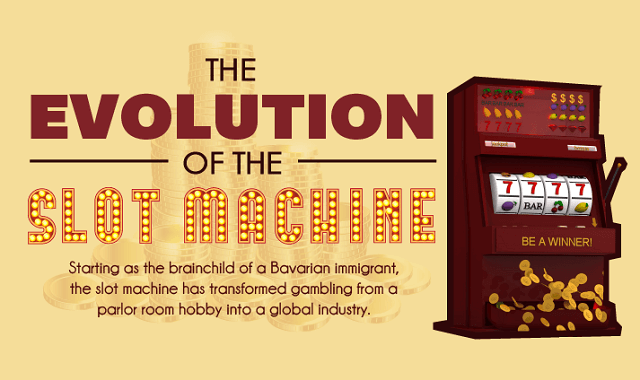 When you look at how far online slots have come over the past couple of years alone, it's hard to imagine a time when they didn't exist. Suffice to say, it's borderline impossible to picture an era when slot games in general had not yet been invented.
Both in casinos and online, slots are the single most popular and lucrative type of casino gaming ever devised. Tens of millions of people play them each and every day – some casually, some habitually. But it's not until you take at least a brief look at the history of slot games and their evolution that you begin to understand just how far they have come.
What's more, chances are you probably didn't realise just how long they've been around in one form or another.
1891
You might think that the slots you were familiar with as a child were somewhat on the primitive side. However, chances are they were spectacularly advanced when compared to the very first slot machine, which was created by Sittman and Pitt in 1891. This ambitious company based in New York created a machine that held a total of 50 playing cards in five drums. It was simply a case of inserting a nickel, pulling the lever and being presented with a hand or five cards. Prizes were paid in accordance with the poker hand hit, though there was always a house edge given that the Jack of hearts and 10 of spades were both removed from the pack. The machine became pretty popular in bars and clubs across the state, though wasn't able to pay out any winnings directly. Instead, prizes were handed out over the bar, which along with cash payouts also included other rewards like cigars and free drinks.
1887 – 1895
While the above represents the first recorded creation of a poker machine, the first slot machine as we know them today is said to have come from Charles Augustus Fey. In this instance, Fey set about creating a machine that could indeed pay prizes automatically. In order to make this happen, it would first be necessary to make the machine much simpler in terms of complexity of both winning combinations and prizes. So rather than going with a deck of cards, Fey instead used three reels featuring a total of five different symbols – hearts, diamonds, spades, horseshoes and a liberty bell. Given the fact that lining up three of the bell symbols in a row paid out the highest prize, his slot was given the name 'Liberty Bell'. While the exact day remains unsure, it is known that this ground-breaking slot gained huge popularity between 1887 and 1895. Unfortunately, as Fey never patented his creation, dozens of copycat designs soon began flooding the market.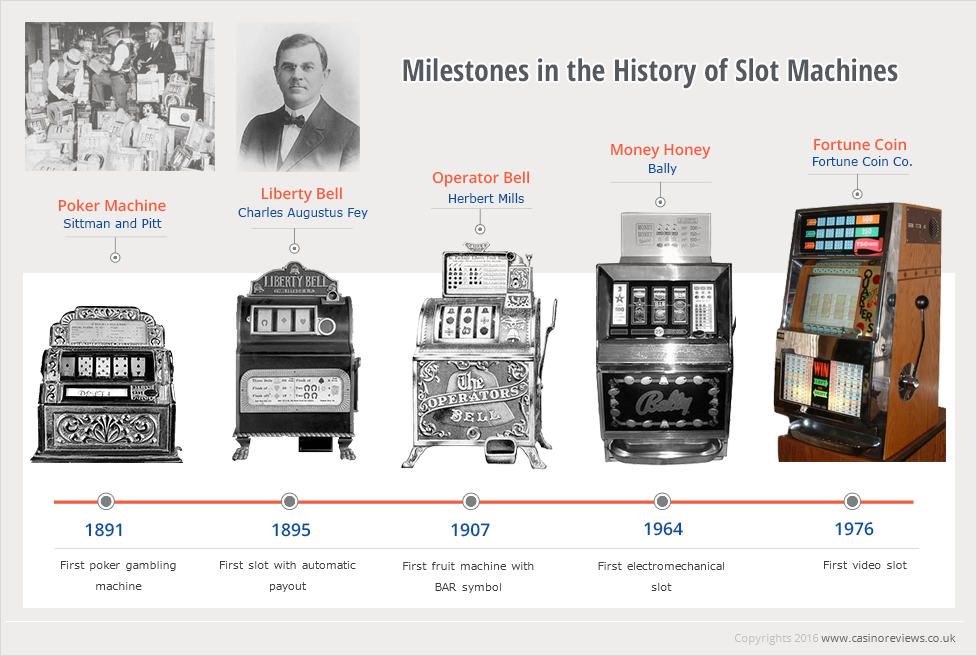 1902 – 1908
Interestingly, slot machines were outlawed by the government in 1902, but they continued to be manufactured anyway. It was no longer legal to pay cash prizes of any kind, which in turn saw slot machines fall into a state of gradual decline. After all, the fact that cash prizes were swapped with things like candy and chewing gum didn't exactly go down well with most! Eventually, restrictions would go on to be lifted and the iconic BAR symbol that still appears on thousands of slot machines to date was introduced in 1908 on a new machine called the Operator Bell. For obvious reasons, all slot machines at this time were still pretty much 100% mechanical – i.e. featured a mechanism that contained no electronic components whatsoever, perhaps aside from a light or two.
1964
Fast forward a few decades and we enter the era of Bully's Money Honey – the first ever truly electro mechanical slot. While the slot itself still worked exactly the same way as its predecessors (including being operated by a lever), the reels were spun electronically. They could have easily removed the lever, but it was decided to keep it in place in order to maintain a sense of familiarity among customers. This was also the very first slot in history that featured an automatic prize dispensing mechanism that could deliver jackpots of up to 500 coins at once. The popularity of Money Honey was such that it led to the creation of hundreds of fully electromechanical slots, which in no time at all would seek the lever being removed from the equation entirely.
1976 – 1978
It was well into the 1970s before the world got its first taste of a genuine video slot. Or in other words, a fully electronic slot with no mechanical reels whatsoever. The slot came from a company by the name of Fortune Coin and was unsurprisingly situated in Las Vegas, Nevada. Given the fact that this was the first genuine video slot anyone had seen, it had to undergo a fair amount of refinement and evaluation from official authorities, before being granted final approval. Which eventually happened, resulting in the slot becoming enormously popular and the company behind it being bought out by the now legendary IGT.
1996 Onwards
The last true revolution in online slots happened in 1996, when WMS unleashed Reel Em – the first ever slot that also featured an entirely separate bonus round. Which meant that when the player triggered the bonus feature, they were taken over to an entirely different screen where entirely different gameplay took place. It became so enormously popular that it would then go on to become something of a standard with most other leading video slots released at this time – including those that would become available online.
The Next Big Thing?
As for what's next, there's really just one thing the industry's leading experts expect to see taking over as something of a new standard over the coming years – virtual reality. Not only are slots continually becoming more entertaining and enjoyable, but immersion is also becoming a priority for casino gamers. The idea of being able to don a piece of hardware and find yourself in an incredibly realistic interactive casino environment is one that appeals to millions.
It's just a case of waiting until the required hardware becomes more affordable – then it's all-go for the VR slot revolution.
You might also find the following articles interesting:
TRENDING POSTS