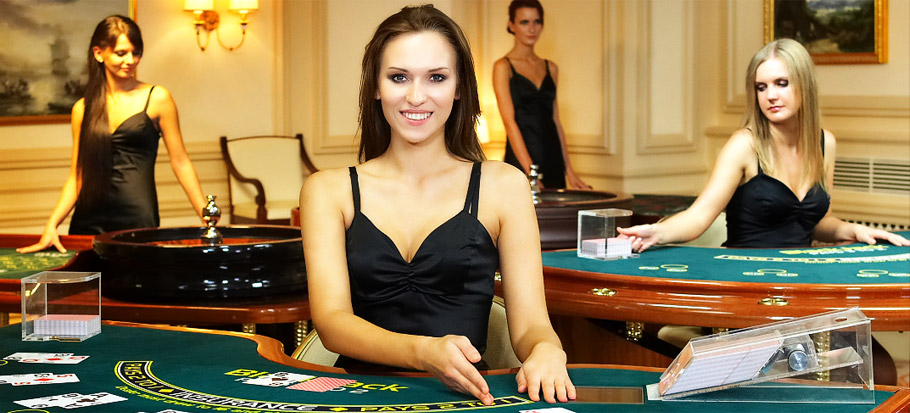 Online casino gaming is going from strength to strength right now. To such an extent that the online gambling market is overtaking the traditional casino gaming industry in many key markets worldwide. The appeal of online gaming in general is clear, but there's one innovative type of casino gaming that's emerging as the new front-runner.
For the more discerning online gamer, live-dealer gaming really is the next big thing.
But what is it about live-dealer gaming that holds such appeal? Why are millions choosing live-dealer tables over their more generic, computer-generated counterparts?
The answer becomes clear after trying live-dealer gaming even once.
What Are Live Dealer Casino Games?
As the name suggests, a live-dealer casino game eliminates the computer-based RNG from the equation, replaced instead with a real human being. In the case of online roulette, there's a real person in control of spinning the wheel, taking bets and so on. The whole thing is streamed online in real-time, so it's the next best thing to being right there in front of them.
Along with being able to see the dealer as they do their thing, there's also usually the option of chatting with the dealer and any other players at the table. Microphones may be used, or a classic live-chat facility at the side of the page. Either way, it's great for getting to know new people and helps create an immersive experience.
Of course, they are not able to replicate the casino experience completely. Sadly, there won't be people walking around the tables offering you free drinks, and you won't be seeing those $1 lobster dinners anywhere. Still, it's just about the closest recreation of the real thing you're likely to come across for the time-being, bringing much of the excitement and atmosphere of a real casino into your home.
Or for that matter, your pocket…if you're gaming on the go.
Slowly but surely, more online casinos are joining the mix and adding their own live-dealer games to their collection. Expansion of the live-dealer segment has been huge over the past year in particular, with even more growth expected throughout 2019 and 2020.
As for the specific benefits of live-dealer casino gaming, fans worldwide generally cite the following as their main reasons for signing up:
It replicates the real casino experience
Most online casinos go at least some way to recreate the atmosphere and enjoyment of the real thing. However, there's only so much you can do with computer-generated games. When you throw a real-life dealer into the mix, the whole thing suddenly becomes infinitely more realistic. And when casino gaming gets more realistic, it becomes more engaging, immersive and enjoyable. It might not be exactly the same as the real thing, but it's a close approximation. All with the convenience of gaming from home, anytime you like.
24/7 action
Speaking of which, the vast majority of online casinos offering live-dealer gaming sections operate on a 24/7 basis. This means than no matter when you prefer to indulge in a spot of gaming, it's all right there for the taking. Dozens, even hundreds of tables operating day and night, which can be accessed in seconds and enjoyed for hours. This can be particularly useful if you have a tight schedule, or you simply don't live within easy access of a casino. When and where the mood takes you, there's a world of high-quality gaming to explore.
The chance to socialise
For some, much of the enjoyment that accompanies casino gaming lies in the social element of the experience. Some prefer to gamble alone, while others revel in the chance to meet, chat and generally interact with other people. This is where live-dealer casino gaming is completely different to traditional online gaming, creating an open forum for communication and interaction. You can chat and socialise if you like, but it's not compulsory.
Talk to the dealer
If you have any questions to ask – irrespective of how abstract they may be – who better to ask than the dealer? Live-dealer gaming means having an experienced professional right there in front of you, who's happy to help and advise on all matters to do with the game you're playing. The best possible resource of information available, along with another friendly person to chat to for a more enjoyable and immersive experience.
Open to all skill levels
Another benefit of live-dealer gaming is that it is open to all players and all skill levels. In a real-life casino, joining a crowded craps table as a first-time newcomer could be intimidating. From the comfort of home, it's an entirely different story. In addition, there's a professional dealer right there in front to you to answer your questions, provide support and generally help you along the way. So while it's an all-round polished and professional experience, it's also open to newcomers.
Choosing a Quality Live-Dealer Casino
Right now, there are hundreds of casinos touting thousands of games – all competing for the same business. Thankfully, comparing online casinos offering live dealer games is nowhere near as complicated as you might think. There are a few things that you will need to think about first, which will make it much easier to narrow things down.
Examples of which include:
The number of live dealer games available
How you can deposit cash into your account
Whether the online casino is licensed to operate where you live
Other games that are available
Welcome bonuses and promotions
Customer feedback and recommendations
Sports betting opportunities
Quality of customer support
If you find a live-dealer casino that's won the support and recommendation of its past customers, you're golden. Be sure to check out as many independent reviews and ratings as necessary, being careful when reading into the advice provided by paid affiliates.
Play the field, take advantage of welcome bonus offers and see which live-dealer casino best suits your preferences and your pocket.
You might also find the following articles interesting:
TRENDING POSTS