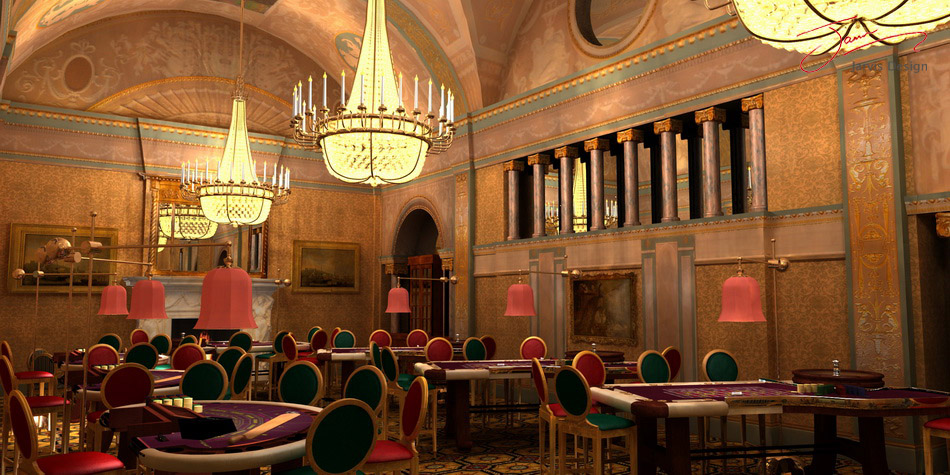 Gambling has been a part of British culture for over a millennium, since the early days of horse betting among the upper classes, and dice-based games for the lower classes in the grimy pubs of London's Docklands. The first ever lottery in England was authorised by Queen Elizabeth I all the way back in 1569, via a royal charter, and since then the gambling landscape in Britain has seen plenty of ups and downs.
The practice has been both banned and promoted by the government at various points over the past few centuries, with the last decade seeing an unprecedented liberalisation of the activity, alongside the establishment of the UK Gambling Commission. In many ways, casino culture was born in the UK, and some of the most iconic casinos still exist today, continuing to inspire other casinos across the globe. Here are the most iconic casinos in the country today.
Crockford's, London
Crockford's has a rich pedigree, having first opened in 1828, making it one of the oldest continually running casinos in Europe. The original site on the upscale Curzon Street was opened to great fanfare by the wealthy businessman William Crockford, with the patronage of the well-connected Duke of Wellington. Since then, Crockford's has enjoyed a raucous history as the place where the rich and famous go to party and gamble the night away, having long been popular with aristocrats, celebrities and even royalty. Although still a high-class and fairly exclusive venue, the grand old casino is now open to anybody, meaning you can gamble like royalty next time you're in London.
Resort World, Birmingham
Resort World opened in 2015, and is one of the most ambitious casino projects ever launched in the country. A giant venue with over 60,000 square feet of gaming space and 178 hotel suites, as well as dozens of restaurants and bars, Resort World has been one of the boldest attempts yet at bringing a larger-than-life Las Vegas resort-style gambling experience to the UK. Luckily gamers can still enjoy the high-roller Vegas experience wherever they are in the country, thanks to the online casino William Hill Vegas, but this place is definitely worth a visit if you're in Birmingham. The sprawling complex adheres to an old-world ancient Chinese theme, bringing a touch Bond-style glamour to the highly successful resort. The place cost £150 million to build, and is currently churning out about £33 million a year in profits, whilst providing 1100 jobs for the local community.
Aspinall's, London
Another London icon for the final entry. Aspinall's is again a pretty ritzy, formal dress establishment, but differs from Crockford's in many ways. The place was opened at the height of the Swinging Sixties in the glamorous Mayfair District, and is known for being a much less buttoned-up alternative to other venues in the area. Composed mostly of cozy VIP rooms designed to fit parties of 25 people of less, this venue has a reputation for quite sublime scandal and no-holds-barred debauchery. The profits from the casino originally went to fund animal wildlife conservation projects across the globe, and this is still evident today in the nature-themed decor.
What Makes a Good Casino a Great Casino?
There are now over 100 land-based casinos in the UK alone, so punters are hardly struggling for available options. In fact, it can often be tricky to choose one specific casino from the endless halls and institutions available.
Still, there are certain traits that have always separated the good casinos from the true greats. It's easy enough to fill a gaming hall with a bunch of tables and slots, but delivering the total package for the discerning gambler means taking things a step further.
So if on the lookout for a decent gaming venue in your area, we strongly advise carrying out the following quality checks, before signing up:
First Impressions
Right off the bat, you should be immediately enthused by whatever it is you lay eyes on first. Make no mistake about it – the first impression is usually the correct one. If you walk into a casino and immediately find yourself swept away by all-things glitz, glamorous and gorgeous, you're probably onto a winner. By contrast, if it looks as if a bunch of tired-old tables have been thrown into a dank and dreary hall…well, that's probably the case! See what your gut tells you – it's probably correct.
Special Offers
Most decent real-life casinos have their own unique takes on special offers and bonuses for newcomers. Mostly in the form of free drinks and coupons, but still better than nothing. It's therefore worth checking ahead of time what kinds of deals the casino hands out, in order to make your money go further.
Popularity
The popularity (or otherwise) of any given casino can tell you a fair bit about it. If the casino is packed with punters and usually pretty busy, chances are they're doing something right. At the opposite end of the spectrum, empty casinos that never have more than a few people floating around are to be approached with caution.
Gaming Variety
In truth, gaming variety only matters to an extent. Just as long as they've got the games you like, that's all that matters. Nevertheless, a casino packed with dozens of incredible games is usually preferable to a less-dynamic alternative.
Customer Service
Try to remember that it's not all about the gaming. Instead, it's about the all-round experience from start to finish. Quality customer care really can make all the difference, enhancing your enjoyment of every gaming encounter and making you feel at home. In this day and age, there's really no excuse for anything but stellar customer care.
Reputation
Last up, be sure to get yourself online and see what other gamers have said about the casino in question. You can't please all the people all the time, but if it's a predominantly positive picture, you're probably safe. By contrast, if 75% of the reports you come across online are less-than reassuring, you might want to go with your gut (as mentioned above!).
You might also find the following articles interesting:
TRENDING POSTS