With more and more people flocking to the Internet to indulge in top-tier casino action, more people are also joining the growing list of big winners. From freebies of all kinds to scooping up those massive progressive jackpots, people all over the world are stacking up the cash from their online casino experiences.
Given the fact that you're here and reading this, chances are you're partial to a little gambling action yourself. What's more, it's also pretty safe to say that you will probably have pocketed a penny or two, here and there. But what about the kind of cash that could well and truly change your life?
Think about it – a brief online gaming session that results in six or even seven figures heading over to your bank account. Too good to be true? Well, the simple answer is that for most people, yes it is. Your actual odds of walking away with these kinds of prizes are, not to put it lightly, spectacularly low. But at the same time, somebody has to win these prizes at some point – so why not you?
It's the classic case of having to be in it to win it. Even if the odds are astronomical, they are still infinitely better than if you didn't bother taking part in the first place.
So just to illustrate the point a little more clearly, we thought we'd take a look at just a few of the biggest online casino winners to date.
Mega Moolah's Luckiest Winners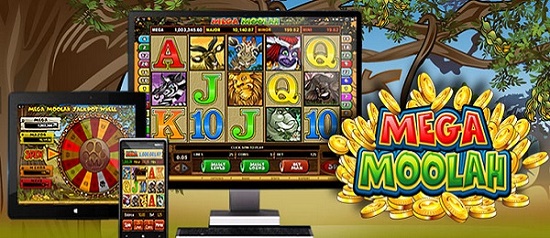 Microgaming's Mega Moolah has paid out some of the biggest sums of cash, making so many of its players incredibly rich. With a mega progressive jackpot starting at 1 million and growing with every play until it's won, Mega Moolah and all of its jackpot mirror games – such as Mega Moolah Isis – have players flocking in for a chance to win.
The mighty progressive slot has created record-breaking winners, including the reigning record holder Jonathan Heywood, who won £13.2 million on 6 October 2015. They have also paid out what is currently the biggest mobile jackpot win of €8 million, as well as another big win of $11.6 million as recently as 5 November 2016.
It's not the biggest progressive jackpot win, but the luck involved in this winner's story is sublime. In 2015, one lucky lady decided to play a bit of Mega Moolah while in the bathroom, of all places. After just a few quick spins, the winning wheel popped up, and she claimed the £1.8 million mega-jackpot while playing on the toilet!
Probably the Luckiest Player in the World
Possibly the luckiest online casino player in the world, however, has to be the 44-year-old lady from the Netherlands who claimed not one, but two huge progressive jackpots at CasinoEuro. In May 2013, she first won €3.3 million on Arabian Nights from a simple €5 bet. Then, in August of that year, she won €3.7 million on Mega Fortune at the same online casino.
Sure, other players have won bigger jackpots once on other games, but to be able to win two very sizeable progressive jackpots at the very same online casino within a mere three months of each other is exceptionally lucky. Getting €7 million from two games is just incredible!
This at the same time, does a great job of illustrating the point that it really can be anyone who takes home these jackpots. The fact that this rather lucky individual had just won a massive jackpot didn't in any way affect her odds of taking home another one. Which she did. So no matter how desperately low you believe the likelihood of pocketing a fortune may be, you simply never know what that next spin will bring!
Free Spin for the Win
For all of these progressive jackpot wins, the players have played the standard slot game by placing a bet for each spin. So, for someone to win a nice sum of cash from some free spins is very lucky indeed. Given five free spins to play with on 3 April 2016, Katherine from the UK made her way onto Neon Staxx, finding herself landing win after win to the total of £1200 when the free spins had finished.
It's certainly not the biggest win in the world, but winning £1200 without spending a single penny is very lucky indeed. Which along with once again underlying the point we keep repeating (in it to win it) shows that there really can be a great deal of value in the kinds of bonuses and freebies online casinos hand out to newcomers.
It's just a case of knowing how to use them strategically, rather than falling headfirst into the usual traps! £1200 might not be life changing, but the appeal of getting something for nothing is universal to say the least.
Could You Be Next?
In a word, yes…you could. But technically a better question would be what can you do to improve your likelihood of taking home a generous prize?
Is there anything you can do to tip the odds in your favour?
Well, one important thing to remember is that as jackpots climb, your respective likelihood of winning them decreases accordingly. Or to put it another way, the odds of winning a modest cash prize are typically massively higher than those attached to multimillion jackpots. So the first rule of thumb could be to focus your efforts on the kinds of prizes that don't attach quite so astronomical odds.
In addition, it's usually advisable to approach progressive jackpots a little like lotteries. The simple reason being that your odds of winning are more or less the same. Just as would be the case with a lottery therefore, a good strategy is to buy yourself a 'ticket' (i.e. a spin or two) every now and again to try your luck. As opposed to simply buying one to keep after the next habitually, throwing far too much money at the unlikeliest of prospects.
Last but not least, don't forget that this and every other type of casino gaming across the board is supposed to be enjoyable. Which means that if you ever find yourself in a position where playing for progressive jackpots becomes something of an unpleasant chore, it's time to give things a break!
You might also find the following articles interesting:
TRENDING POSTS