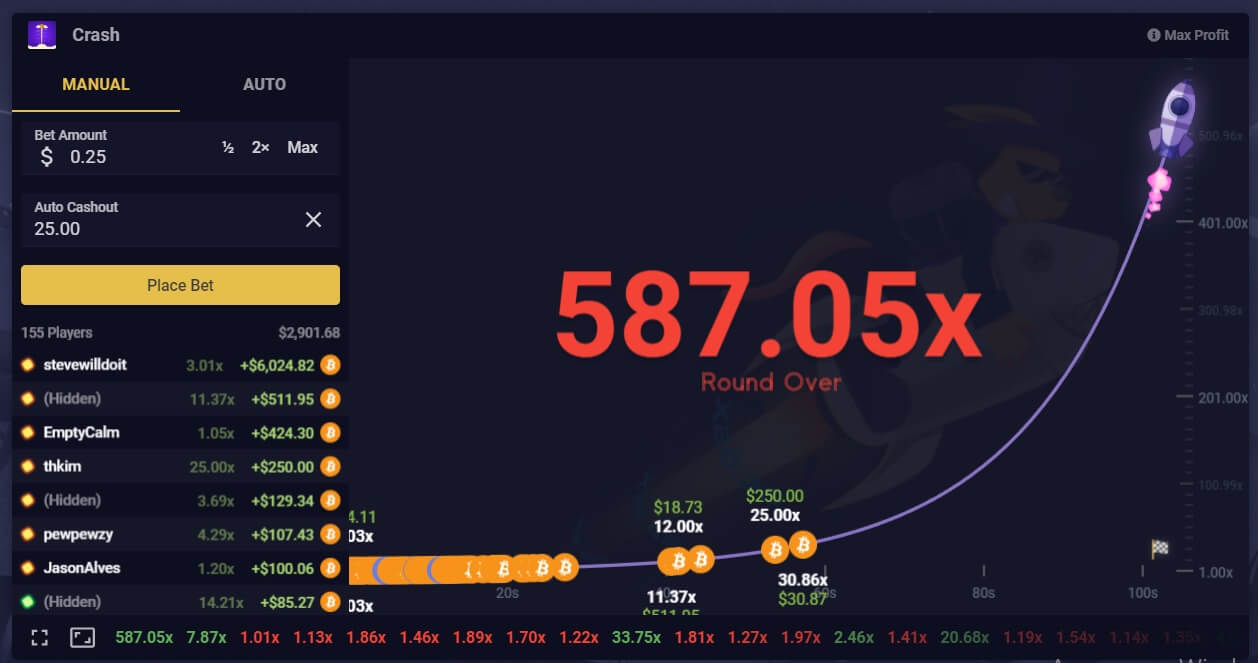 Crash betting is the new kid on the block, and is already taking the online casino scene by storm. For those who like to keep things simple yet action-packed, crash betting ticks all the right boxes.
But what is it about this super-simple concept that has so many people hooked?  More importantly, what's the best (i.e. the safest) way to get in on the action and see what all the fuss is about.
What Is Crash Betting?
The basic premise behind crash betting is just about as simple as it gets. It is an extremely fast-paced and highly nerve-racking approach to gambling, where split second decisions make all the difference.
It works in a similar way to gambling in the conventional sense, wherein you place wagers and hope to multiply them with a win.  The biggest difference with crash betting being that the whole thing plays out like something of a 'virtual' investment. 
One of many reasons why it's such a popular option among cryptocurrency casino gamers – most of whom already know a thing or two about investments.
Every crash betting game starts the same way, irrespective of its unique features and use of any given theme. After you place your bets alongside other punters, the multiplier starts from 1.00x and can reach as high as 100.00x very quickly. 
The whole point of the game is for you to exit before the inevitable crash occurs. If you succeed, your stake will be multiplied by the level of the multiplier at the time you cash out.
So basically, it's like investing in something and watching what happens to its subsequent price/value. You start out with certain amount of money (your wager) and watch as it gradually grows. Only in this case, its value will at some point crash out to zero. 
If you cash out before this, you win a prize in accordance with the multiplier at the time. If you crash out, you lose everything.
An incredibly simple approach to online betting, which requires no specific knowledge, skill or strategy. The whole thing is as random as it gets, so it's simply a case of deciding how much risk you are willing to tolerate.
How To Bet on Crash Casino Games
Signing up and getting started with crash casino games really could not be easier. All you need to do is find a decent crash casino game site and click on the "signup" or "register" button. Follow the instructions, deposit funds into your account and claim your bonus.
You will then have the option of choosing from a handful of crash betting types.  All of which are basically self-explanatory, as follows:
Real-Money Crash Betting: Real money is placed on the line in hope of pocketing a prize, usually with a variety of international currencies being accepted by the casino.
Cryptocurrency Crash Betting: Digital assets like Bitcoin, Ethereum and so on can also be used in place of conventional currency – often the preferred option for crash betting fans.
Virtual Crash Betting: This is basically something of a practice version of the real thing, where you play with virtual currency to get to grips with how the whole thing works.
If new to crash betting, giving things a go with virtual currency before getting started comes highly recommended. 
How To Play Crash Gambling Games
The mechanics of crash betting are straightforward, and it takes just minutes to understand the basics. There is almost always a line moving in an upward slant, indicative of the current multiplier value. 
At any time, players have the option of cashing out at the touch of a button. At which point, the multiplier at the time is added to their wager and the prize collected accordingly.
With each game, the line crashes out at a juncture determined by a random number generator. It could be almost instantly after the game starts, or a good deal down the line after reaching a higher multiplier value. Though of course, the latter of the two does not happen with great regularity.
All you need to do is decide how much you want to allocate as your "base bet", hit the button to join the game and cash out at the right time. Easier said than done, as there is absolutely no way of knowing when the right time is.
A Comparatively Low House Edge
What's great about crash gambling is how the house edge is comparatively low.  On occasion, the multiplier will crash just as soon as it begins – at 1.00x. When this happens, you're almost guaranteed to lose, or simply get your money back at best. 
Crash gambling has the potential to be profitable for casinos because a lot of people will hold out for a bigger multiplier. Those who cash out early can only expect to win modest prizes, so the whole thing is quite evenly balanced.
Auto Verses Manual Play
Rounding off, most crash casino games provide the option of activating an Auto Bet function. Quick and convenient perhaps, but a feature that basically removes the gameplay aspect of the whole thing.
You can set a variety of automated commands, such as to increase or decrease your wager when you lose/win, stop increasing your bet automatically when the amount gets too high and to automatically cash out at a certain level.
All fine, but you're basically letting the machine have all the fun on your behalf!
Personal preferences vary, but there's just so much more enjoyment to be had by playing the old fashioned way. Something that applies to all casino games and slots across the board, which are far more enjoyable when played manually.
Whichever way you go, just be mindful of the fact that wins and losses can occur at lightning speed with crash betting. Something that underpins the importance of assigning a fixed budget and never putting money on the line you cannot afford to lose.
Crash betting looks set for a strong future in the online gambling scene, making now the time to find out exactly what all the fuss is about. 
You might also find the following articles interesting:
TRENDING POSTS