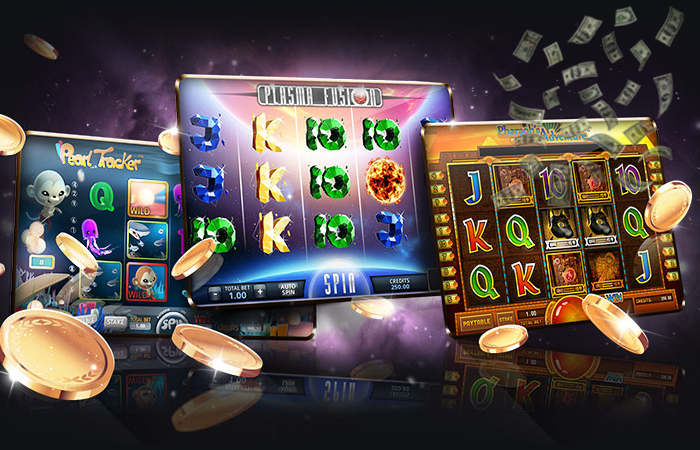 Slots make up the majority of games at the average online casino. Blackjack, poker and roulette may challenge them in terms of popularity, but slots are king in terms of range, gaming styles and options in general. What's more, slots often trump the lot due to the rise of progressive jackpots, which these days can reach millions of pounds.
And it's not hard to understand why slots are so popular and appealing. For one thing, you don't need any experience to enjoy them. There's really no skill or strategy involved – it's simply a case of trying your luck and seeing what happens. In addition, slots can be played for pennies – even tried out for free in many cases. This means you don't have to put a lot on the line to get started. And when it comes to pure entertainment, some of the biggest and best slots on the market really are out of this world.
The question being – where to start? With thousands of slots on the market from hundreds of global developers, which are worthy of your time and money?
This article intends to highlight the best slots to play at online casinos in the UK in 2018. It will include some of the hottest titles, as well as some classic favourites you won't want to miss. If you want to check out some of the list for free, click here for the best free-bet no-deposit offers in the UK right now.
https://youtube.com/watch?v=tUqU3fdfJpE%2520frameborder%3D0%2520allow%3Dautoplay%3B%2520encrypted-media%2520allowfullscreen
Mega Moolah (Microgaming)
Still reigning at the top of the slots after 12 years, Mega Moolah's popularity is no mystery. It has a simple look, almost retro by today's standards, but it stands out due to the huge payouts with its four-tiered progressive jackpot game. In fact, Mega Moolah gave out an estimated £49 million in jackpots in 2017. This is precisely the kind of slot that shows how you don't have to reinvent the wheel to come up with something amazing. Simple as can be yet borderline addictive.
Age of the Gods (Playtech)
Playtech acted quickly after their relationship with Marvel came to an end in 2016, replacing the superhero themed games with a range of Greek-myth themed ones. It worked a treat with players loving the cool range of free spin features, not to mention the multi-level jackpots. There are several variants of Age of the Gods, including Fate Sisters and Prince of Olympus, but the feeling is the original is still the best.
Jackpot Giant (Playtech)
The ultimate selling point of Jackpot Giant is quite simple: A huge progressive award for getting five Wild Symbols on line 1 in a spin. The jackpot currently stands at over £8 million, but it could be won at any time! Of course, the likelihood of scoring this kind of cash isn't all that high, but neither is winning the lottery. The difference with games like these being that even if you don't win, you still have a seriously good time trying!
Starburst (NetEnt)
Like Mega Moolah, Starburst is simple, yet adored by casino players. It has 10 reels, 5 reels and no second-screen bonus features, but still excites like few others can. The key to its success is that symbols are stacked across all reels, leading to multiple wins up to £100,000. To date, there have been hundreds of slots that have attempted to in some way replicate or improve upon the magic of Starburst. All of which have failed – this is one original that simply cannot be improved upon…so why waste time trying?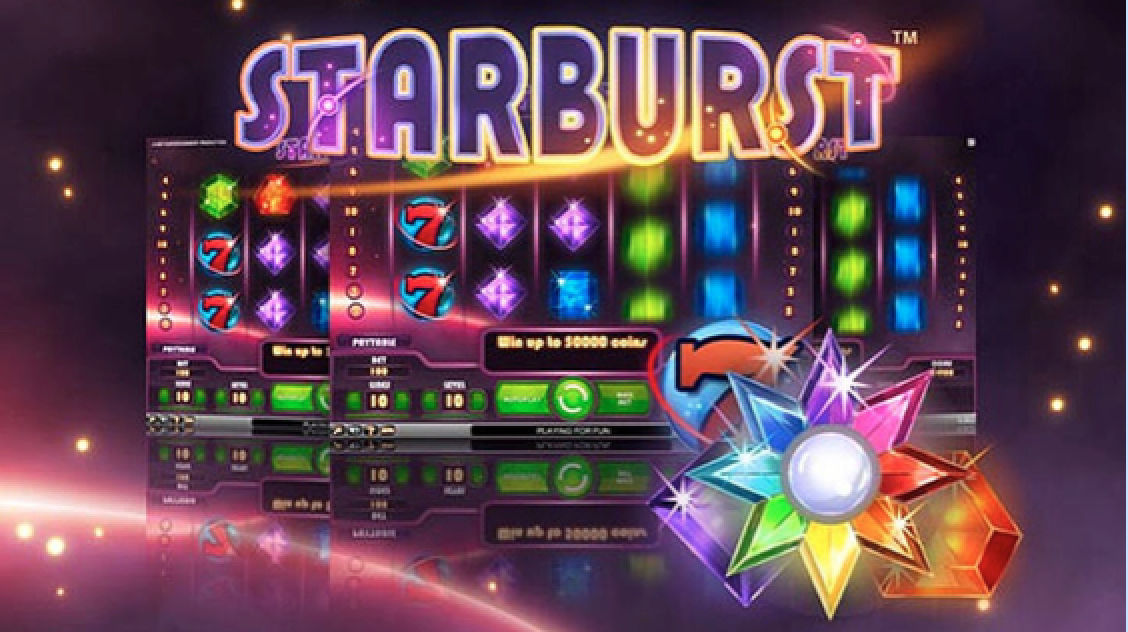 Gonzo's Quest (NetEnt)
Gonzo's Quest is the absolute 'daddy' of exploding reel-feature slots. Each time a winning combination is played, the winning symbols fall away to be replaced by new symbols. Each time this occurs, a win multiplier kicks in to increase your winnings. In the Free Falls Feature, this can reach up to X15. Another fantastic example of the kind of slot that's brilliantly enjoyable to play, even if you don't end up taking home a cash prize.
Man of Steel (Playtech)
Marvel's loss with Playtech ended up being DC Comics gain in terms of cool casino slots. The range of games featuring DC superheroes is huge, including several Batman and Superman variants. Man of Steel is hard to beat however, as it features numerous features like Shifting Wilds, World Engine Bonus and Krypton Free Games. There is a multi-level progressive jackpot award too.
Frankie Dettori's Magic Seven Jackpot (Playtech)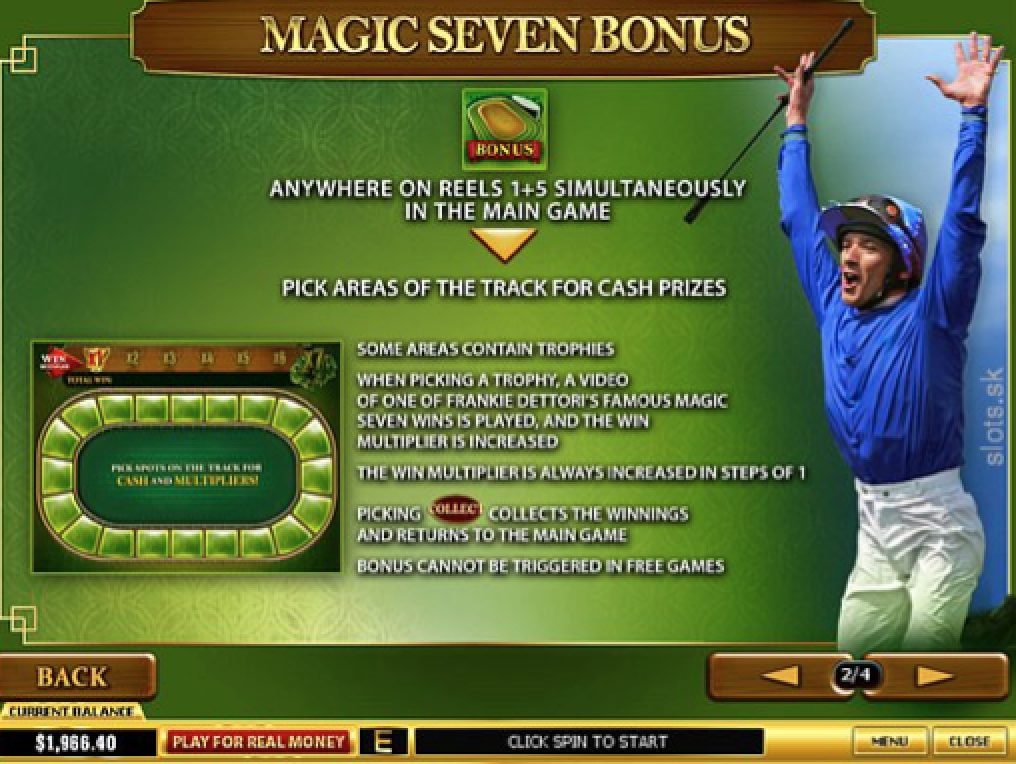 Another one that has been around for a while, it's easy to see why Frankie Dettori's Magic Seven Jackpot has retained its popularity. It features a cool Free Spins Game, where you can earn up to 35 spins by winning a horse race. There is also a second-screen bonus, where you reveal cash and multipliers by making your way across a racetrack. There is also a gamble feature and two progressive jackpots.
Choosing the Best Slots
To be honest, choosing a fantastic slot really isn't all that difficult. Instead, it's simply a case of heading over to a leading casino and checking out its most popular slots at the time. Pretty much every day, new slots are joining the mix and attempting to bring something original to the table. Some succeed, others not so much.
If looking for a safe bet, simply carry out a quick online search before making your choice, in order to see what's being said by real-life gamers worldwide. Check the general consensus and if you like what you read, go for it!
Always remember though – online slots are supposed to be about nothing but enjoyment, as opposed to making a profit. If you can't honestly say you're having a great time irrespective of whether you win, it clearly isn't the right slot for you!
You might also find the following articles interesting:
TRENDING POSTS