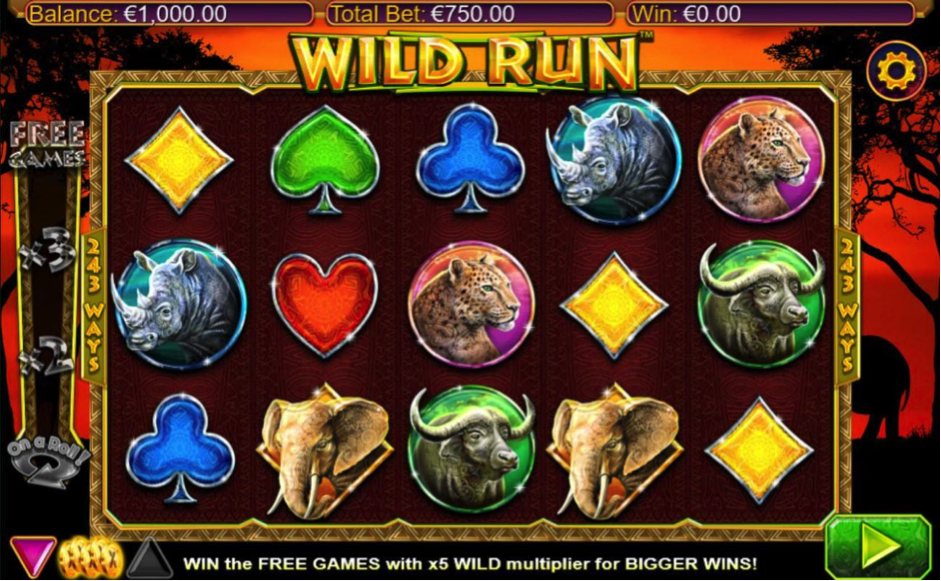 Two all new slots under the microscope today for your delight and delectation – both sharing a somewhat similar theme of all things adventurous. First up we have Jungle Books, followed closely by Wild Run. Both seem to have made a positive impression among gamers so far, but what kinds of unique attributes does each bring to the table?
Jungle Books
First and foremost, you've got to hand it to the folks at Yggdrasil Gaming for having the guts to unleash Jungle Books on the world. Not that there's anything wrong with it as such, but still – the idea of simply adding a letter 's' to the end of an iconic Disney story to make it into something new and rather amusing.
And it's really not as if they stopped there, either. Jungle Books is a five-reel slot with up to 68 paylines to play for, with spins on offer from 10p up to a maximum of £250. Like the classic tale that bears a very similar name, the stars of the show in this instance are a familiar looking boy, snake, panther, tiger and bear. Unsurprisingly, the action takes place at the heart of a fantastical jungle setting – there's no denying how impressive Jungle Books' visuals and animations are.
Each of the five main characters has its own realm and unique bonus features to offer. For example, in the realm of the tiger, the Sticky Respins feature is triggered after every winning combination, meaning that all wild symbols and winning symbols on the reels stay in place for one free additional spin. As for the boy, Spreading Wilds transform each wild that appears on the reels to turn up to two additional symbols wild in random places.
Over with the panther, higher value symbols on the reels are converted into wilds as part of the wild Superhigh Pay Symbols feature. In addition, multipliers of up to 5X may also be randomly added to any prizes you win. Then there's the snake, along with being able to win both ways – left to right and right to left – there's a Wild Multiplier feature up for grabs to increase wins by 3X.
Last but not least, a Stacked Symbols feature awaits in the bear's domain, which stacks one random symbol on every reel with each spin. Given that this includes the wilds and other high-value symbols, there are some seriously lucrative prizes to play for.
And if all that wasn't enough, every realm also has its own unique take on Synced Reels – two or three reels being synced with the same symbols with every spin.
While it may initially come across as a little complicated, Jungle Books is actually deceptively simple to pick up. What's more, we have to admit that despite initial reservations – given its somewhat cheeky name and overall theme – we were incredibly impressed by the depth of what's on offer. The great thing about Jungle Books is that even when you come back to it time and time again, you almost never get the same experience twice. With so many bonus features and modifiers up for grabs, Jungle Books has serious long-term playability.
Wild Run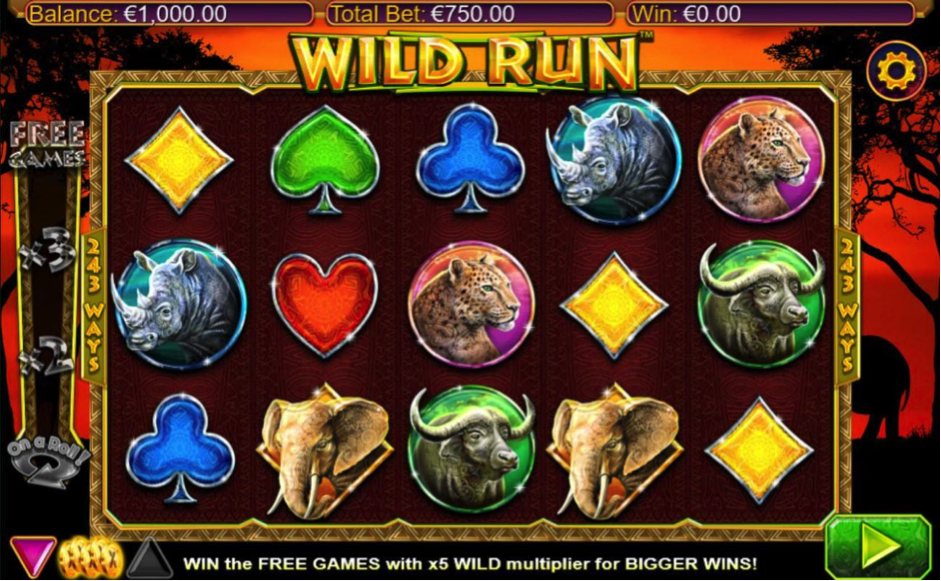 Next up, Wild Run is a pretty similar story in that it delivers far more than you initially expect. Developed and launched by NextGen Gaming, Wild Run is a five-reel slot with 243 paylines and all-round device compatibility. Spins start from 30p and top out at £750 each, the action takes place with the backdrop of a Savannah sunset and there are some solid jackpots to play for.
To be honest, we weren't exactly bowled over by the way Wild Run looks. It's far from the worst-looking slot on the market right now, but still – hardly eye-popping visuals. It's all a very basic affair, with a bunch of wild animals and the usual playing card values taking centre stage. The soundtrack is slightly better than the visual element of it all, while the lion also serves as the wild symbol and can take the place of any other symbol in the game. In addition, five lions in a row on a winning payline will see you rewarded with an instant prize worth 800 coins.
The thing is though, look past the pretty basic visuals and you'll quickly find that the On-A-Roll feature is what Wild Run is all about. Basically, the feature comes into play each time you get any winning combination and has two levels. First of all, an additional wild symbol is added to the reels before each On-A-Roll spin. When wild symbols appear on the first and fifth reels as part of a winning combination, a 2X multiplier is added during level one. When wilds form part of a winning combination on the first, second, fourth and fifth reels, a 3X multiplier is applied during level two. What's more, any winning combination during level two also opens up the free games bonus round.
During the free spins feature, wilds can appear on every reel and an additional five wilds are brought into play before the feature begins. Each time you line up a winning combination that includes the wild, a 5X multiplier is added to your prize. What's more, the bonus round just keeps on going until you spin four times without winning.
While On-A-Roll feature and consecutive wins required to access the bonus feature may sound complicated, it's actually a surprisingly simple and seriously engaging system. After just a few spins, you'll know what it's all about and will probably be back for more. Wild Run is a prime example of the kind of slot where what's delivered in-play it's so much more than initial expectations would have you believe. Plus as a medium-variance slot with wagers to suit all pockets, we'd recommend Wild Run to pretty much anyone – newcomers and seasoned gamers alike!
TRENDING POSTS