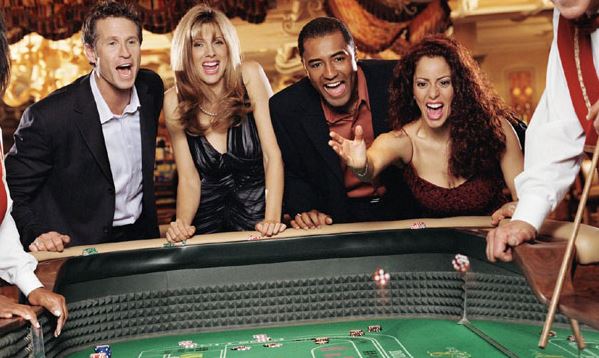 Depending on who you speak to, the fact that you don't really need any skill to play craps could be either a great or terrible thing. But whichever way you look at it, craps is nonetheless a brilliant game for beginners who don't have the time or patience to study-up on the ins and outs of casino gaming. You can literally go from knowing nothing to shouting and cheering with the best of them in a matter of minutes.
But at the same time, this doesn't mean that taking your knowledge and understanding at least a little beyond the basics won't help improve your enjoyment of craps even further. If you're only planning to play once, you probably needn't bother. Chances are though, you'll be bitten by the craps-bug and find yourself drawn back to the table like a moth to a flame, time and time again.
In which case, you might as well make sure you get the very most of the experience…right?
Here's how to make it happen:
Focus on Enjoying Yourself 
It's the single most important rule when it comes to every casino game across the board and craps is certainly no exception. It's not as if you will ever participate in any casino table game with the intention of losing, but at the same time it's important that you do not expect to win. Quite simply, the moment you hand over any amount of cash in exchange for casino chips, you need to largely consider that the money has been spent…gone…no longer your property. In doing so, this will ensure that you are absolutely delighted if you win, while at the same time not being particularly bothered if you lose. The moment you find yourself playing and not having a fantastic time, it's time to walk away…period.
Use Online Casinos to Learn the Game
One of the very best ways of getting used to the ins and outs of craps for the very first time is to sign up with a high-quality online casino. Admittedly, playing online will almost never have the same kind of excitement or social quality as playing in an actual casino. Nevertheless, the fact that it gives you the opportunity to learn how the game works and begin building knowledge of how to get the job done from your own living room really is priceless. Not only this, but you will find approaching the craps table for the very first time considerably less intimidating, if you already have at least a slight idea what you are doing. Most casinos even allow their members to play for free using fake money, meaning you don't even have to put any cash on the line to start playing craps and picking up the basics.
Learn the Different Bets
While there is nothing to say that you have to learn any of the different betting options to enjoy craps, it can certainly improve your enjoyment if you do so. Chances are you will have a great time sticking with the same bets time after time, but if you'd rather make an informed decision with regard to every move you make, it's not difficult to pick a few pointers on the bets available to you. You'll find a comprehensive yet simplified rundown of all the different types of craps bets here.
Learn the Dice Combinations
Another tip that's considered to be semi-optional is that of learning the possible dice combinations and the likelihood of each value being rolled. As there are two dice being rolled, it is statistically more likely that certain values will be rolled than others. For example, a total value of two can only be rolled with one combination of two ones, while seven can be rolled in six different ways. It's the odds of each value being rolled that determine your likelihood of winning, in accordance with how you choose to bet. Check out the chart below for a full explanation of dice combinations, values and odds:
Stay in Control
Another rule that's universally applicable to all casino games across the board is that of ensuring you maintain self-discipline and stay in control. This is true at both ends of the spectrum – the first being that of never, ever chasing losses. If you find yourself on a losing streak, this doesn't mean that the odds of your luck turning around improve in any way as you continue. With every throw of the dice, the odds of you winning or losing remain exactly the same. Likewise, if you find yourself on a winning streak, don't fall into the "I can't lose" mentality as that's exactly what you'll do. Along with knowing when to walk away to minimise losses, you also need to know when to walk away to hold onto your winnings.
Watch Out for Bonuses and Freebies
Always be on the lookout for the kinds of bonuses, special offers and freebies that can help ensure you get the most possible value for your money. These tend to be more common with online casinos than real casinos, though do have a habit of popping up all over the place from time to time. They usually manifest in the form of additional poker chips, free throws of the dice and various ways of boosting both your credit and your winnings. Nevertheless, it is of crucial importance to read all terms, conditions and small print before going ahead, in order to ensure that you know exactly what you are getting yourself into. Suffice to say, not all bonuses and freebies thrown at craps players are of the same kind of value.
Positioning your chips in place gently, rather than throwing them.
Never under any circumstances touching anybody else's chips.
Ensuring that you are both a considerate winner and a quiet loser.
Not taking too long when it is your turn to throw the dice.
Keeping your hands well away from the table when others are rolling.
Joining with the cheering and being sure to offer congratulations with good rolls.
Remember that you should still tip the dealer even if you do not win.
Leaving the table after a successful roll, changing dice during a roll or saying the word 'seven' after a winning roll are all considered bad luck.
Before leaving the table, make sure you exchange your small value chips for larger ones.
You might also find the following articles interesting:
TRENDING POSTS