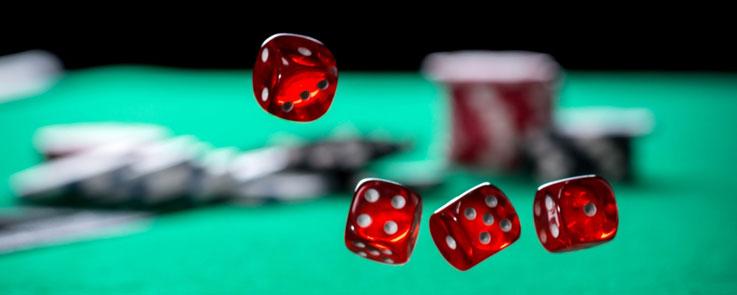 Online casinos can be tricky places. While they can be a great way to pass the time and get acquainted with various casino games, many end up being disillusioned by the whole experience…because they make mistakes along the way. Online casinos are just like the real thing – errors will see you burning through your bankroll without enjoying the experience.
So with this in mind, here are some of the most common mistakes beginners make when gambling online:
Playing Without Learning the Rules
One of the best thins about online casinos is how they allow beginners to better-understand the basics of gambling. But while they are great for newcomers, this doesn't mean you should dive in without first understanding the rules and odds of your chosen games. A slot machine might look simple, but it's about far more than putting money in and yanking a lever. Different slot games have different rules and there's often an element of strategy – even for the most seemingly random games.
Games like roulette, blackjack and particularly poker require a certain level of skill and knowledge to succeed. Understanding how to bet at roulette can greatly influence your odds – randomly betting left and right is a sure recipe for disaster. So even though we're talking about a game of chance, this doesn't mean you shouldn't do your homework first and come up with a strategy.
Not Using Online Casinos' Tips
Most casinos will have a tips options that will give you various tips while you're playing. If you're new to online casinos, pay attention to them carefully. People often have a habit of closing any window that pops up, but in this case, these help boxes can offer you valuable information that will help you understand the games, warn you of errors and improve your chances of winning.
Not Taking Advantage of Free Bonuses
Free bonuses are some of the most attractive advantages of online casinos. While they may seem too good to be true sometimes, some live up to their promises. Some may have binding terms, however, and will require that you spend a set amount of money to take advantage of the bonus or have a set minimum in your account in order to redeem it. However, using bonuses is usually better than not; just take the time to read the fine print and look for casinos with great bonus offers.
In addition to free bonuses, sites offer tons of great side benefits in the form of gifts, special contests, raffles and freerolls. Freerolls in particular are a great deal and can be used to play in real games or tickets for tournaments for instance. Sites like Quasar Gaming have tons of deals and offers for new and regular players. Visit https://de.quasargaming.com/ to check out their latest offers.

Playing on Tilt
Tilting happens when you either make a huge loss or win, and subsequently play based on your emotions only. Playing on Tilt is dangerous both ways. If you ride a high, you may start feeling more confident and start throwing your money around. However, the most important time to be level-headed is when you're up so that you can maximise your wins.
Conversely, if you just made a huge loss, it can be easy to go off the rails and try to catch up by betting even more. This is especially dangerous if you've already overspent your bankroll. In this case, the best solution is to take a break if you still haven't reached your limit. Just log out, let a little bit of steam off and wait till you're back to your senses before starting again. If you're already over your limit, then you'll have no choice but to stop…or suffer the consequences!
Not Having a Time Limit
When most people gamble at a casino, they already have a set time available for gambling before they leave, win or lose. However, with online gambling, you can literally play at all times of day and night. Nevertheless, setting a time limit is a great idea if you want to manage your bankroll and not go overboard. Even if you're playing at home, set a strict time limit and keep your gambling time reasonable to prevent you from getting lost in the chaos.
Also, make sure that you pace yourself. Online gambling can sometimes feel like you're playing a video game and you can end up quite detached and desensitised. If you've played slots for too long and feel like you're playing on auto pilot, switch for a game with a slower pace like blackjack that requires you to think and make decisions. You could also lower the stakes to limit losses.
Starting Out with Real Bets
The idea of play money may seem like a waste of time for many, but it can be very useful. Online casinos give you the distinct advantage of playing with fake money before playing your own. This is a great opportunity everybody should take advantage of. First, it allows you to familiarise yourself with the casino's interface and games. But more importantly, it allows you to try different strategies before spending a penny. Once you've found your strategic compass, you can start playing with real money.
Playing at Unlicensed Sites
This is probably the single worst mistake that you can make as an online gambler. Playing at an unlicensed site is a guaranteed recipe for disaster. Before you even start playing at an online casino, check their reputation online. Check if people have had issues cashing their bonuses or making withdrawals. You should also enquire which type of payment methods they support, which games are featured and who operates the casino.
Next, go to their website and look for their license. Sites operating in the UK either have to be licensed by the UK Gambling Commission, the Alderney Gambling Control Commission or the Malta Gaming Authority. If the casino operator doesn't have any of these licenses, chances are they aren't legitimate.
If you manage to avoid these simple mistakes, you'll be in a much better position to enjoy your online casino experience. But, above all else, make sure that you understand how to manage your bankroll correctly and don't play games until you understand the rules and odds!
You might also find the following articles interesting:
TRENDING POSTS