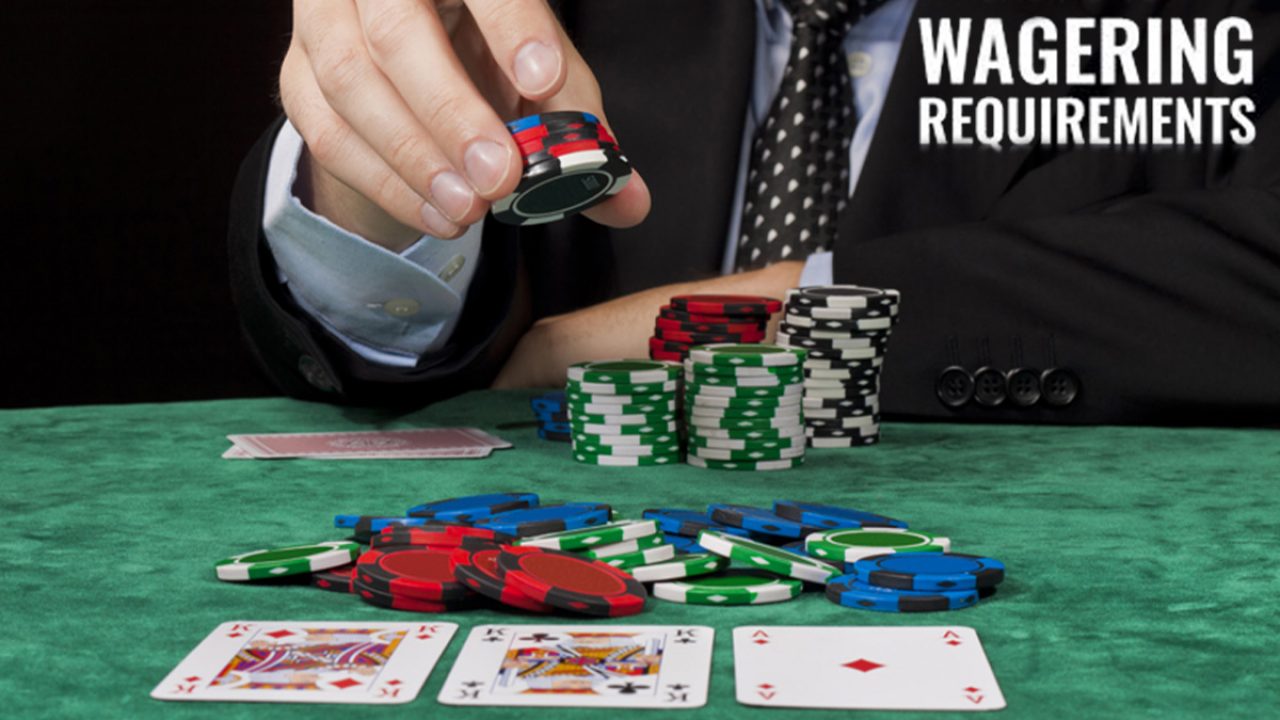 One of the most common questions asked by online casino newcomers concerns wagering requirements. 
You find an irresistible welcome bonus package, you sign up with the casino and you deposit funds in your account. You're handed what seems to be an impossibly generous top-up on your initial deposit, leaving you with way more in your account balance than you actually paid in.
Only at this point, you realise you're heavily restricted with regards to what you can do with your money.
Not only is withdrawing it out of the question, but you're also limited to certain types of games…and a finite period of time in which to use it. 
All of which can come as quite the surprise for the uninitiated online casino gamer – wagering requirements being a foreign concept to most. That's why we thought we'd put together a basic overview of the whole thing, outlining how wagering requirements work and what you need to be aware of.
What Are Wagering Requirements?
The concept of wagering requirements is basically what enables an online casino to provide such impossibly generous bonus offers and promotions. It's effectively an insurance policy of sorts for the casino, making it practically impossible for the provider to end up out of pocket.
Almost all online casino bonuses attach wagering requirements, which are the norm with most bonuses and promotional offers.
In the simplest terms, the wagering requirement refers to the number of times the customer must 'play through' the bonus funds, before they are permitted to make a withdrawal. The wagering requirement will be indicated as a multiple (anything from 5x to 100x) and could be applicable to the bonus amount or the bonus + the player's initial deposit.
Casinos are legally obliged to clearly communicate their wagering requirements in their terms and conditions, which should be carefully consulted before accepting a bonus of any kind.
An Example of Wagering Requirements at Work
The easiest way to get to grips with how wagering requirements work is to see them in action. A couple of examples to illustrate how it works:
Example 1.
You deposit £50 into your account and claim a £50 bonus
The balance of your account is subsequently £100
Wagering requirements of 30x apply to the bonus (30 X £50)
This equates to a wagering requirement of £1,500
You must play through £1,500 before making a cash withdrawal
Example 2.
You deposit £25 in your account and claim a £75 bonus
The balance of your account is subsequently £100
A wagering requirement of 20x the bonus PLUS the deposit applies
This equates to a total wagering requirement of £2,000 (20 X 100)
You must play through £2,000 before making a cash withdrawal
'Playing through' the applicable wagering requirement means achieving or exceeding a cumulative total by placing wagers on specific games within a specific period of time. If and when you manage to reach this total wagering requirement, you will subsequently be able to request cash withdrawals as normal.
Which Games Can Be Played to Satisfy Wagering Requirements?
The answer to this question depends entirely on the online casino you sign up with and its take on wagering requirements. 
In some instances, an online casino will allow you to play just about any game to contribute towards the cumulative wagers required. In others, you'll be strictly limited to very specific types of games – some categories of games being eliminated from the equation entirely.
This is also something to check out in the terms and conditions, as there's a chance the games you enjoy playing will be excluded. In which case, it's worth questioning whether or not it's worth bothering with the bonus in the first place.
How Difficult is it to Satisfy Wagering Requirements?
Again, it depends entirely on the casino's terms and conditions. Not to mention, your approach to gambling and whether luck is on your side.
Technically speaking, it's possible to satisfy wagering requirements within a matter of minutes. For example, if you were to successfully bet your entire balance on a few consecutive spins of the roulette wheel, you could easily meet the minimum requirement. Of course, you could just as easily lose – the house edge playing a role in all games across the board.
Assessing the restrictiveness of a casino's terms and conditions is important, in order to ensure it's actually possible to fulfil their wagering requirements. If not, it's probably a bonus that's best avoided.
What Are Wager-Free Casino Bonus Offers?
This is an increasingly common and supremely popular casino bonus, which as the name suggests doesn't attach any wagering requirements whatsoever. Terms and conditions still apply, but there's no requirement to play through any amount at all before requesting withdrawals of winnings.
However, wager-free casino bonuses are (understandably) governed by heavy restrictions with regard to how much you can win and withdraw. For example, the maximum withdrawal permitted from a £50 bonus could be £10 – irrespective of how much you win.
As with all standard types of casino bonuses, it's important to consult the terms and conditions carefully when taking advantage of a wager-free promotion of any kind.
How About No-Deposit Bonus Offers?
Last but not least, no-deposit bonus offers are as close as it gets to freebies in the world of online casino gaming. There's no requirement to deposit any funds in your account, meaning whatever you're offered (however modest) is still a solid incentive.
Nevertheless, there's caveat to be aware of where no-deposit bonus offers are concerned. With just the odd exception here and there, you'll be looking at the most astronomical wagering requirements and restrictive terms and conditions imaginable.
You may be handed £10 with no deposit required, but chances are you'll be hit with 100x wagering requirements, a maximum withdrawal limit of £10 and maybe just a week or so to fulfil the whole thing. Freebies like no-deposit bonuses are great, but almost never amount to handouts of free cash! 
You might also find the following articles interesting:
TRENDING POSTS