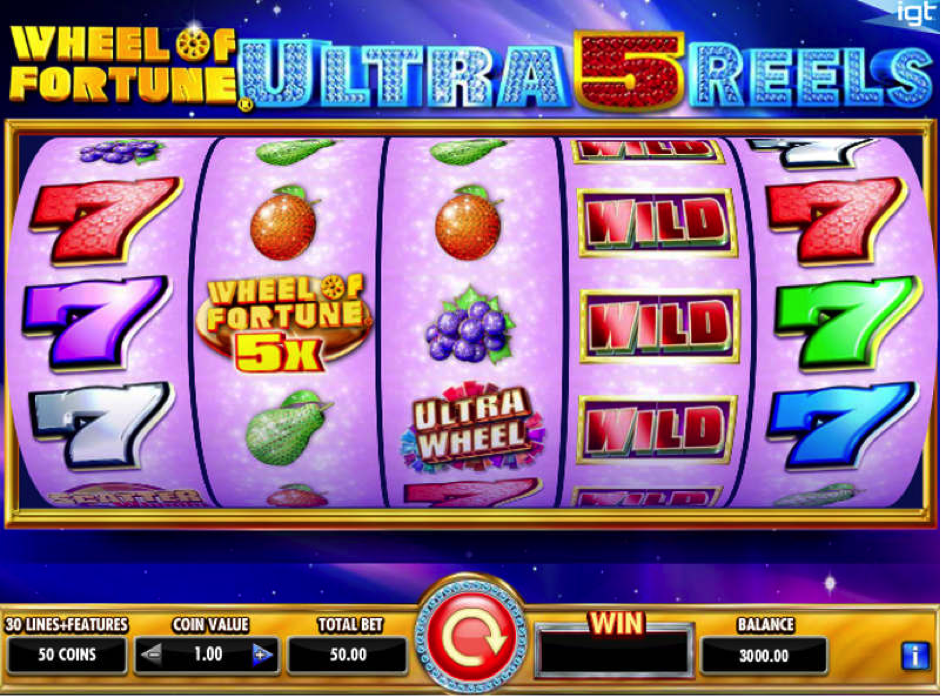 Whoever you are, wherever you're from and no matter what you're into, chances are you know and probably love Wheel of Fortune. It's the kind of globally iconic franchise that's almost impossible to resist – especially if it's one you grew up with. It's been given all manner of makeovers and updates over the years, but is still based around the same core concept – spin to win! And as that's what it's all about with online slots, combining the two really should result in a match made in Heaven.
Wheel of Fortune On Tour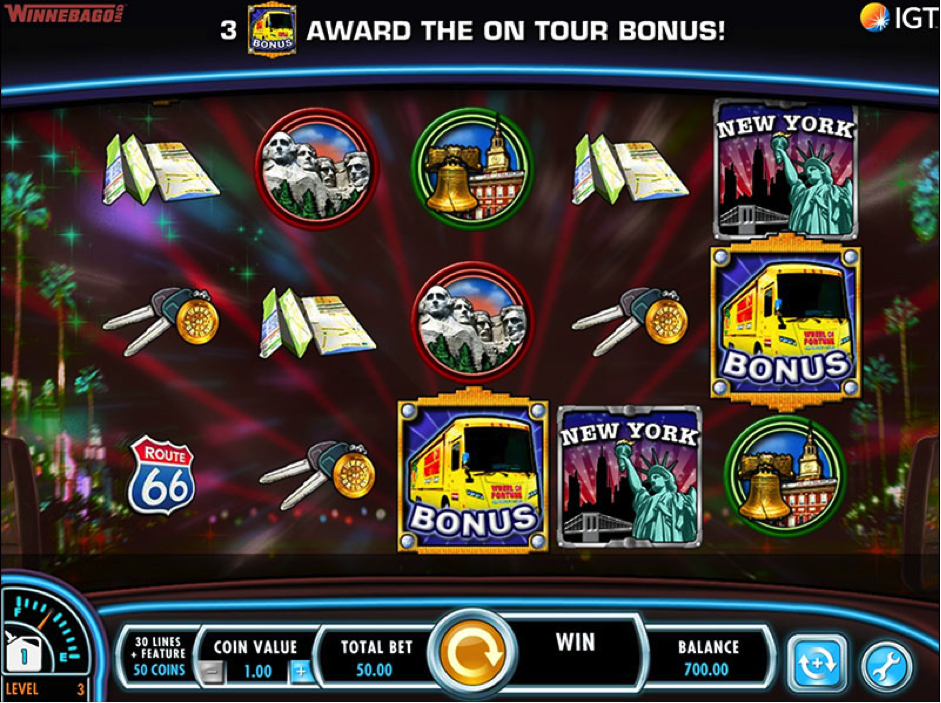 First up, Wheel of Fortune On Tour comes from the folks at IGT and probably isn't what you'd first expect. It's the usual five-reel setup with 30 paylines to play for, with spins starting out at 50p and going as high as £500 each. It's less a spin on the usual wheel and more a road-trip across the US, taking in various sights along the way including Mount Rushmore, the White House and so on.
Clearly looking to have you hooked for the long-term, Wheel of Fortune On Tour uses the epic Level Up Plus engine. What this basically means is that in order to keep unlocking as many levels as possible, you need to play more. Doing so means more bonus rounds, more features and bigger prizes to pocket. By contrast, a few casual spins here and there means keeping things a little more on the low-key side.
The On Tour bonus round is particularly worth playing for and can be accessed by landing three Winnebago bonus symbols on the first, second and fifth reels at the same time. When this happens, you'll instantly be rewarded with one full tank of fuel and you'll progress one space/level forwards. For the record, there is a memory function behind the scenes with Wheel of Fortune On Tour, meaning that you won't have to start from scratch every time you leave and come back for more.
Features and bonus rounds are determined by how far you travel along the way, though it's safe to say there are tons of them and they get seriously rewarding as you progress further on your journey. Free spins, huge multipliers, instant cash prizes and so on – this is the kind of slot that has the potential to reward dedication…big time!
Initially, the way in plays out comes across as a little complicated and it does indeed take a bit of getting used to. However, it's a concept that's actually quite simple once you get the hang of it and has been designed totally with repeat-play in mind. Or in other words, it's the kind of slot you'll be coming back to for more. Variance is medium so there's a decent amount of action, plus the near endless list of bonus features also means there's always something new to keep it fresh.
Wheel of Fortune Ultra 5 Reels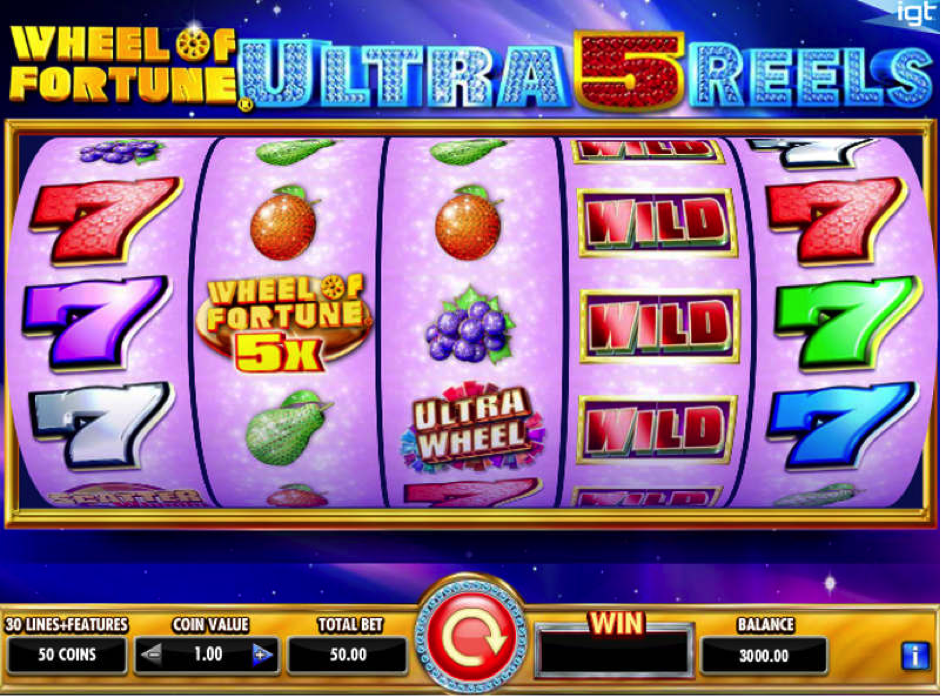 Next up, Wheel of Fortune Ultra 5 Reels goes the other way with a theme and presentation that really couldn't be more familiar. It sports the classic five-reel, 30-payline setup with spins that go from 50p up to a maximum of £500. It's compatible with most desktop and mobile devices and has been designed to recreate the classic fruit machine experience. Which it does very well – the 3D graphics are great, the animations are spot on and the overall presentation bold, colourful and a pleasure to play with.
The most lucrative symbol during normal play is the red 7, which is worth a full 400X your bet if you manage to line up five in a row. Should you hit a winning combination that includes a wild symbol, the wild multiplier feature then kicks in. This turns the wild into a multiplier worth up to 5X, though with multiple wilds available, this can mean a maximum multiplier value of 25X with every winning spin.
There's a Wild Multiplier feature which is triggered when the wild symbol forms part of a winning combination. The wild then transforms into either a 2x, 3x, 4x or 5x multiplier wild symbol. You can get more than 1 wild meaning that multiplier values can be combined up to 25x!
Then there's the Scatter Wheels bonus, for which you'll need to land three or more scatter symbols in any positions. When this happens, the scatters transform into wheels of fortune – each of which spins to reveal a cash prize. Your payout is then calculated by adding the three (or more) cash values together.
Last but not least, the Ultra Wheel Bonus feature can be accessed by landing the relevant symbols on reels two, three and four at the same time. Depending on how things play out when you spin the bonus reels, you could be looking at any number of multipliers up to a maximum of 2,000X your bet.
On the whole, everything about Wheel of Fortune Ultra 5 Reels is great apart from one thing – no free spins bonus round to be seen. Not that this is a deal-breaker, though it would transform an already-awesome slot into something seriously unmissable. In any case, if you like classic slots that focus more on the basics than complex bonus features, chances are you'll be right at home with Wheel of Fortune Ultra 5 Reels.
TRENDING POSTS