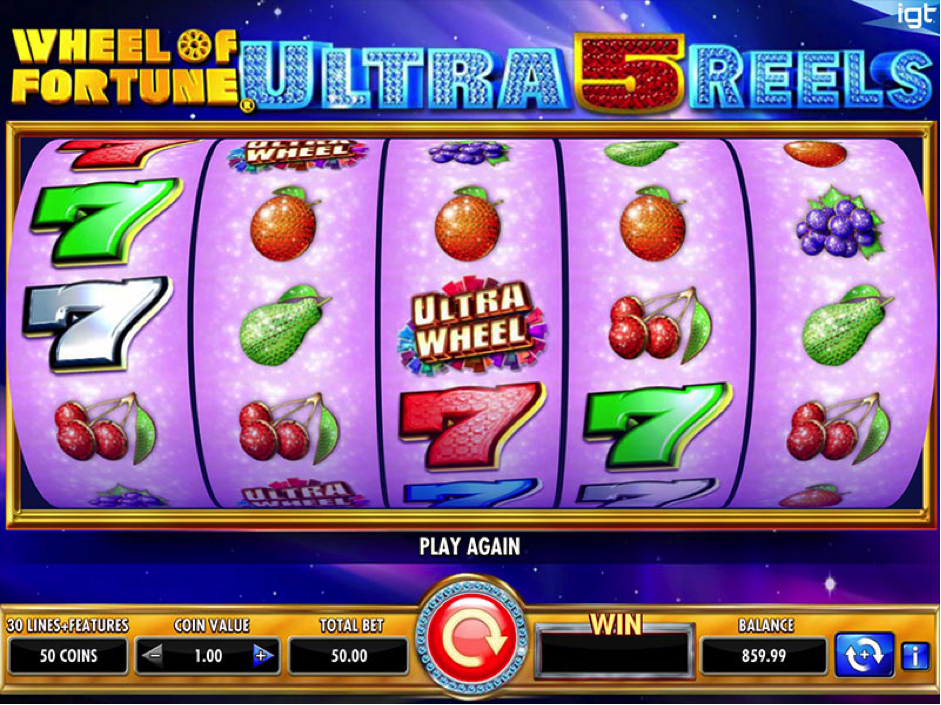 The fact that there's a seemingly endless list of Wheel of Fortune slots out there probably hasn't escaped your attention. And if you're an avid slot gamer, it's highly likely you've tried one or two out for yourself over the years. As is the case with most popular slot themes, some entries are significantly better than others. Which is why we thought we'd present you with our own top picks – both of which are definitely worthy of a spin, in more ways than one!
Wheel of Fortune Triple Extreme Spin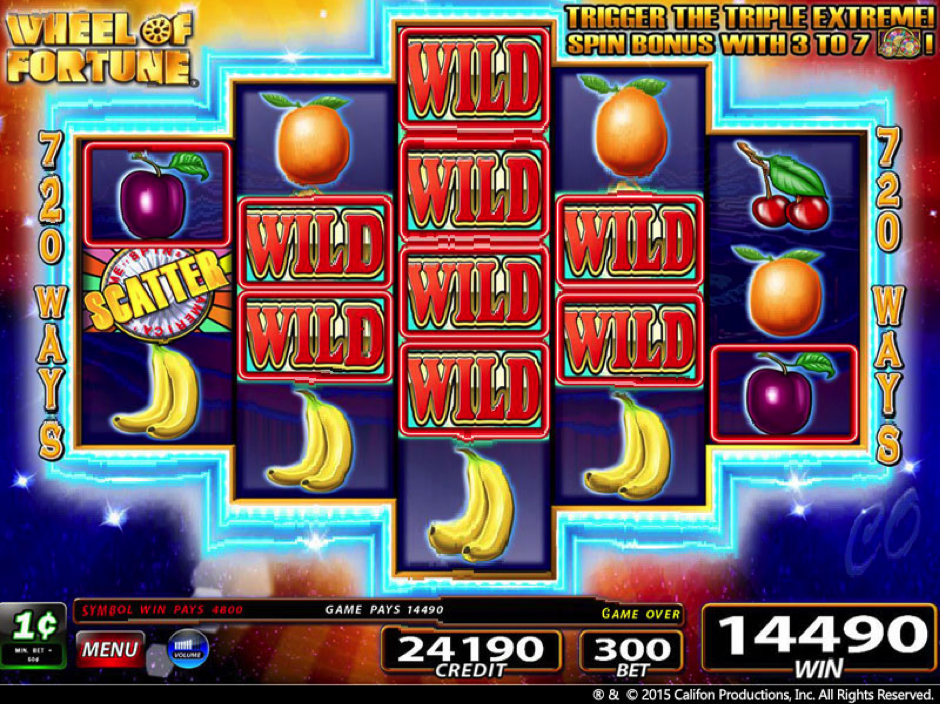 It's also worth pointing out the fact that both of these titles come from the gurus over at IGT. The first of which being Wheel of Fortune Triple Extreme Spin, which if nothing else certainly has one seriously exciting name. As you can probably see here, it doesn't have the usual set of what you'd expect – each of the five reels having a different number of rows. There's a generous 720 different ways to win, spins range from 50p right up to a whopping £1,500 and the action takes place on desktop and mobile devices alike. Using the always fantastic MultiWay Xtra gameplay engine, there is much to be said for the base game itself, not to mention the two additional bonus features.
What's great about Wheel of Fortune Triple Extreme Spin is that even when wagering just 50p at a time, you still benefit from the full 720 ways to win. Which comes in part down to the fact that wins go in both directions – left to right and right to left. So as you can probably figure out, extensive dry spells are relatively rare during normal play.
If you manage to land at least three scatter symbols in any positions, you will activate the Mini Wheel Bonus feature. When this happens, the scatter symbols themselves suddenly turn into spinning wheels. These wheels then determine the total value of your prize when added together. As it's possible to land five scatter symbols at the same time, a maximum of five prizes can be won with the highest possible jackpot being 77X your bet.
However, if you land a minimum of three bonus symbols at the same time, you will access the Triple Extreme Spin Bonus feature. When this happens, you will first be presented with 12 envelopes from which you can make your selection. Three bonus wheels are in play – one yellow, one red and one blue. The envelopes you choose will determined which pointer you get for the wheels, which are summarily spun to work out your prize.
Of the three wheels, both the red and blue wheels pay out cash prizes accordingly. As for the yellow wheel, this determines the multiplier which is then added to the total value – up to a maximum of 21X. Get things right and it's possible to win almost 3,000X your stake in this bonus round. And while it may come across as complicated, you actually only need to play once to see just how simple it is.
In fact, that's also true for Wheel of Fortune Triple Extreme Spin as again in general, the first time you play it, you find yourself wondering whether or not you'll be able to keep up. Nevertheless, just a few spins into the action, you begin to see how those various special features and bonus rounds work. As a medium variance game, Wheel of Fortune Triple Extreme Spin does a good job catering to the vast majority of tastes and budgets. The biggest cash prizes aren't paid out particularly often, but the two bonus features are in their own right more than enjoyable enough to make up for this.
Wheel of Fortune Ultra 5 Reels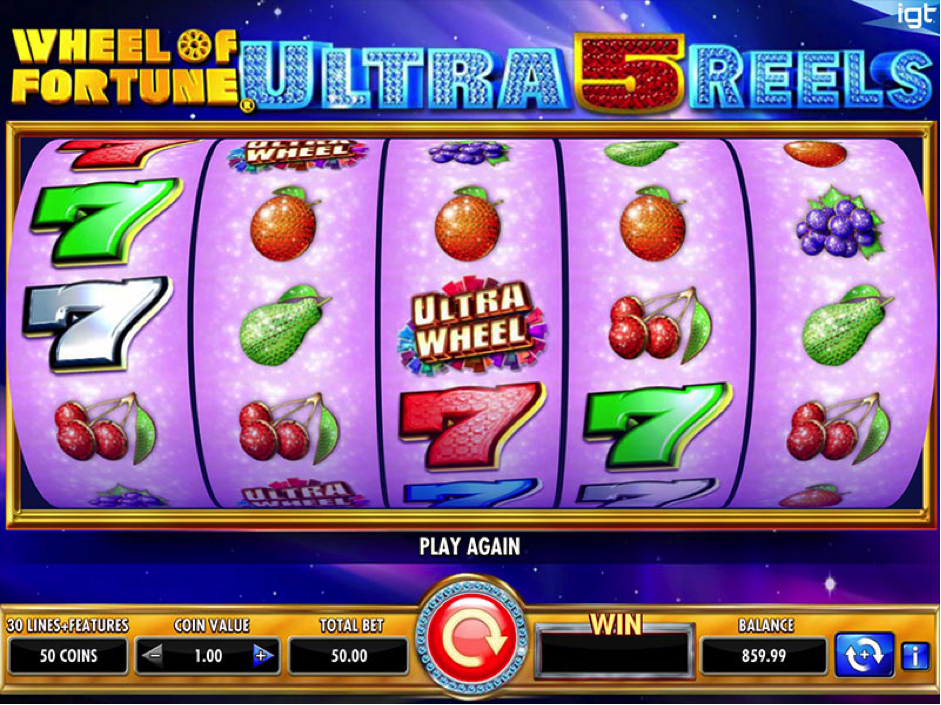 Next up, Wheel of Fortune Ultra 5 takes on a somewhat more standard guise, as you can see in the image above. This time around, it's the usual five-reel setup with a total of 30 paylines to play for – spins starting out at 50p and going up to a maximum of £500. And of course, you can play Wheel of Fortune Ultra 5 on just about any mobile or desktop device whatsoever. Unlike its counterpart above, Wheel of Fortune Ultra 5 is a much more traditional affair and one that follows the kind of format you are probably used to.
It has to be said that the 3D visuals are impressive to say the least. Symbols take the form of all the usual casino staples you'd expect – cherries, oranges, berries etc. – though in this instance with a liberal sprinkling of glitter. The most lucrative symbol during normal play is the red 7, which will see you take home a prize worth 400X your stake if you manage to line up five in a row.
Perhaps the best aspect of normal play is the way in which any wild that takes part in creating a winning combination immediately turns into a multiplier – anything from 2X to 5X. And as it's possible to hit winning combinations with multiple wilds at the same time, every winning combination could technically be multiplied up to a maximum of 25X.
Along with this, there's also the Scatter Wheels feature, which can be accessed by landing at least three scatter symbols in any positions on the reels. As is standard with a fair few games from the series, these symbols then automatically become spinning wheels to determine your prize. Each scatter up to a maximum of five displays a cash prize, which are then added together and paid out.
Last but not least, the Ultra Wheel Bonus feature is arguably the star of the show. To access the bonus round, you will need to land three of the corresponding symbols on the middle three reels at the same time. It's then a case of spinning the bonus reels once again, in order to determine which of the reels will be active, inactive or determine your multiplier. Depending on the way things line up for you, you could be looking at a total cash prize worth up to 2,000X your wager.
And there you have it – two Wheel of Fortune games from the same series that offer very different experiences. If you are looking for something a little different, try the first. If you prefer things a little more traditional, try the second. Or if you believe variety is the spice of life – which of course it is – feel free to give both a shot!
TRENDING POSTS