Today's theme is all about Vikings – a popular theme for online slots that's been tried and tested by countless developers. Of course, some have met with more success than others – Yggdrasil Gaming being one of them. If you're a fan of these guys, you might know that they recently unleashed a new title – Vikings Go Berserk – on the world. But given the huge success of Vikings Go Wild, can the newcomer really live up to the hype?
Let's find out!
Vikings Go Wild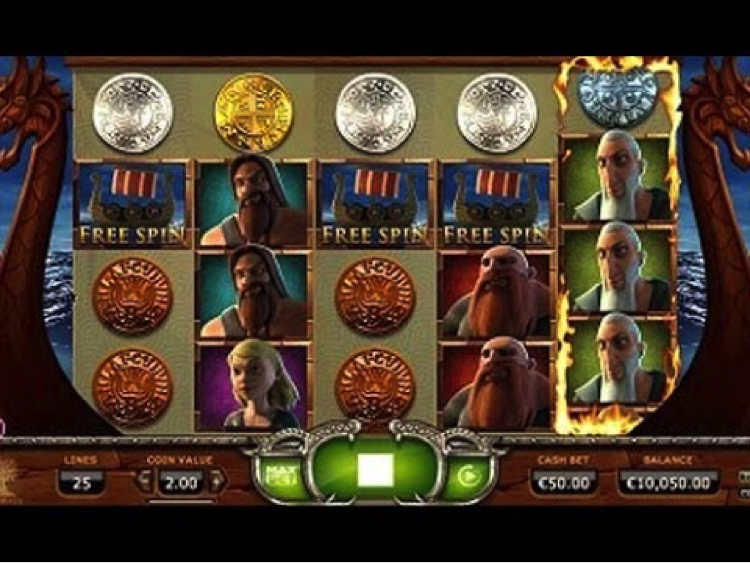 A firm favourite among gamers all over the world for quite some time now, Vikings Go Wild is a classic five-reel slot with 25 paylines and spins that vary from 25p up to a maximum of £50 each. You probably don't need to be told what kind of theme to expect – Vikings Go Wild pits the brave chaps at the heart of the tale against a nasty sea monster. They've taken a cartoonish approach to the graphics and the overall visual package is excellent. Not too corny, not too serious and with a rather epic soundtrack that really gets you into the action. And yes…it's available across mobile devices and desktop platforms alike.
In normal play, there are nine standard symbols on the reels, which when lined up consecutively can be worth anything up to 250x your bet, which isn't the highest payout but certainly isn't bad. However, then there's the free spin ship symbol, which can take you straight into the Free Spins round if you line up three or more at the same time. You'll get 8 free spins for three, 16 free spins for four and a generous 24 free spins for five in a row. Takings things a step further, there are also Viking and wild symbols to watch out for during the free spins.
Every time you land a Viking, there's a chance it will become a sticky wild. If the Viking symbol manages to fight off the monster, it becomes sticky. If not, it stays in place as a Viking. When you land a standard wild, it will stick in place right throughout the whole of the free spins round and can therefore add up to huge wins. Land a series of sticky wilds and you could be looking at a huge payout.
During the free spins feature and the base game alike, the Treasure Chest symbol may appear on the fifth reel. During normal play, this will mean being awarded anything from 8 to 12 free spins and a prize worth 40x your bet. If you're in the free spins round, you'll get up to 4 more free spins and the same 40x your bet.
On the whole, Vikings Go Wild makes for an enjoyable gaming experience though is rather high in terms of variance. Which means you have to be prepared for prolonged dry spells before anything really interesting happens. Still, there are some solid prizes on offer and the bonus features are strong enough – just don't go expecting a non-stop thrill-ride or regular payouts!
Vikings Go Berzerk

So now the obvious question – what's the difference between going wild and going berzerk? Or more importantly, which is better?
Well, Vikings Go Berzerk comes from the same developers, has the same five reels and the same 25 paylines. Spins are on offer from 25p up to £125 and the game is compatible with all platforms. All the characters and gameplay standards you came to love with the original make an appearance here, but things are also amped up a little with a couple of extra goodies!
Once again, the theme is self-explanatory with Vikings Go Berzerk and the graphics/soundtrack are largely the same. There's the same Treasure Chest symbol, which this time around can pop up randomly on the fourth reel and pay out a cash prize worth up to 40x your bet, while at the same time (sometimes) sending you right over to the free spins round. When it does, you'll be in for 7, 14 or 21 free games.
New to Vikings Go Berzerk, there's a new Golden Treasure Chest symbol which is exclusive to the fifth reel only. Land this little beauty and you'll be looking at a cash prize that can go as high as 400x your bet, along with up to 21 free spins, a Rage Boost and a free pass to the Ragnarök Free Spin feature.
Before the free spins feature stars, a Bonus Randomizer activates and will hand you various extras which may include extra free spins, wilds, reel wilds, treasure chest or golden treasure chests. You could end up with more spins, a healthy cash prize or a trip to the Ragnarök Free Spin feature. During the free spins, it's the same as in the original game – Vikings try to kill the creature, you win if they win and so on…
As for the Vikings Rage feature, when a winning combination includes a Viking symbol, a rage meter increases slightly. Once the metre is full, the free spins feature can be access in the same way as normal, though this time the Viking will be going nuts…or Berzerk. Or in other words, the Viking will always beat the sea creature and turn wild. To help you get started, you'll begin with the rage metre 50% full on your very first spin with Vikings Go Berzerk, which is nice!
Last up, the Ragnarök Free Spin feature really is a big deal as this puts ALL the Vikings into berzerk mode, which basically means you can't lose!
If it comes across as a bit complicated, worry not – Vikings Go Berzerk is extremely easy to get the hang of. And once you do, you'll realise it's got all the charm and glory of the original, only with a whole lot more to boot! It's a high variance slot once again and dry spells are inevitable, but if you like what the original had to offer, one session with Vikings Go Berzerk and you might not bother going 'Wild' again!
You might also find the following articles interesting:
TRENDING POSTS