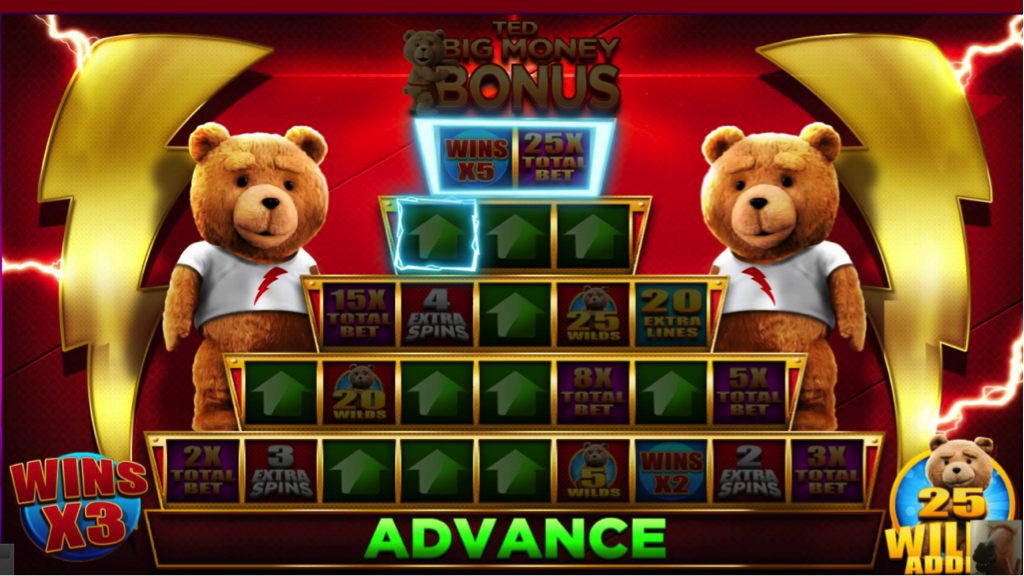 As you will probably know by now, we usually take a look at the two of the best slots of the moment with our regular round-ups. However, we occasionally come across a slot that has such extraordinary depth that it deserves a full post all to itself. It doesn't happen particularly often, but when it does, you can usually rest assured of a slot you're going to be impressed with.
In the case of Ted, we can honestly say that's exactly what you're looking at. Regardless of whether or not you were a big fan of the cult movie, this is exactly the kind of slot that has so many features and unique attributes that it is borderline impossible to get bored with!
Ted Movie Online Slot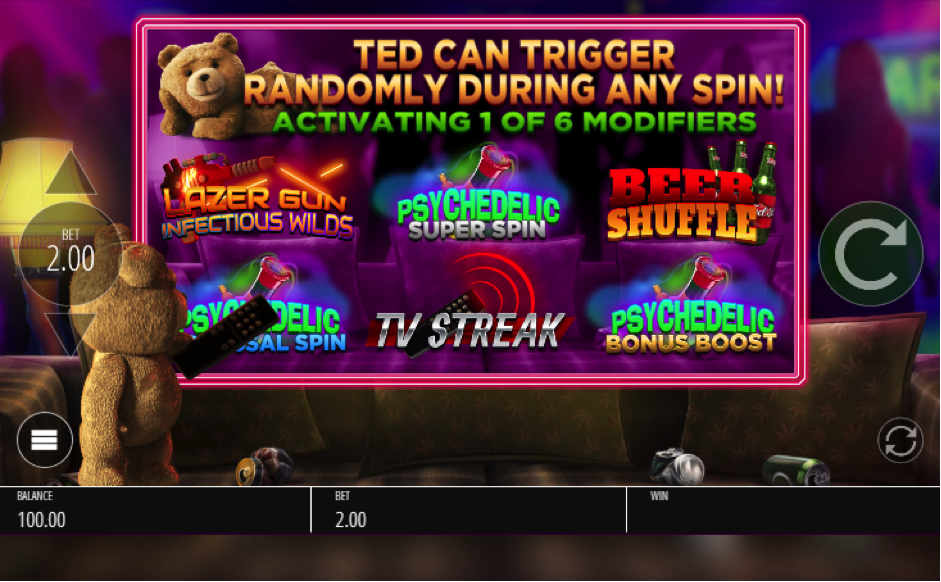 Getting the basics out of the way first, Blueprint Gaming unleashed Ted on the world in the form of a semi-conventional five-reel slot with a total of 20 paylines to play for. It is available via desktop browsers and also fully compatible with pretty much every mobile device going. As you've probably figured out, it follows the central theme of the Ted movie franchise, which is hilarious and offensive in equal measures! Along with five primary bonus features, there are no less than six additional randomly triggered bonuses that can kick in at any time.
Characteristically, the action takes place in Ted's living room where he's taking a nap on the couch and is surrounded by the usual contingency of empty beer cans. Symbols include all the usual playing card values, six packs of beer, marijuana bongs and so on. Of course, Ted himself makes an appearance as one of the symbols – a super stacked symbol no less – which for lining up five in a row will see you take away 25X your bet. And there is also an additional Ted wild symbol, which is worth the same amount and can be used to take the place of any other symbol in the game, with the exception of the Thunder Buddies Bonus symbol.
As already mentioned, there's a cool half-dozen bonus features that can be triggered at any time during the base game. You'll know you're in luck if Ted begins to stir and wakes up from his nap, after which he will reward you with one of the features at random, which include:
Laser Gun Wilds feature – With this, Ted arms himself with a laser gun and proceeds to fire it around the screen, in turn producing any number of additional wilds.
Psychedelic Super Spin feature – This time armed with a hookah, Ted covers the entire game board with a thick blanket of smoke which summarily results in a random number of special Ted symbols making their way onto the reels.
Beer Streak feature – If you are lucky enough to see Ted dowsing the reels in beer, the symbols on the reels will then move around until they form a winning combination. Just as long as the bubbles remain on the screen, this can continue over and over again.
Psychedelic Colossal Spin feature – Another special feature that sees Ted blow smoke all over the reels, leaving behind one colossal reel in place of three normal reels to guarantee you a winning combination.
TV Remote Symbol Streak feature – Ted wakes from his nap to give the TV remote a good bashing, which results in the winning symbols on the reels being held in place and the rest of the reels spinning once again.
Psychedelic Bonus Boost feature – Ted once again makes with the bong to blow smoke all over the reels, which in turn sees any number of additional bonus symbols being added.
In order to make your way over into the Thunder Buddies Bonus feature, you will need to land at least three of the corresponding symbols at any position on the reels. When this happens, you will gain access to one of five outstanding bonus features, which are determined at random by spinning a bonus wheel.
The Wheel of Fartune Bonus feature starts with a pick-me round where you will be rewarded with a spin, a multiplier boost or an arrow being added to the wheel. When you spin the wheel, you can you can win either a multiplier, a free spin or the chance to progress to the next position if you land on an arrow. You can trigger the Big Money Bonus feature if you make it all the way to the middle.
The Bar Crawl Bonus feature is considerably more complicated and starts as a board game feature, which once again gives you the opportunity to take home cash prizes or make your way to the Big Money Bonus feature.
Then there's the Super Mart Free Spins feature, which is relatively self-explanatory. You initially get five free spins to play with and a random number of additional wilds appear on the reels with each spin.
As for the Flash Free Spins feature, here you'll have the opportunity to play for additional wild symbols, more free spins and cash prizes, while at the same time climbing a bonus grid that could take you all the way to the Big Money Bonus feature if you're lucky enough.
Speaking of which, the Big Money Bonus feature is essentially a lucky-spin multiplier round, during which the maximum prize value can be up to 500X your bet.
So it's pretty safe to say that there's a lot of depth to Ted and the fact that it both looks and sounds amazing serves as an added bonus. Even if the film isn't really your thing, you'll no doubt have a great time with the Ted slot. However, if the film even remotely amused you, chances are you might just find Ted to be your favourite slot of the year so far
TRENDING POSTS