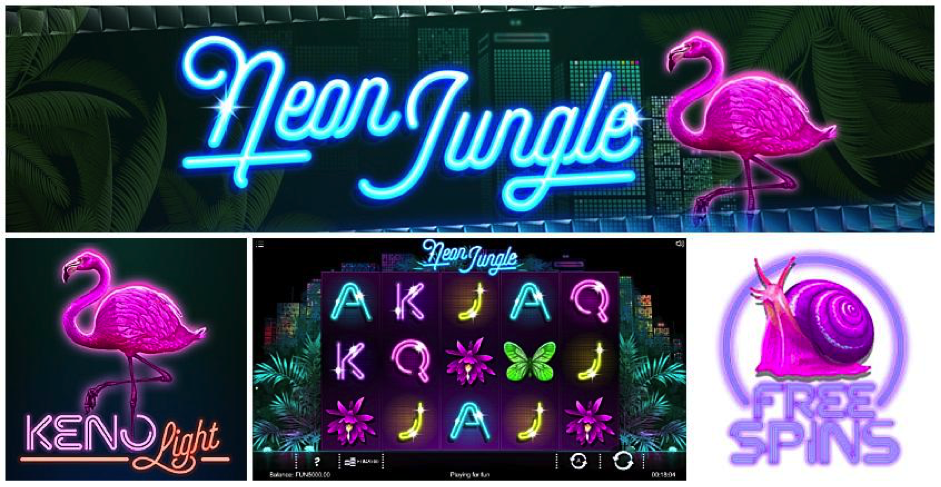 Neon lights had the potential to be tasteful or tacky in equally high measures. Which as we all know is something that can also be said about quite a lot of online slots. In this instance, we'll by taking a look at Neon Life and Neon Jungle – both of which have been designed with the neon lights as the theme, to one extent or another. The question being – which of the two is most likely to light up your life? (Sorry…couldn't resist!)
Neon Life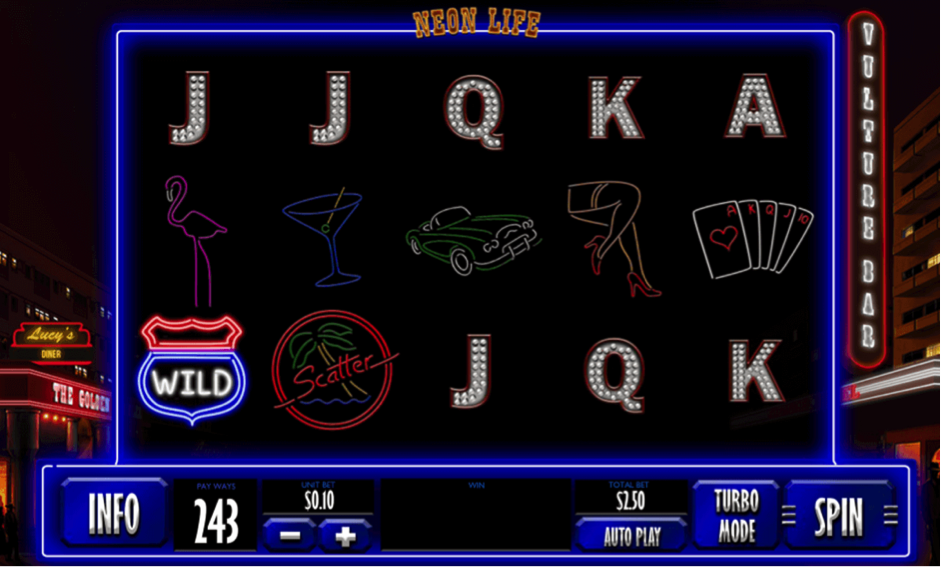 First up, anyone with a passion for all-things Las Vegas will probably get a real kick out of Neon Life. And given the fact that it was designed and developed by the gurus over at Playtech, you'd be right to expect a seriously impressive piece of engineering. As for what's on the cards…or reels…it's a classic five-reel setup with a generous 243 ways to win, with spins starting from 25p and going as high as £10. Fully mobile compatible, Neon Life is delightfully old school in every way and has a fantastic soundtrack with a distinctive jazz overtone.
Along with the usual playing card values, there are plenty of familiar looking neon lights in play. Which include cocktails, cars, flamingo and that all-important wild. There's also a symbol that features a royal flush, which unsurprisingly is the most lucrative in the game – five in a row being worth 100X your wager.
The base game is made incredibly entertaining by the Exploding Reels and Accumulated Wins feature. In a nutshell, each and every time you form a winning combination, the symbols that formed said combination will light up and every other symbol on the board disappears. After which, new symbols take the place of the non-winning symbols, which can result in new wins once again. The cycle continues until you do not hit a winning combination, meaning every possibility of taking home multiple prizes from a single spin.
Along with this, there's also a pretty fantastic free games feature, for which you'll first need to land at least five scatter symbols at the same time in any positions on the reels. The maximum number of free spins available is 25, though prizes are spiced up significantly with a dynamic win multiplier. Each time you land a winning combination, the multiplier is activated and increased with each subsequent win. Which means that if you hit five winning combinations in a row, you benefit from the maximum win multiplier of 5X.
Which is where the story comes to an end as far as Neon Life is concerned. Just as would be expected from Playtech, Neon Life delivers on all fronts and is likely to appeal to just about anyone. Volatility is relatively moderate, meaning you don't typically have to hang around too long for something exciting to happen. The potential for enormous prizes also adds to the appeal of Neon Life – jackpots worth hundreds of times your stake being possible with every single spin. Plus as far as we're concerned, any slot that uses Exploding Reels and Accumulated Wins is an outright winner in its own right.
Neon Jungle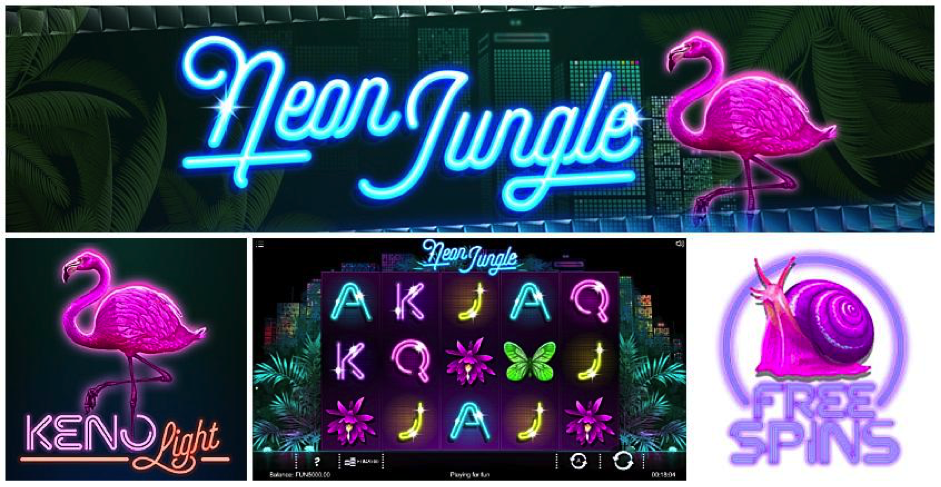 Next up, Neon Jungle follows a pretty similar theme, though in this instance replaces the familiar Las Vegas icons with a handful of bright and colourful jungle creatures. Courtesy of the folks over at Iron Dog Studio, Neon Jungle features five reels, 20 paylines and more than its fair share of special features and attributes. Spins start from 20p and go up to a maximum of £40 – the whole thing looks and plays at its absolute best on a high-quality tablet device.
With a backdrop featuring the skyscrapers of Rio, in-game symbols include parrots, frogs, butterflies, flowers and the usual playing card values. During normal play, the most lucrative symbol of all is the lion, which for three, four or five in a row will see you taking home a prize worth 50, 400 or 2,000 coins. As for the monkey, this little guy serves as the wild and can be used to take the place of any of the standard symbols in the game.
In the background of each of the special symbols is a faint circle, which at any time can light up randomly and trigger one of three superb bonus features. Light up the scatter and you'll be awarded a prize worth 250 coins, illuminate the 4X multiplier symbol to receive exactly that or switch the free spins feature light on and you'll be handed six free spins to play with in an instant.
As for the pink flamingo, light this lucrative symbol and you'll head over to a bonus game that plays out a little like keno. You'll be given the opportunity to choose 10 numbers, after which a draw is carried out to see how many of your numbers match those that are drawn. The lowest possible prize payout during the bonus round is 50 coins, though if you manage to land a perfect 10, you could take home anything up to 20,000 coins!
On the whole, Neon Jungle does a great job of balancing simplicity and playability with enjoyment. While there isn't a great deal of depth to the game, there's still a decent amount on offer to keep you busy. Technically speaking, with free spins, generous multipliers and instant cash prizes to pay for, it packs a punch in terms of special features. The base game isn't exactly the most thrilling you are ever likely to come across, but it usually doesn't take long for at least one of the bonus features to kick in. What's more, the keno-style bonus round is something of a rarity and makes a nice change from the norm.
TRENDING POSTS