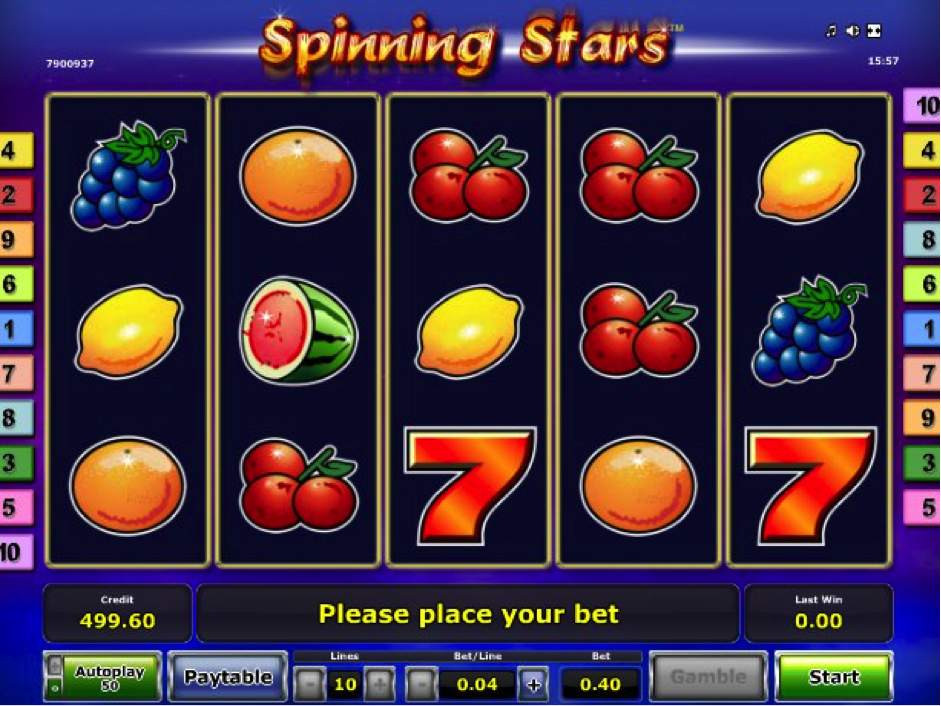 For today's double-slot dissection, we thought we'd take look at two popular titles from Novomatic. More often than not, this is one developer that likes to follow something of a set pattern with its online slot releases. But every now and again, they throw the kind of curveball that takes us all by surprise. The question being – are Spectrum and Spinning Stars standard servings of the usual, or do they bring something a little different to the table?
Spectrum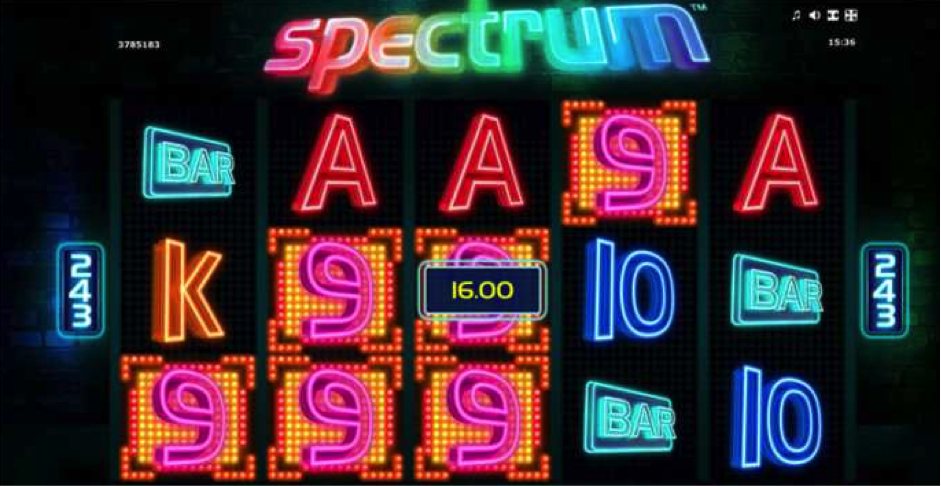 Kicking things off with Spectrum, there's no denying how immediately eye-catching this slick and sexy slot really is. Which is impressive, given the fact that it's also just about as simple as it gets. There are five reels, a generous 243 ways to win and spins start out from as little as 50p. On the whole, it's been put together as something of a modern take on a classic fruit machine. Neon symbols contrast gorgeously with a jet-black background, while the addition of a reel-locking feature does a good job keeping things interesting during normal play.
Back with the symbols, all the usual playing card symbols are accompanied by cherries, spectrums, bars, double bars and of course, triple bars. However, it's the spectrum that pays the biggest cash prize during normal play – five in a row being worth a highly agreeable 40X your wager. Not the biggest of normal play jackpots, but still generous enough.
There's also a wild symbol in play, which can be used to take the place of any other symbol whatsoever. As previously mentioned, the primary selling point of Spectrum is the always appealing reel-locking feature. In the simplest terms, this involves adjacent reels locking together when the symbols they display match those on the reels next to them. Which in turn means that multiple reels can lock together at the same time, translating as an improved chance of hitting a winning combination.
Because of this feature, the base game itself is genuinely enjoyable. Unfortunately, there's also one rather important thing missing from the equation. That being, anything else at all.
Aside from the reel-locking feature, Spectrum doesn't actually feature any other bonus rounds or added extras. Which in turn means that it really is every bit as simple as the kinds of classic fruit machines that have been doing the rounds for generations. Of course, whether or not this is a bad thing is entirely a matter of opinion. If you're on the lookout for something simple and enjoyable for a few spins, go right ahead. But if you place any real value on special features and bonus rounds…well, you won't have much luck trying to find them here!
Spinning Stars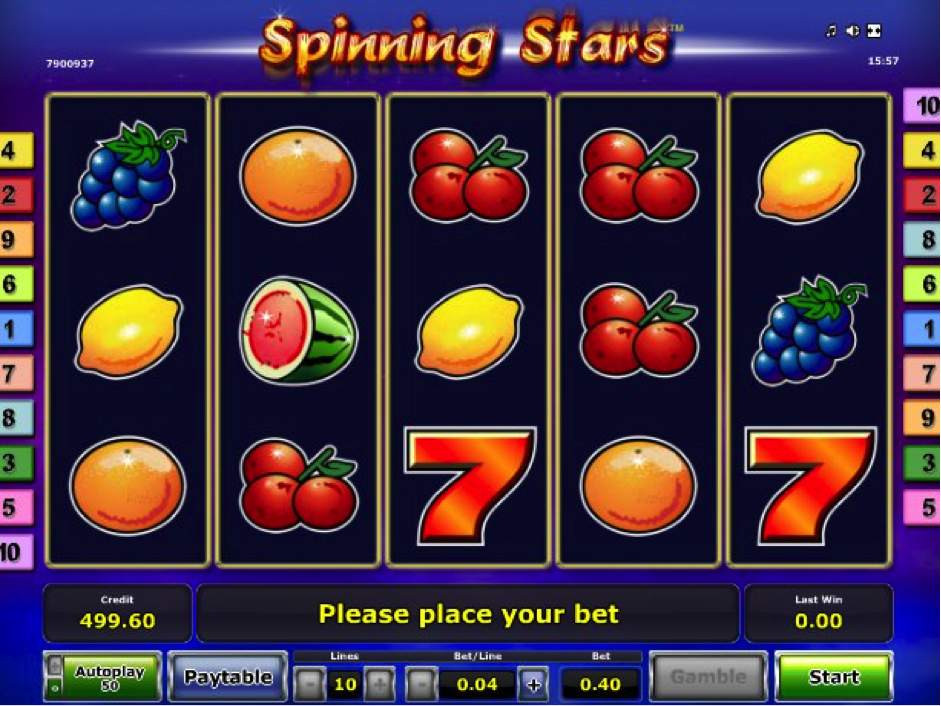 Next up and from the very same developer, Spinning Stars is also a modern take on the old classic. This time around, there are once again five reels and three rows, but with a somewhat less extravagant 10 paylines to play for. If the whole thing looks familiar, that's because Spinning Stars has been designed to bring the classic pub fruit machine experience to desktop and mobile devices alike. Which, it has to be said, it does a very good job of.
Spins start out from just a few pennies and the maximum bet is £100 per spin. The reels are populated by just about the most familiar symbols in the world of slot gaming – oranges, cherries, lemons, melons and that always alluring lucky number seven. All nice and simple, but where Spinning Stars excels over its counterpart above is in the addition of at least a couple of interesting bonus features. There are wild symbols, a gamble option following each winning combination and the undeniably entertaining Star Spin feature.
In order to activate the latter, you'll first need to land a wild symbol on the first and fifth reels at the same time. When this happens, whatever symbol appears in the middle of the third reel is also transformed into an additional wild. After this, each of the symbols surrounding the middle wild symbol then begins to turn clockwise in seven steps. With each step, any winning combinations that are formed pay out whatever cash prize they're worth. Which essentially means that simply by landing a wild symbol on the first and fifth reels, you could hit up to eight winning combinations and pocket a huge cash prize.
On top of this, there's also the always tempting gamble feature, as an optional extra following each win. It's the usual case of a 50/50 chance of either doubling your prize, or losing the whole job lot. Given how simple yet popular gamble features like these are, it never fails to surprise us that they aren't added to the vast majority of slots as standard.
Simple as it may be, Spinning Stars nonetheless offers a maximum jackpot worth 500X your wager. Which in turn makes it one of the most potentially lucrative games Novomatic has put out so far. Of course, the higher the potential jackpots, the higher the overall volatility of the slot. Which in turn means that while it may cater to all budgets and gaming tastes, it definitely has a habit of testing your patience when it comes to dry spells.
If you ask us, both of these modern takes on classic fruit machines are more than worth checking out for a few spins at least. The simple fact of the matter is that when it comes to slot gaming, you don't always need a world of complicated features to have a good time. Particularly if you are just looking to kill a few minutes here and there, rather than sit down and spend hours on end hacking away at the same slot.
Just like the classic fruit machine, a few spins here and there with both Spinning Stars and Spectrum never fail to entertain.
TRENDING POSTS