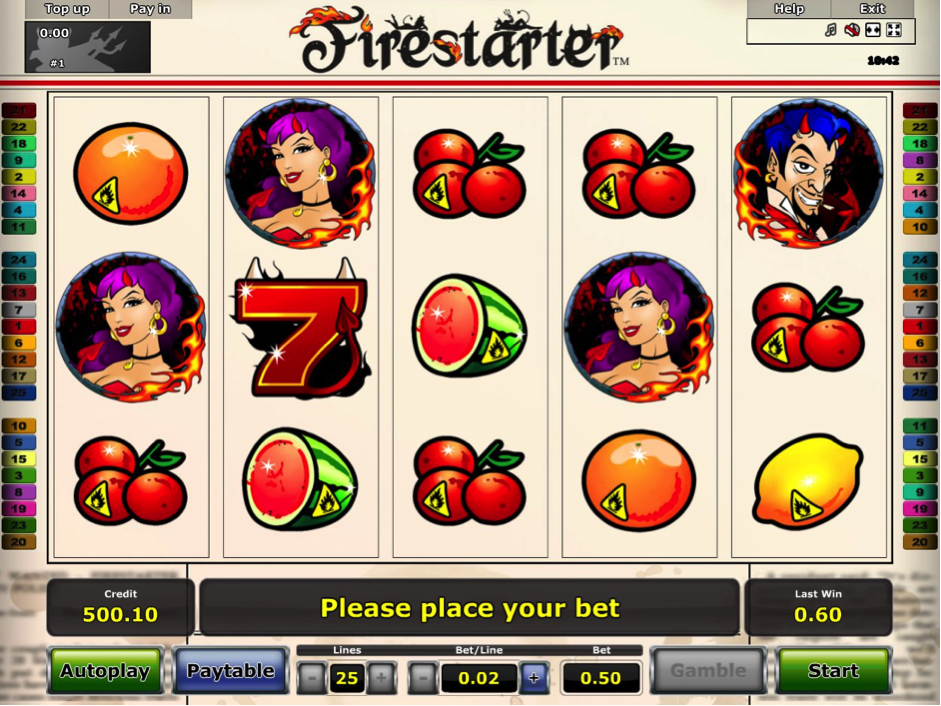 It's a tale of all things hot and heavy today, as we take a closer look at two fire-themed slots. Or at least, somewhat fire-themed. Both of these beauties come from Novomatic and are no less than gorgeous to look at. The question being – how do they rate when put through their paces?
Flame Dancer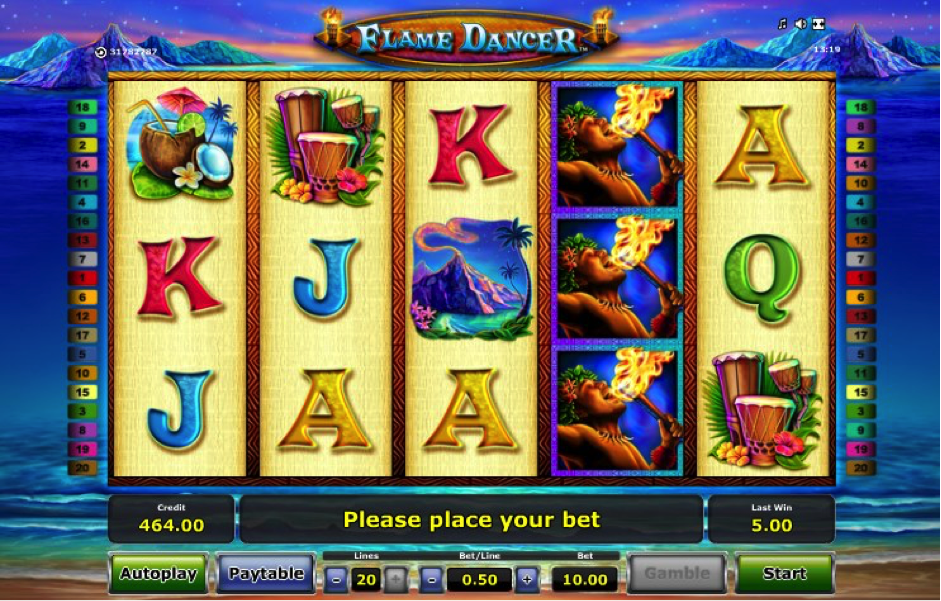 Kicking things off with Flame Dancer, this bold, bright and beautiful Novomatic slot was designed to take players right into the heart of a dreamy Hawaiian island setting. It follows the usual five reels with a total of 20 paylines to play for, with spins starting from 20p each and going as high as £50. Anyone looking to get their hula on is more than welcome to do so via desktop and the vast majority of mobile devices. And you really only need to take one look at Flame Dancer to find yourself well and truly sucked into its charms.
Along with the usual playing card symbols, you'll find everything from Bongo drums to coconut cocktails to volcanic mountains in play. The most lucrative of which being the latter, which for five in a row will see you taking home a prize worth a generous 2,000 coins. Then of course there's the fire-breathing dancer, which in Flame Dancer serves as the wild.
Aside from this, there isn't a great deal else going on as far as normal play is concerned. Instead, pretty much the entire game is based around the free games bonus feature. In order to access it, you first need to line up at least three of the flaming torch scatter symbols in any position on any of the reels. When this happens, you'll be transported over to the bonus round and handed seven spins to start with. Which admittedly doesn't come across as particularly generous, but there's little more to this particular Flame Dancer bonus round than meets the eye.
First of all, the wild symbol can land on and expand to take over each of the five reels during the three spins bonus round. In addition, many of the lower value symbols are also transformed by wilds as you land them. Which basically means there's a pretty strong chance of hitting winning combinations with most of your free spins. And if all that wasn't enough, you can also trigger the same bonus round once again by hitting at least three scatters in the same spin. So that's a total of 14 free spins to play for – each of which giving you the highest possible chance of hitting the winning combination.
Perhaps the only other thing you really need to know about Flame Dancer is that in terms of volatility, it's right up there at the top of the scale. Which means that while prize payouts tend to be on the generous side, chances are you'll first have to pump quite a few coins into the thing before it offers anything in return. Still, you never know when you might be rewarded for your perseverance.
All in all, definitely worth checking out, but don't expect to strike it lucky if only willing to stick around for a few spins at a time.
Firestarter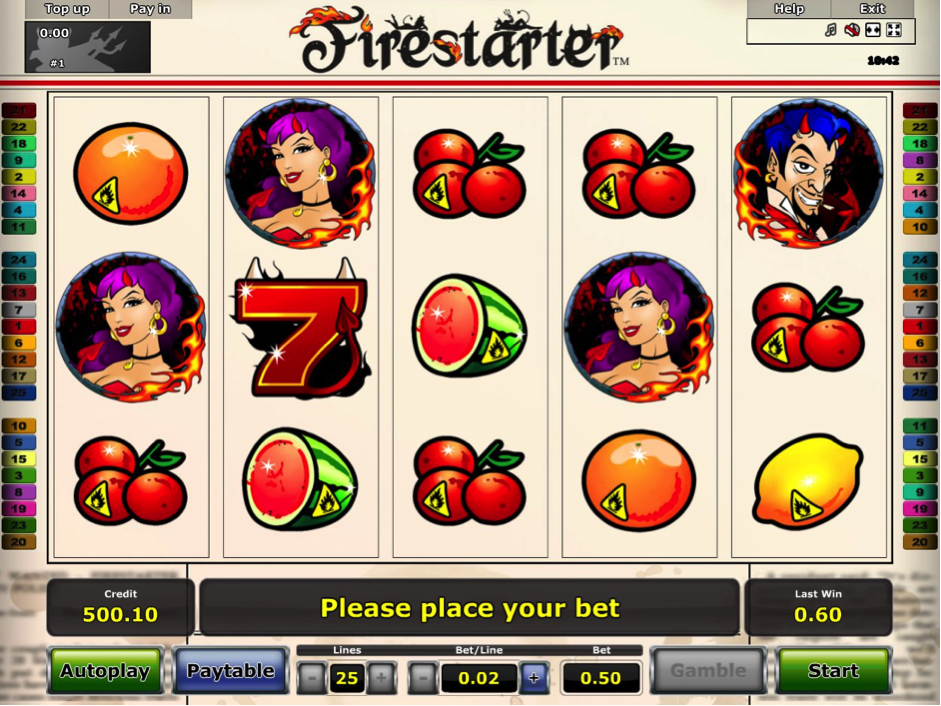 Next up, Firestarter offers the chance to pit your wits against the single most famous and infamous Firestarter of them all. That being, the one that calls the fiery underworld his (or her) home. But rather than anything particularly scary or sinister, Novomatic has put together a devilishly delightful online slot that's a hell of a lot of fun to play with. (Pun intended.) There are five reels, 25 paylines and spins range from 50p each up to a maximum of £100. It looks the part, runs as smoothly as can be and certainly packs a punch as far as volatility is concerned.
Perhaps the single most important feature with Firestarter is the fact that it uses the popular reel refill engine. Take a look at any of the standard symbols and you may note that they all carry warnings of extreme flammability. This is because every time you line up a winning combination, the symbols therein explode and are replaced by whatever lies above. If this then forms another winning combination, there's another explosion and more symbols fall into the gaps. Technically speaking, it's a process that could continue indefinitely and line in your pockets with a serious cash prize.
There's a definite air of the classic fruit machine to Firestarter, which along with a couple of devilish characters features oranges, melons, lemons, cherries and so on. By a pretty huge margin, the lucky number seven with devilish characteristics of its own is the most lucrative symbol. If you manage to line up five of these in a row, you'll be looking at an enormous prize worth 5,000X your wager. And then there's the wild symbol, which can be used to take the place of any other symbol with the exception of the scatter.
Speaking of which, the scatter appears in the form of a box of matches. You'll need to land three of these on the first three reels at the same time in any position, in order to be transported to the free games bonus feature. When this happens, you'll start out with 10 free spins to play with and both the male and female Firestarters become price paying scatters with every spin. In addition, a bar symbol makes its way into play and offers the chance to win up to 1,000X your wager. If all this wasn't enough, it's also possible to trigger up to 15 more free spins by once again landing three or more scatters symbols.
If you ask us, Firestarter delivers the total package when it comes to entertainment. The reel refill engine keeps the action hot and heavy during normal play, while the free spins bonus round is everything a good bonus round should be. In fact, the only slight issue with Firestarter as far as certain gamer groups are concerned is that it ranks extremely high in terms of volatility.
Which means that if you decide to dance with this particular devil, you need to be ready to accept fairly sizeable bankroll swings in both directions!
TRENDING POSTS