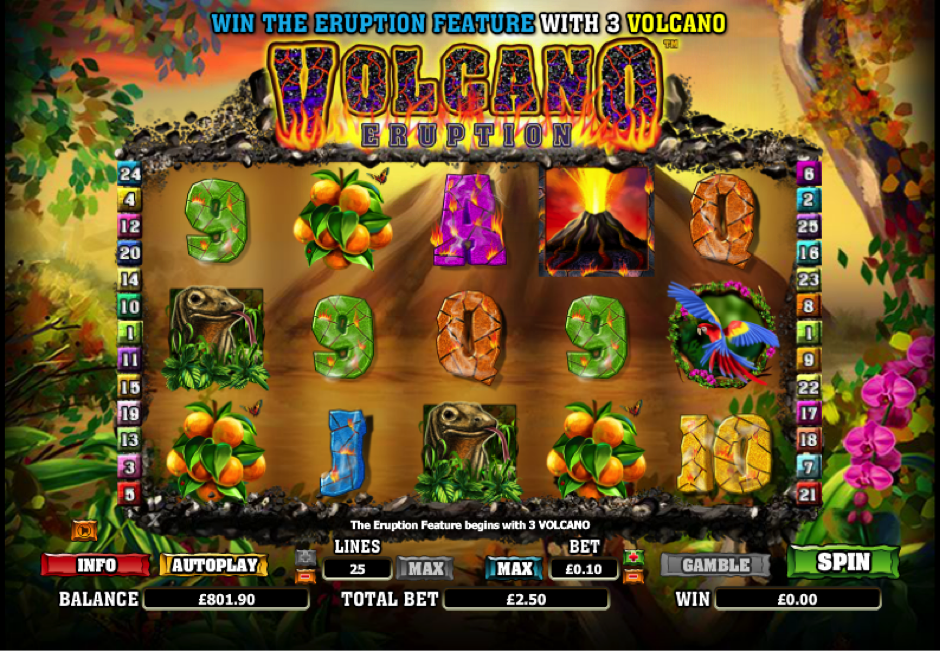 As there's definitely no shortage of volcano-themed slots doing the rounds right now, we thought we'd take a look at two of the most popular. Both Volcanic Cash and Volcano Eruption have the pedigree of world-leading developers behind them, not to mention pretty extensive audiences on a global basis.
Once again, we can't help but recommend both – given the way in which they each bring something different to the table. Nevertheless, your own personal preferences (and pocket!) could well determine which of the two is best for you – read on for all the key insights you'll need:
Volcanic Cash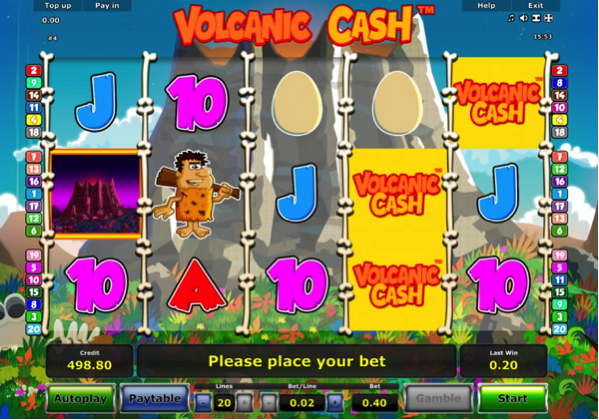 First up, the goal in Volcanic Cash is of course to generate an eruption of treasure for you to keep all to yourself! Whether or not this happens…well, as usual is more of the case of luck than skill, but you never know! Courtesy of the folks over at Novomatic, Volcanic Cash takes the form of a five-reel slot with a total of 20 paylines to play for, along with spins that start out at 20p and go as high as £50 for bigger spenders.
You only need to glance at Volcanic Cash for the first time to find yourself compelled to dive in. It bears a rather striking resemblance to a certain stone age family theme cartoon you are probably familiar with, but to be honest this simply makes it even more adorable. Cavemen, eggs, dinosaurs and so on take centre stage, along with all the usual playing card values. The Volcanic Cash logo is worth the most attractive payout of all, paying an impressive 500X your bet if you manage to line up five in a row.
If you land three or more Volcanic Scatter symbols at the same time, you'll be immediately rewarded with a prize worth 5X your bet and also be taken over to the free spins bonus round. Depending on the number of scatters you land, you'll be awarded 15, 20 or a generous 25 free spins.
As the feature plays out, the lava symbol is usually the key to the biggest wins – landing exclusively on the middle three reels and serving as both a standard wild and a stacked wild. The only downside being that with no scatters appearing at all during the free spins feature, there's no way of triggering any more free spins than those you are awarded in the first place.
On the whole, Volcanic Cash is a pretty basic affair and doesn't have a great deal of depth to it. But at the same time, it serves up the goods quite nicely in terms of entertainment, not to mention the possibility of taking home solid wins. The free spins feature is of course what Volcanic Cash is all about, so it's a shame there's no scope for triggering more spins during the bonus round. In addition, Volcanic Cash is relatively high variance, meaning you have to be prepared for relatively long dry spells, before any prizes are paid out.
Volcano Eruption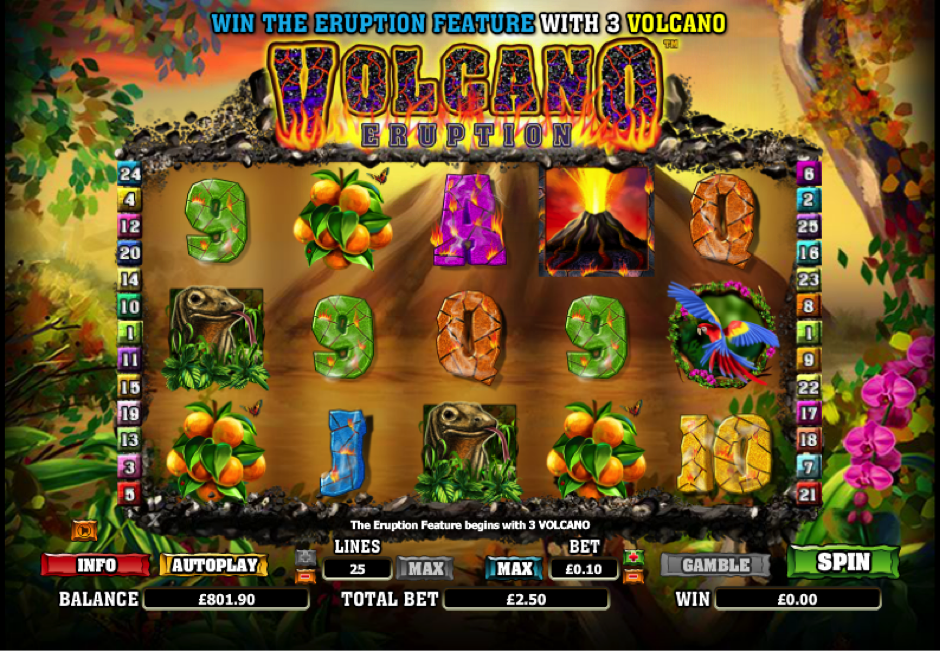 As for Volcano Eruption, this extremely well presented slot comes courtesy of NextGen Gaming and follows the standard format of the five reels and 25 paylines to play for. Spins are available from 25p and up to a maximum of £50, while the action takes place in some kind of remote jungle setting with a rather foreboding volcano in the background. Along with the usual playing card values, symbols include everything from lizards to monkeys to parrots to the all-important volcano itself. The soundtrack is the same as used for a fair few slots from this developer and if the game as a whole feels a little on the familiar side, that's probably because it is.
Volcano Eruption is basically Hot Hot Volcano that has been renamed, for reasons that were never made entirely clear!
Not that this matters – it's all about the gameplay! Which it has to be said with Volcano Eruption is both simple and entertaining in equal measures. The wild symbol takes the form of the volcano and can appear on the three middle reels only. If you land three scatters on the middle three reels, you'll be taken over to the Eruption feature – not to mention also being handed a prize worth 5X your stake as an instant added bonus!
This is where things really start to come alive – the volcano itself suddenly bursting into action and five free spins being handed out to play with. Better yet, the third reel becomes an expanding wild reel for the duration of the free spins. In addition, the action takes place right in the middle of a volcanic explosion, which in turn results in flaming bombs of lava flying all over the place and adding additional wilds to the reels on a random basis.
Anything else? Not really – it's all about this one bonus feature with Volcano Eruption, which is exciting enough to make it worth the effort. Admittedly, the base game itself is a little on the uneventful side, but as a medium-variance slot, you do not usually have to wait around too long for something more interesting to happen. And when it does, the potential payouts can be huge. So once again, this is exactly the kind of slot that's great for a few casual spins here and there, but perhaps doesn't have the kind of depth that will keep you coming back for more long-term.
TRENDING POSTS