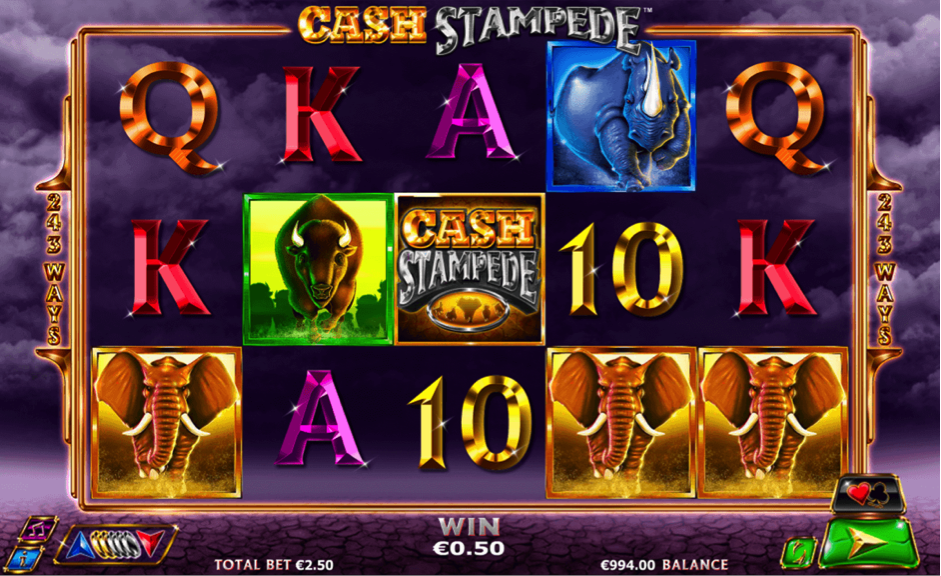 There are some online slots that draw in players like moths to flames, simply by their tempting titles alone. Suffice to say, anything that gives you the impression you'll be walking away with cold hard cash represents a pretty solid example. In the case of Cash Cave and Cash Stampede…well, the appeal of both on the surface at least is relatively obvious. The question being – how do these superbly popular slots perform when put to the test?
Cash Cave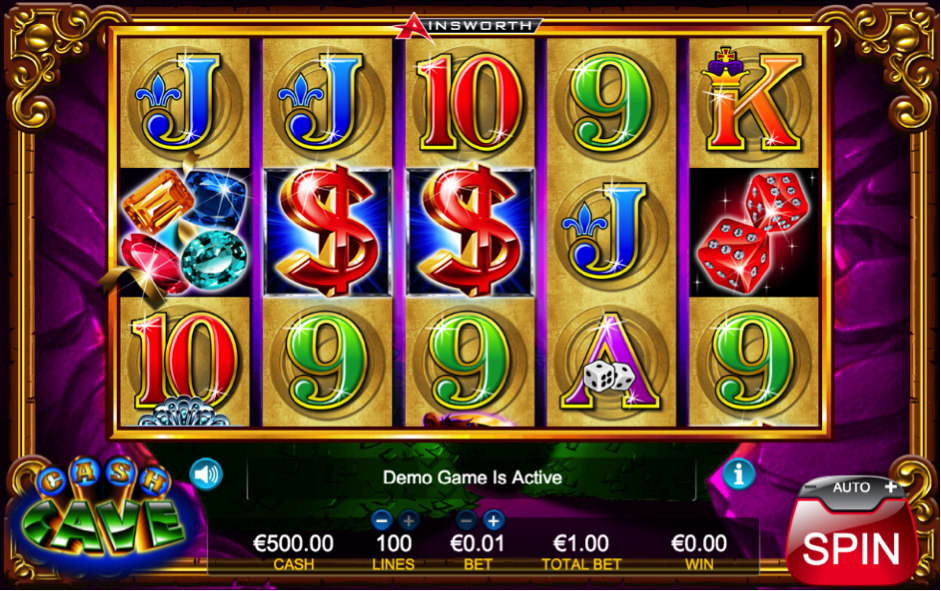 Well, first of all we find ourselves on a voyage of exploration into the Cash Cave. Delivered by the folks over at Ainsworth, Cash Cave is clearly out to appeal to those who have slightly larger and better managed bankrolls. The reason being that spins start from £1 each and go up to a maximum of £75. Which is properly too rich for some people's blood. Still, with a generous 100 paylines to play for and a couple of interesting bonus features, you can't help but think it could be money well spent!
Aside from the fact that the more traditional symbols have been replaced by jewels, diamonds, piles of cash and so on, pretty much everything about Cash Cave harks back to the classic fruit machine. Which as far as we're concerned really isn't a bad thing at all – simplicity often serving as the key to creating truly outstanding games. It's the dollar symbol that has the potential to pay out most generously during normal play – five in a row been worth 200X your bet. The scatter is also pretty lucrative, offering a 100X payout for the same five-strong combination.
To be honest, normal play is a little on the uneventful side for most of the time. Nevertheless, land at least three scatter symbols at the same time in any position and you will be taken over to the free spins bonus round. You'll be given 10 free spins to play with at the start, while benefiting from the addition of a stacked wild in the form of a bear that can technically take over the whole of every reel apart from the reel-1.
During the free spins bonus round, any winning combination that features a bear wild will be stepped up by way of a multiplier – anything from 2X to 8X. If you land at least three Cash Cave scatters while the bonus round plays out, you'll be given another five free spins to play with and the bonus of further bear multipliers added to the reels. When this happens, it's almost impossible not to walk away with a seriously impressive prize payout.
Simple it may be, but Cash Cave isn't messing about when it comes to volatility – it's way up there at the top of the table. With spins starting from a minimum of £1, it could prove to be a little on the expensive and perhaps even dangerous side for anyone who doesn't know exactly what they're doing. Long dry spells are to be expected as standard and getting into that free spins bonus round isn't easy. Still, stick it out for long enough and there is every possibility that Cash Cave could reward your patience and dedication quite generously!
Cash Stampede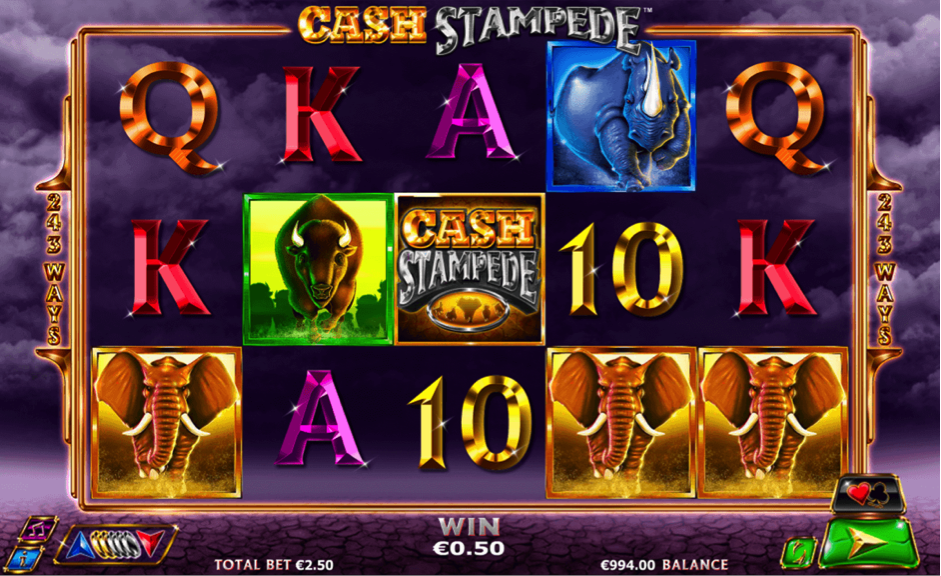 Next up, Cash Stampede takes us out of the safety of a jewel encrusted cave setting and into a fantastical African plain of some description. NextGen Gaming fitted Cash Stampede with five reels, 243 paylines and spins starting from a rather more modest 25p each. Everything about Cash Stampede is designed to look and sound as intense and dramatic as possible. Though it has to be said, at least in terms of volatility, Cash Stampede is actually considerably less scary than its counterpart above.
Along with the usual playing card values, you'll be joined on your African adventure by horses, antelopes, buffalos, rhinos and elephants. During normal play, the Cash Stampede Re-Spins feature really stands out as the kind of feature that has you coming back for more. If any of these animal symbols make an appearance in a winning combination with a wild, you'll be given a free re-spin. The great thing being that this cycle can continue over and over again, with your prize getting bigger all the while. All of the animals pay the same prizes, with potential wins during this base game feature going well beyond the 100X mark.
Which makes the base game exciting enough, but then there is also a free spins bonus round for which you will need to land at least three scatters at the same time in any positions on the reels. Along with being provided with eight free spins to play with, a sticky wild is added to the centre of the middle reel to vastly improve your chances of hitting winning combinations, one after the next. The Cash Stampede feature is also active during the free spins bonus round, which is quite simply fantastic. Plus it's perfectly possible to trigger any number of additional free spins, by landing the required scatters once again.
With its volatility at a more medium level and more affordable spins available, it's probably safe to say that Cash Stampede has more wide-reaching appeal than Cash Cave. While the typical prizes paid out might not be quite as enormous, you typically don't find yourself sitting around for nearly as long waiting for something exciting to happen. And when it does, you'll see why Cash Stampede has earned both a strong reputation and a pretty loyal following among gamers at all levels.
TRENDING POSTS