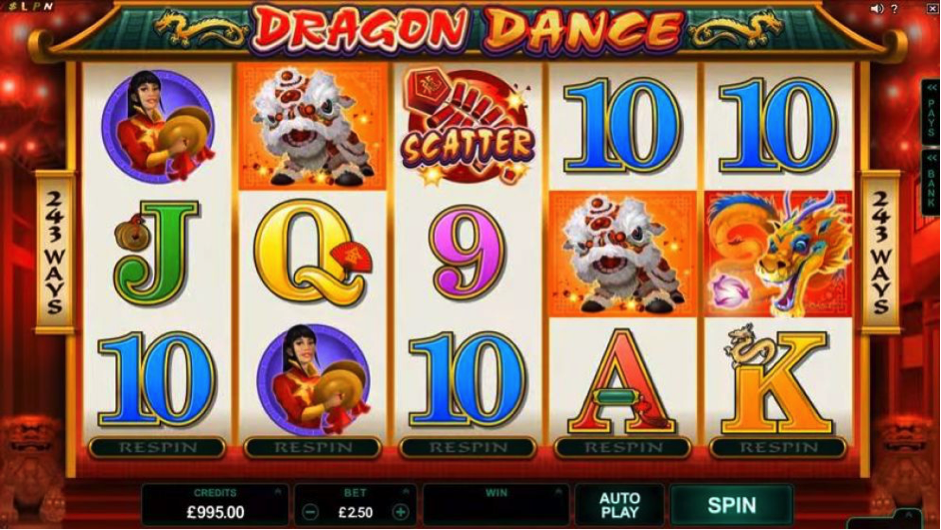 Let's face it – online slots with fantastical dragon-based themes aren't exactly thin on the ground. To such an extent that in many instances, it's actually quite difficult to tell one from the next. Still, you occasionally find yourself coming across the odd example that breaks the mould. The kinds of dragon slots that don't look or play like any others out there at all. Which is why today, we thought we'd introduce you to two of them – one from NextGen Gaming, the others from the legends over at Microgaming.
Dragon Drop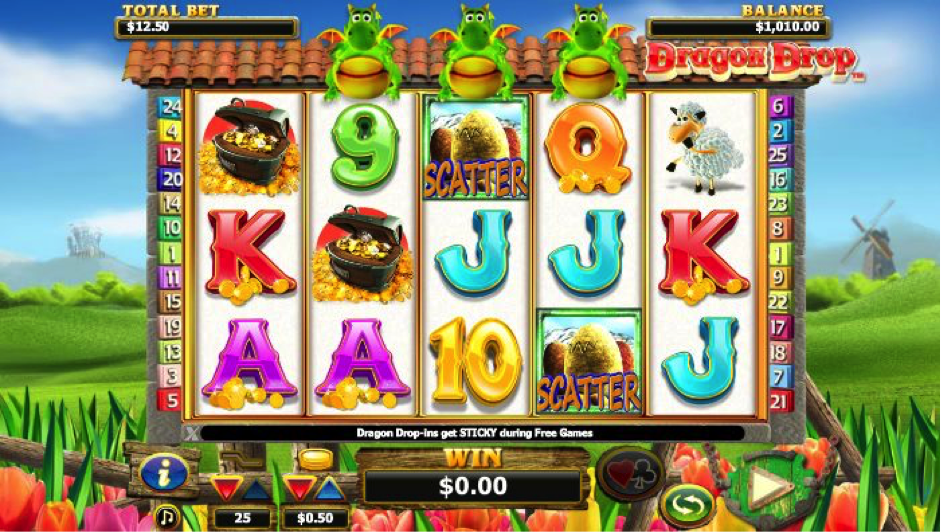 First up, we'll be taking a look at the NextGen Gaming entry – the simply delightful Dragon Drop. You really only need to take the briefest of looks at the game itself to see just how different Dragon Drop is from the kinds of dragon-based slots you might be used to. Cute, colourful and bursting with gorgeous cartoon graphics. There are five reels, 25 paylines to play for and spins that start from 25p each. And while it may all come across as anything but serious, there's one hell of a fiery free spins bonus round that's as hot as any going!
Along with a bunch of low value playing card symbols, there's an array of cute and quirky characters waiting to make your acquaintance. The chest full of gold coins being the most attractive of all, given the fact that it's worth no less than 5,000X your wager – should you be looking enough to land five in a row. In case you hadn't already noticed those three somewhat overweight-looking dragons at the top of the screen, these guys are there to do you a few favours here and there with wilds. Every now and again, they'll drop on to the board at random and throw a few wilds into the mix. The best thing being that not only does this increase your likelihood of winning, but all winning combinations that feature these wilds automatically attach a 2X multiplier.
The scatter symbol – with a handful of eggs in the background – needs to be landed in quantities of three in any positions on the reels, in order to win eight free spins. Not to mention, activate the Sticky Dragon feature – not to mention a multiplier worth 2X on all wins during the free spins bonus round. And if all that wasn't enough, the chubby dragons at the top of the screen can still plop their own wilds onto the board at any time!
Better yet, when any of the dragons drop wilds on to the reels during the free spins bonus round, they will stay in place for the entirety of the feature. Given that this can happen multiple times during the same feature, you could end up with a ton of wilds in-play, along with that 2X multiplier. Technically speaking, prizes in excess of 1,800X your stake are perfectly possible if you play your cards right. It's just a shame the free spins cannot be triggered once again, meaning that eight is the maximum you'll be playing with.
As you can probably tell, there's a lot about Dragon Drop we really like. It has just the right amount of special features to spice up the bonus game, a simple yet potentially lucrative free spins bonus round and the kind of overall playability that makes it borderline irresistible. And with volatility coming in medium-ish, it's perfectly suited to just about all pockets and playing styles as well.
Dragon Dance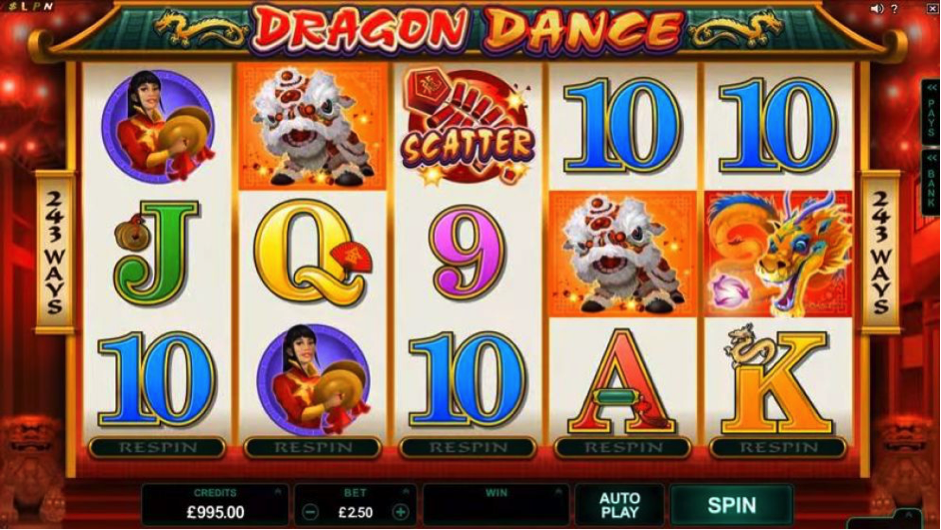 Next up, we have the folks over at Microgaming to thank for Dragon Dance, which is loosely based around the festivities associated with the Chinese New Year. Nothing scary, nothing fantastical and nothing particularly cute, either. Then again, with its striking visuals, outstanding soundtrack and a generous 243 ways to win, this is one party you'll be more than tempted to join. Spins are available from 25p up to a maximum of £125 and Dragon Dance struts its stuff gorgeously via desktop but isn't currently available for mobile devices.
Given that red is considered a lucky colour in the Far East, there's quite a lot of it here! Along with the usual playing card values, you'll be joined in your celebrations by dancing dragons, colourful lion costumes, artists, musical performers and so on.
One of the best things about Dragon Dance is the inclusion of a Respin feature. Put simply, after each spin you will have the opportunity to re-spin any and as many of the reels as you like individually. Or in other words, spin the reels one at a time and keep doing so until you get a winning combination. This can continue indefinitely, though you'll need to pay for each re-spin accordingly. The price being variable, depending on what's happening at the time.
So that makes the base game great in its own right, but it's the free spins bonus round that's the real star of the show. As usual, you'll be needing at least three scatter symbols in any positions to activate the feature, which will see you playing with 15 free spins and a 3X multiplier applied to every win throughout the round. What's more, the free spins can be triggered a second time by once again landing at least three scatter symbols, meaning a total of 30 free spins available.
And that's it…a testament to simplicity and the way in which you don't need to get carried away to deliver the total package. Dragon Dance gets the job done by adding a simple yet effective feature to the base game and an extremely uncomplicated free spins bonus round. You could argue that Dragon Dance doesn't have a great deal of depth, but it's pretty perfect for casual gamers looking to dip in and out of the action for a few minutes here and there. Like its counterpart above, volatility is medium and should suit all players.
It's just a shame Dragon Dance still hasn't been fully optimised for mobile devices, but still…chances are it's only a matter of time before they get it sorted!
TRENDING POSTS