Today's dual-slot roundup will probably appeal most to the cat lovers out there. Not to mention, children of the 80s – also those with a fondness for the tales of Alice in Wonderland. Which pretty much covers all audiences – precisely why both The Cheshire Cat and Thundercats are pegged for pretty epic success worldwide. Despite having only been out and about for a few days now, these two fabulous felines are already earning quite the reputation and fanbase!
The Cheshire Cat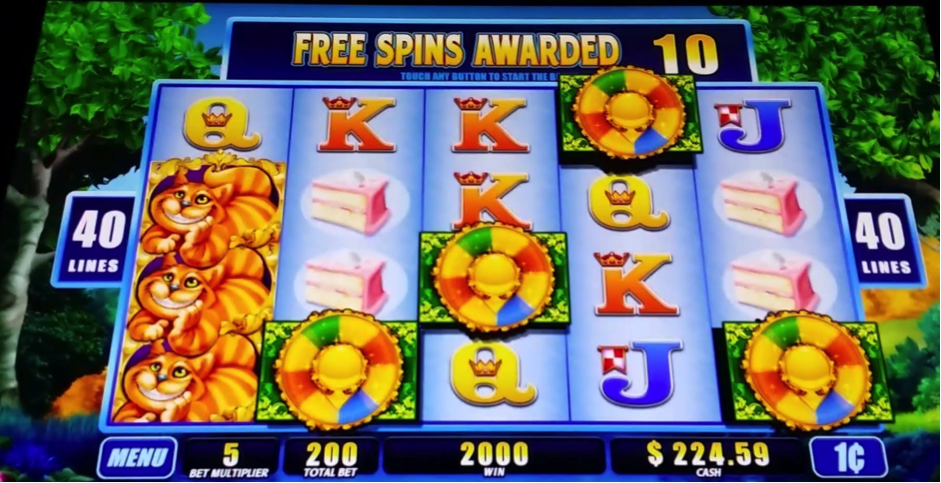 Up first, you'd be hard-pressed to find anyone who isn't at least vaguely familiar with The Cheshire Cat. Whether you find him cute, quirky or downright creepy, you still know his legacy pretty well! In this instance, The Cheshire Cat comes courtesy of the folks at WMS Gaming, who've put together a delightful five-reel slot with a total of 40 paylines to play for. Compatible with the vast majority of desktop and mobile devices alike, The Cheshire Cat can be played for as little as 40p per spin, going right up to £400 for bigger spenders.
Unsurprisingly, the action centres on the kinds of Wonderland staples and symbols you'd expect. Visually, everything looks just as great as you'd expect from WMS – the soundtrack is also a delightfully soothing. Back with those symbols, along with the usual playing card values, you'll find yourself presented with slices of cake, the March Hare, the Caterpillar, Alice and of course, the star of the show himself!The Cheshire Cat serves as the wild symbol and can be used to take the place of any other symbol in the game, with the exception of the bonus symbol. Land five Cats in a row and you're looking at a relatively modest payout worth 12.5X your wager.
Spicing things up a little during normal play, the Super Stacked feature randomly allocates one symbol for every spin to become super stacked. Which is definitely a nice touch. However, The Cheshire Cat is predominantly about the free spins bonus round, for which you'll need to first land at least three of the wheel scatter bonus symbols in any positions at the same time. Three bonus symbols are worth five free spins, four will see you handed 10 to play with along with an instant 10X multiplier on your wager, while five bonus symbols are worth 20 free spins and a whopping 50X multiplier instant prize!
You'll also get the opportunity to spin the lucky wheel before the bonus round commences, which can reward you with anything up to four fully wild reels. And no matter what happens during the bonus round, The Cheshire Cat has a neat Bonus Guarantee feature, which means that you will always win at least 10X your stake. Which in turn means that walking away without a decent prize at least just isn't going to happen.
As a relatively low variance slot, The Cheshire Cat is great for casual gamers and those who prioritise fun over big wins. It pays out with relative regularity, but it doesn't tend to be the most generous in terms of prize sizes. Still, make your way into that pretty epic bonus round on the back of a decent wager and you're guaranteed to walk away grinning from ear to ear!
Thundercats
Next up, anyone familiar with Saturday morning TV in the 80s will no doubt recognise this incredible blast from the past. More than three decades after the show itself enjoyed its heyday, Blueprint Gaming has finally decided to give the online slot treatment to Thundercats. A gorgeously presented five reel slot with a total of 30 paylines to play for, Thundercats boasts no less than five different free spins bonus rounds and five outstanding modifiers during normal play. Spins start from 40p and go as high as £500 each – you might also note that Thundercats has been designed primarily for mobile devices and to be played in portrait orientation.
Chances are you don't need us to introduce the legendary characters who take centre stage in Thundercats. Suffice to say, they're all present and correct – alongside the usual playing card values and so on. The wild symbol is good for taking the place of every other symbol in the game apart from the bonus symbol – three of the latter being enough to take you over to the Thunder Wheel Bonus. Which basically sets the stage for the free spins bonus round, giving you the opportunity to gamble for a better deal or accept the terms you're offered.
In any case, the five free spins bonus features look a little like this:
Ultimate Thunder Spins feature. Stacked wilds on the first, third and fifth reels, with five free spins to play with.
Mumm-Ra Free Spins feature. All wilds that appear while playing with the 10 free spins you are handed get stored in a bank. At the end of the free spins, you'll get one additional free spin on an extended set of reels with all of these wilds in play.
Slithe Free Spins feature. Also worth 10 free spins to play with, not to mention sticky wilds and the chance to win an additional five free spins.
Monkian Free Spins feature. Additional wilds appear in Hot Zones while playing with 10 free spins. Again, you can also add a further five free spins to your tally.
Jackalman Free Spins feature. The multiplier value applicable to your wins increases every time you land a wild. With 10 free spins to play with, that's a maximum multiplier available of 10X your winnings.
As mentioned, there are also plenty of extras included to spice up the base game, which will be determined by a spin of the wheel. Whichever of the Thundercats the wheel lands on will reward you with additional expanding, stacked and creeping wilds, along with generous multipliers on every winning combination.
Whichever way you look at it, this frankly gorgeous Thundercats slot is a fitting tribute to the iconic 80s TV show. There's nothing worse than developers hijacking classic franchises and failing to do them justice, simply to capitalise on the gimmick. With Thundercats, it's pretty much the exact opposite – Blueprint Gaming has really gone to town and served up a modern classic in its own right!
TRENDING POSTS