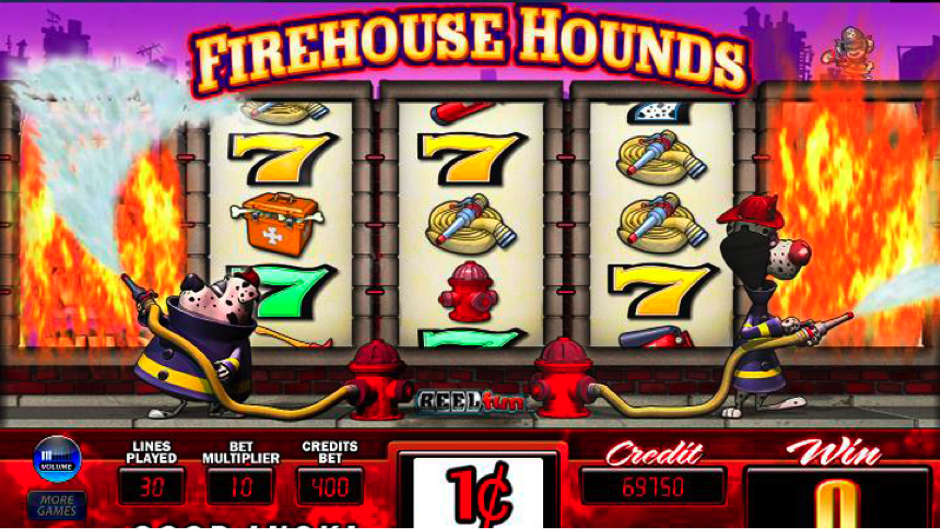 Animal-themed slots aren't what you'd call thin on the ground these days. In fact, pretty much any animal you'd care to name probably has a thousand slots bearing its likeness. Or at least, most of them, anyway! Not that this is a bad thing – animal antics make for good times all round when it comes to slot gaming. But at the same time, some will always put on a far better show than others. In the case of these two, both Kitty Glitter and Firehouse Hounds deliver the goods in spades.
Kitty Glitter Slot Review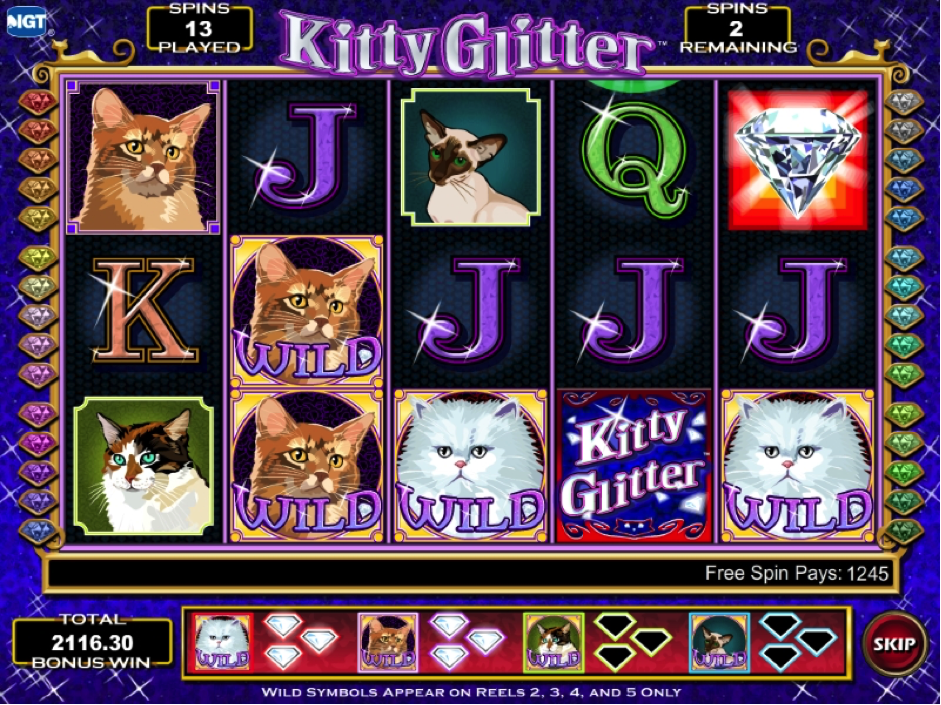 First up, exactly how glamorous and enjoyable can a slot be, when it has a name that's a play on kitty litter? The answer…well, you'd probably be surprised. At least in terms of potential…and if you happen to be no less than crazy about cats. Unless you think felines are fabulous, you're going to take one look at Kitty Glitter and run a mile. But if cats are your thing, you'll probably be in your element with this one!
Five reels, 30 paylines and spins that range from 30p up to a maximum of £300. Kitty Glitter started life as a land-based slot and was more recently given the digital treatment by IGT. It's playable on most desktop and mobile devices across the board, with a couple of bonus features on offer to spice things up.
If being totally honest – as we always are – the visuals aren't exactly inspiring. The cats that form most of the key symbols are a little on the dull side. Not cartoonish enough to be cute, not realistic enough to be impressive. Even the playing card values look a little on the half-hearted side. Still, it's all about the action and we're pleased to say that Kitty Glitter certainly delivers in this department.
The base game is what it is – nothing to write home about. However, if you manage to land three of those tantalising bowls of diamonds on the three middle reels at the same time, you will be handed 15 free spins to play with. Not to mention, a far more lucrative set of reels to put them to work on. While playing with the free spins, every scatter you land immediately provides you with a 3X multiplier on your stake. Plus there's the opportunity to keep re-triggering the free spins in quantities of 15, up to a maximum of 225.
During the bonus round, the diamond symbol serves as the wild. What's more, there's a Diamond Accumulator feature that can see you taking home even bigger prizes. Every diamond that appears on the final reel gets added to the tally – the greater the number of diamonds, the more cat symbols on the reels turn into wilds. You could technically find yourself in a position where there are so many wilds on the board, you can't fail to win with every spin!
While it may be about all things cute and quirky, Kitty Glitter means business. It's pretty high on the variance scale, which means the guarantee of both generous prizes and long dry spells. If you've got the patience, the bankroll and the passion for cats to cope, Kitty Glitter could be the slot for you!
Firehouse Hounds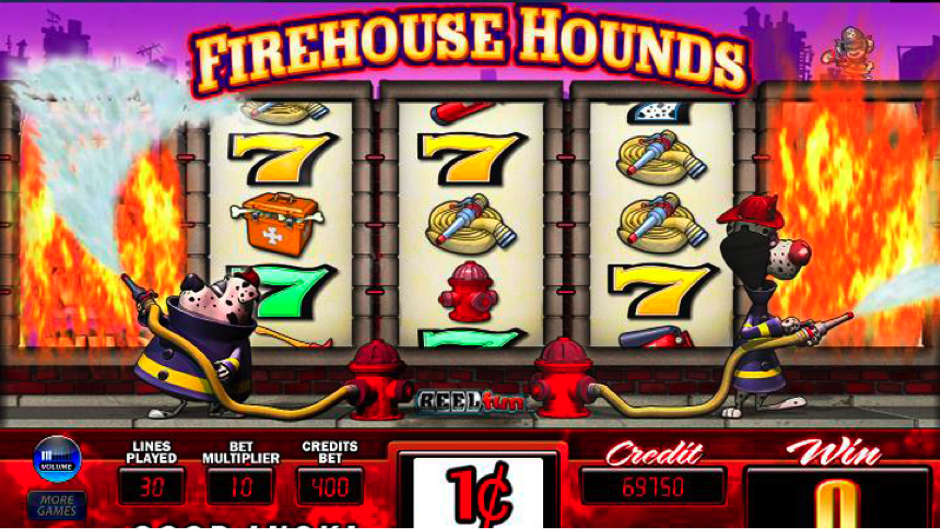 Next up, IGT proudly presents Firehouse Hounds – a five-reel slot with 30 paylines and spins on offer from 40p up to £1,200 each. When it was first launched, its proud developers promised a slot experience that's 'hotter than a four-alarm fire'. Sadly, they didn't explain what this means and we still don't have a clue! Still, what we do know for sure is that Firehouse Hounds follows the story of a bunch of firefighting dogs and is currently only available via desktop. No mobile support, unfortunately.
As you can see, the visuals are light-hearted in nature and not exactly mind-blowing. The same can also be said for the animations – not to mention the soundtrack, which to be honest really doesn't seem to fit with the theme of the game at all. So much so it's borderline hilarious! Still, the gameplay is pretty great and if you see the action taking place above, you could be in for two fully wild reels for bigger wins!
If you land three of the red alarm bonus symbols on the middle three reels, you'll be rewarded with a trip to the Wild Fire Free Spins bonus round. When this happens, the first and fifth reels burst into flames and become packed with wilds for each of your free games. Select a fire pole to determine how many free spins you'll have to play with, up to a relatively modest maximum of 6. That said, triggering the feature also means an immediate prize worth a whopping 30X your wager!
It's possible to continue triggering free spins throughout the feature, though once again in relatively modest bunches of 4, 5 or 6 at a time. Still, the fact that you've got two fully wild reels in play every time you spin more than makes up for this!
On the whole, Firehouse Hounds is great for those who don't take their slots too seriously and aren't out for life-changing prizes. It's rather low on the variance scale, which means that small prizes can be expected on a regular basis and there's usually plenty of action on offer. Of course, at the expense of ever winning anything particularly exciting. Firehouse Hounds had a pretty popular run in its real-life guise – it might have an even better chance online once it makes its way to mobile!
TRENDING POSTS