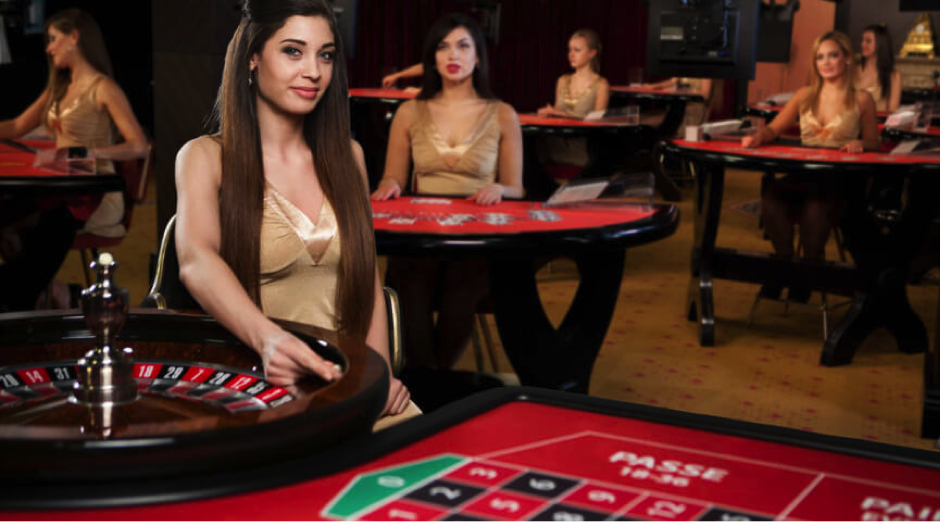 Seriously – you cannot consider yourself an online casino connoisseur if you're not totally into live-dealer gaming. Once a new trend exclusive to a few of the bigger brands on the web, live casino gaming is now available at pretty much every casino that's worthy of your time.
Still, it's not until you experience the difference first-hand that you truly understand what live-dealer gaming is all about. By which point, you're guaranteed to be just as hooked on the whole thing as everyone else!
What's the Deal with Live Dealer Gaming?
Introduced several years ago, live-dealer gaming uses the latest advances in connected technology to enhance all aspects of the online gaming experience.  Traditionally, online casino gaming has pitted players against complex algorithms and random number generators, used to determine the outcome of every spin, hand or throw of the dice.
With live-dealer gaming, these random number generators and algorithms are eliminated from the equation entirely. Rather than playing against a machine, you pit your wits against a real human dealer. Or at least, the deck of cards, roulette wheel or dice they're holding at the time.
The introduction of live-dealer meant that for the first time, those who played online could play in almost exactly the same way as traditional casino gamers. The actual mechanics of the games themselves and the likelihood of walking away with a prize remained the same, but you were now playing against a person instead of a machine.
Five Reasons to Get Into Live-Dealer Gaming
As for why this holds such enormous appeal…well, you'll need to check it out for yourself to see what all the fuss is about. Nevertheless, there are at least five reasons why anyone with an interest in online casino gaming really should check out a live-dealer casino right now, which are as follows:
1. Streaming live
First and foremost, the fact that the whole thing is streaming live on a 24/7 makes for an exceptionally engaging and immersive experience. There's just something uniquely enjoyable and satisfying about playing casino games in-person against a real human being in real-time. 
It's not that traditional online casino gaming isn't enjoyable, but there's a real difference when you're face to face (albeit virtually) with a dealer, as opposed to a computer algorithm and a virtual table.
2. Chat option
Another huge step forward live-deal casino gaming brings to the table is the ability to chat with your host while playing. Again, this naturally makes for a more immersive, engaging and realistic experience than traditional online casino gaming.  Ask questions, learn how the game works or simply chat with your host in the same way you would in a real-life casino setting. 
Depending on the live-dealer game you choose, you may also be able to chat and interact with your fellow players at the table at the time. All of which brings a uniquely social element into the mix, which simply doesn't exist when playing against a computer.
3. Exclusive offers and promos
Most online casinos these days are embroiled in a constant battle to outdo one another's bonuses and promotional offers. With such a huge range of casinos to choose from, the biggest names in the business are constantly upping the ante with interesting incentives. None of which would be available at a traditional land-based casino – just one of the perks of playing online. 
In any case, you'll also regularly come across online casinos handing out exclusive bonuses and incentives for the live casino sections. Or in other words, bonus credit and special deals you can only spend on their live-dealer games. All in all, a great way of stretching your bankroll as far as possible.
4. Comfort and convenience
Like all types of online casino gaming, one of the biggest benefits of live-dealer gaming is the fact that you don't have to leave the comfort of home to take part. In fact, you can dive into as much quality casino gaming as you like from pretty much any connected mobile device you have access to. 
If you're unable or simply unwilling to head out to a decent bricks-and-mortar casino for a spot of gaming here and there, you've already got all you need sitting in your pocket right now. The difference with live-dealer gaming being that the traditional casino experience is replicated more accurately than ever before, making for the ultimate immersive gaming experience.
5. Gaming variety
Last but not least, the latest advances in live casino have paved the way for the introduction of some of the most innovative and unique gaming experiences on the web right now. Taking roulette as just one example, you'll now routinely find any given casino offering multiple (even dozens of) versions of roulette in their live casino section. 
Best of all, the vast majority of live-dealer games up for grabs on the web right now can be played for next to nothing, so they're suitable for all bankrolls and risk appetite. Hence, if there's any casino game whatsoever you've always wanted to try out but weren't sure how to get started, now you know! 
The Bottom Line…
Live casino gaming was perhaps one of the most predictable and expected evolutionary shifts to have hit the online casino industry so far. Technological advancements continue to open the door to new and interesting takes on classic casino gaming, which are only likely to become even more interesting over time.
Sooner or later, it's entirely possible that virtual reality will take over as the new standard, which when combined with live-dealer gaming will result in the most engaging and immersive experience imaginable. 
Until then, live-dealer gaming is as close as you'll get to the real thing, without actually making a trip to a traditional casino.
You might also find the following articles interesting:
TRENDING POSTS