If you haven't already noticed, we quite like flip-flopping between one casino game and the next. Or to put it another way, we're quite happy to highlight the benefits of one game over another and vice versa. After all, variety is the spice of life, all your eggs in one basket and so on and so forth.
The thing is though, if you were to ask any group of 1,000 professional gamblers what they favour, chances are at least 999 would answer 'table games'. This, despite the fact that on a global basis, slots remain the single most popular casino game in the history of history. So if this is the case, why is it that the professionals almost always favour table games?
If it's possible to win millions on just a single spin with no strategy involved, how can table games possibly be the best?
Well, for the most part it all comes down to that all-important word – strategy. With slots, it's all about pumping your money in and seeing what happens. With table games, there's quite a lot more to it than that.
So as far as the experts are concerned, here's a rundown of five reasons why table games always have been and always will be the best:
You have some control over the house edge
First of all, playing slots is similar to rolling a dice. Absolutely everything comes down to chance and you have no influence whatsoever over the house edge. Despite the fact that the odds of winning big prizes are spectacularly low, the fact that big prizes are advertised is enough to attract millions of gamers every day.
What's more, different bets result in different odds within the same game. Contrary to popular belief, it can actually get spectacularly complicated and isn't nearly as black and white as it seems. Even with RTP ratios that appear to be high, it's still not uncommon for the house edge with slots to go as high as 15% or more. And once again, there's nothing you can do about it. By contrast, depending on how you bet, it's possible to play craps with a house edge of just 1.41%. And of course, let's not forget how card counting can technically tip the odds in your favour.
One table, multiple bets
Though not necessarily advisable among amateur circles, professionals routinely play at blackjack tables with split personalities. Or to put it another way, they occupy any number of seats and place as many different bets as they like. Rather than simply placing £10 on a single hand, they might choose to play anything up to four hands at once. That is, just as long as the positions are not already occupied…for obvious reasons.
That said, some casinos have their own specific rules and regulations when it comes to these kinds of multi-positions activities. As such, it's a good idea to make sure you're allowed, before simply setting up and taking over the whole table. In some instances, you might need to sign up as a VIP or loyalty customer, before being able to take things to such a high level. Which is of course something of a gimmick, but you might get certain perks and privileges in return.
The slower rate of play
One of the biggest mistakes made by many slot players is getting carried away in terms of speed. Even if only betting 50p per spin, it's quite incredible how quickly you can burn through more than £10. By contrast, wagering the same amount of money every time when playing something like blackjack means enjoying a much longer and more relaxing overall experience. The same also goes for roulette, where you have to wait not only for everyone else to place their bets, but also for the wheel to do its thing. When playing slots, you are free to continue pumping coin after coin into the machine, hitting the button and watching it disappear before your eyes. And then of course there's the recent innovation of autoplay, which can potentially wipe you out in seconds.
Most professionals consider overall value for money when it comes to each casino experience. Given the fact that table games tend to give you far more time for your money, it's easy to see why they are favoured in terms of value for money.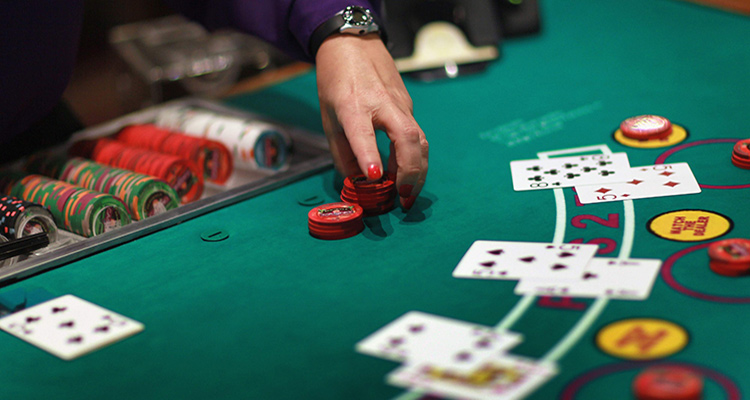 It's a learning experience
Contrary to popular belief, it is impossible to get 'good' at any given slot. You can learn how it works, determine which gambles are worth taking and get the point where you can handle it all like a professional. Nevertheless, given that there is absolutely zero skill or strategy that will make any difference to your chances of winning, you don't actually learn anything along the way.
With casino table games, it's quite the opposite. Take the time to play with other blackjack or poker players and it's amazing how much you pick up along the way. Even if not to such an extent that you become a hot-shot success story, it's still an enjoyable and useful learning experience. Plus there's always the opportunity to take a leaf from the books of those who do not seem to know the meaning of the word 'lose'.
You get more freebies and perks
Last but not least, those who spend their time at casino tables tend to get lavished with far more freebies than those who sit or stand elsewhere. Free drinks, free food and gift vouchers for everything from free accommodation to live shows – it's amazing what they will do to keep you spending.
There are even ways of tricking casinos to ensure you get the most for your money. For example, if you plan to bet with no more than £500 and have plenty of self-control, go get yourself a stack of chips worth £4,500 from the cashier. Stick them all on the table, but then only bet with the £500 limit you established. Chances are that within a matter of minutes, your stack will be clocked by casino staff and you'll suddenly be given the VIP treatment. All in spite of the fact that you never had any intention of spending more than £500 in the first place!
You might also find the following articles interesting:
TRENDING POSTS