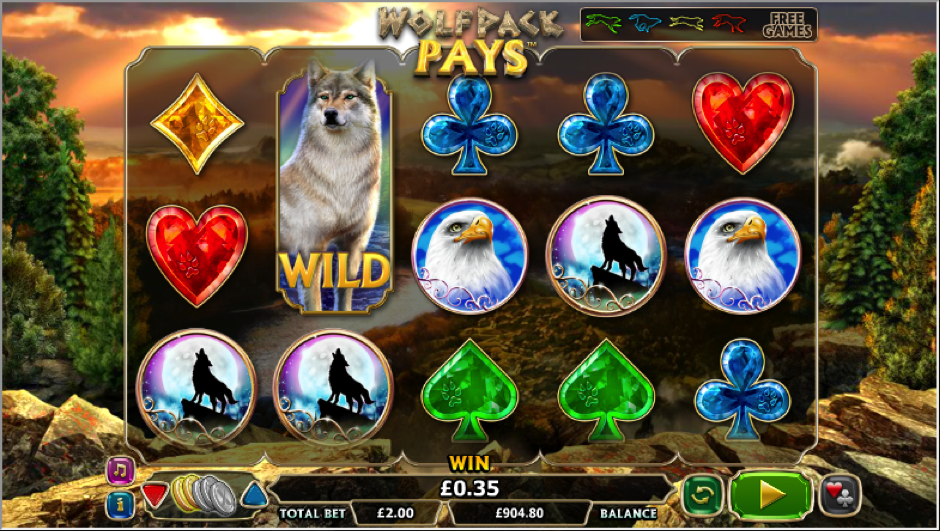 As you probably figured out quite some time ago, wolves tend to be an extremely common and indeed popular theme for online slots. As for why…well, that's a question we can't really answer – we just know that they are! And as always, there are certain examples that stand out from the crowd as the kinds of top picks we'd personally recommend trying out.
So today, we'll be taking a look at two of these – Winning Wolf and Wolfpack Pays. They've both earned pretty solid reviews among gamers all over the world, but what is it that makes these two in particular stand out from the pack (Pun intended)?
Winning Wolf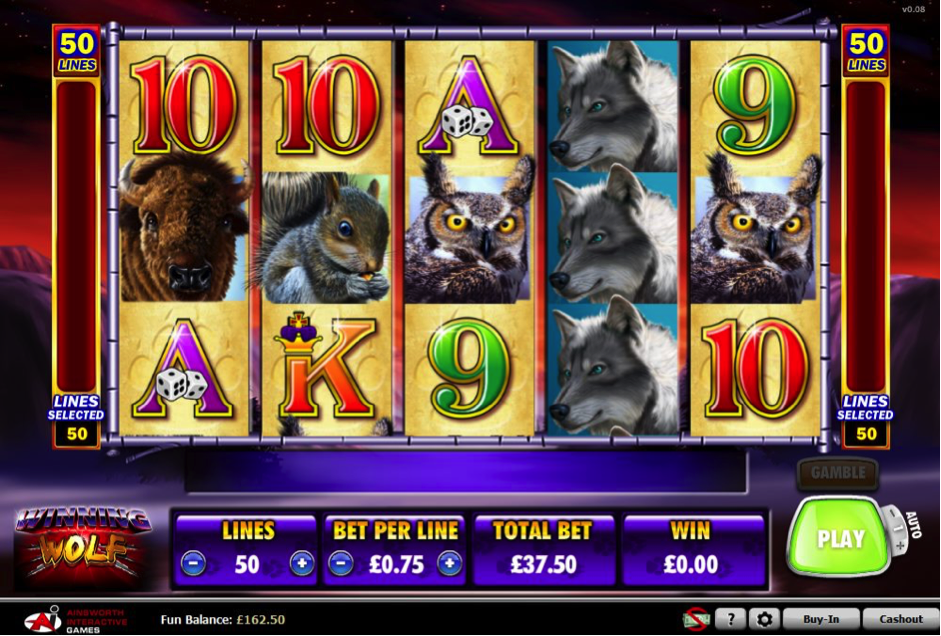 First up, Winning Wolf comes courtesy of the folks at Ainsworth Technologies and immediately comes across as something relatively simple. There are five reels, a maximum of 100 paylines to play for and spins that start out at £1 and go all the way up to £75 each. Suffice to say therefore, may be a little on the expensive side for the average casual gamer.
In terms of visuals, it's a relatively simple affair with a wildlife theme and a very basic snowy background. There's the usual contingency of playing card values, along with various wildlife symbols including a buffalo, an owl, a squirrel and an eagle. If you're lucky enough to land five eagles in a row, this will result in a payout worth 10X your bet, which isn't particularly astonishing.
The wild symbol for the game takes the form of the Wolf, which makes an appearance on the last three reels only. It isn't worth anything specific in its own right in terms of line payouts, which is a shame, but can of course help create winning lines by taking the place of the other symbols. It can also land fully stacked, filling the entire reel.
There's a scatter symbol in the form of a mountain range, which you'll need to hit in quantities of three or more to head over to the free games bonus round. Along with being awarded eight free spins to play with, you'll also receive an instant payout worth 2X, 10X or even 100X your line bet, depending on how many scatters you land at the same time.
Things change quite a lot during the free spins bonus round – including the paytable. What's more, this time around any wilds that land during play are frozen in place right through until the end of the feature. It is also possible to trigger more free spins during the bonus round indefinitely.
On the whole, Winning Wolf comes across more as a classic slot you would expect in an arcade than an advanced video slot. It has relatively simple visuals, an equally simple set of sound effects and the overall gameplay is…well, simple! Variance comes somewhere around the mid-reaches, though with a 93.85% return to player rate, it isn't exactly on the generous side.
Still, if you are out for something extremely simple just for a few spins here and there, you might find Winning Wolf enjoyable enough. If you're looking for depth, detail and a decidedly higher payout rate, you might be better off elsewhere.
Wolfpack Pays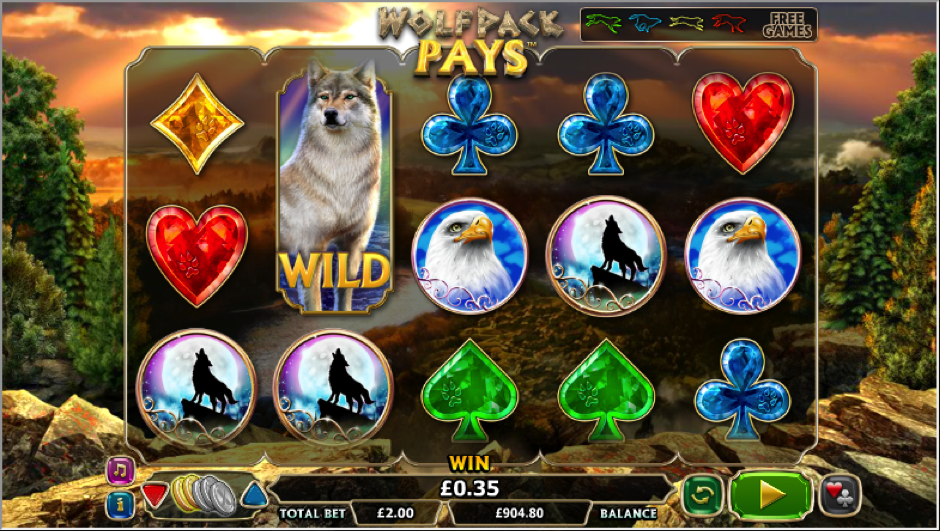 Next up, Wolfpack Pays has the pedigree of NextGen Gaming behind it and immediately stands out as something with a little more depth. This time, it's the same five-reel setup with comparatively simple visuals, though a generous 243 possible paylines. The forest background is a little more fetching, spins start from 40p each and there's a much more relaxing and tranquil soundtrack, creating a somewhat more immersive experience.
One of the most immediately appealing features Wolfpack Pays brings to the table is the On A Roll feature. If you haven't come across this before, it's basically a free spin given out after every win during the base game, along with additional wilds are added to the reels before each spin. As such, you can technically keep on winning over and over, from just a single spin.
After the first win, additional wilds make their way on to the third reel, while after two wins all three middle reels take on additional wilds. And if you win four times in a row, you'll make your way over to the Wolfpack Pays bonus feature. Which is, to be honest, just a creative name for a relatively standard free spins bonus round. When the action kicks off, five additional wilds will be added to the reels and there are technically no limits to the number of free spins you will have to play with. The reason being that the bonus round only comes to an end when you've hit three non-winning spins. If luck's on your side, there's no telling just how long the feature could go on for.
Once again, that's pretty much all there is to say about Wolfpack Pays, making it another example of a very simple slot with comparatively few special features and attributes. Nevertheless, any slot that features the On A Roll bonus feature instantly gains enormous appeal in terms of its base game. With Wolfpack Pays, the fact that even one winning spin can then lead on to so much more gives it a base game that goes far above and beyond many of its rivals. And of course, there's also the appeal of being able to stack up pretty sizable wins during the free spins feature – if you're lucky enough to find your way into it in the first place!
TRENDING POSTS