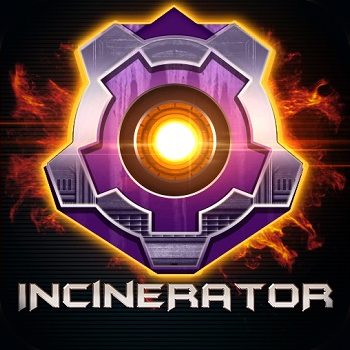 Game Features
Autoplay

Free Spins

Multiplayer

Bonus Rounds

Progressive

Mobile
More Information
Release date:

2016

Reels:

5

Paylines:

20 - 20

House edge:

4%

Slot volatility:

Medium

Coins range:

1 - 1
You simply have to love Yggdrasil Gaming for selecting a name that 99% of gamer still have no idea how to pronounce…or spell. But that's a tale for another day – right now we're taking a look at Incinerator. This unique 5-reel, fixed 20-pay line slot has an overall theme and vibe that are…well, let's say 'unusual' and leave it at that.
Basically, you're charged with the delightful job of throwing trash away into an incinerator, which of course has the potential to earn you money in the process. However, it's one of the more stubborn examples of a trash-burner on the market and refuses to comply, unless the items your throw in happen to be in specific sequences…as in winning lines/combinations.
When the lines or combos you hit result in the trash being sent to the fiery depths of wherever, this leaves space for more trash to then drop in and take its place. All of which paves the way for a world of potential combos, meaning occasional extra wins without even having to hit the spin button a second time.
Visually, it's genuinely captivating though rather difficult to describe at the same time. It's more a case of random shapes and objects than the kinds of symbols that actually represent anything you've ever come across. It's all a bit on the sci-fi side, but not to such an extent that non-sci-fi fans won't get a kick out of it too. Pay-lines are fixed, you can play from as little as 0.01 and compared to regular recycling at least, it's about as much fun as you're ever going to have with a stockpile of trash!
Payout & bonus rounds
Line up three (as the game calls them) spikey purple things or red cylinders to take home the lowest prize possible of 3X your wager. Slightly more valuable is the top-tier blue tyre, which will net you a cool 200X your bet if you manage to line up five of them. Unsurprisingly, the rather odd object that has 'Wild' written on the side of it is…yep, the wild symbol!
Before spinning, you'll see one of sixteen patterns appear at the side of the play area. If you hit any winning line followed by a pair of cascade wins one after the other, the pattern displayed takes over and becomes the pattern in the play area. If this means more winning lines, then good for you! This has the potential to trigger a delightful cascade, resulting in multiple wins one after the next.
On the whole, we couldn't help but like what these guys brought to the table with Yggdrasil Gaming. It's not exactly jammed with features and it could certainly do with a few more bonus rounds and whatnot. But at the same time, the overall approach to how it works is just different enough to almost set it apart in a different category, all of its own. It also looks and sounds the part in every way – we can see why the folks at Yggdrasil Gaming are so proud of it!