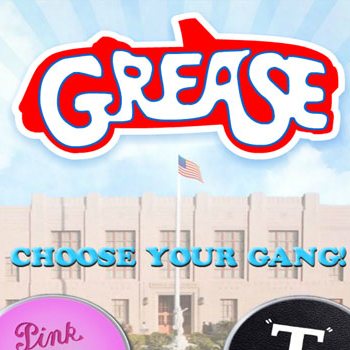 Game Features
Autoplay

Free Spins

Multiplayer

Bonus Rounds

Progressive

Mobile
More Information
Release date:

2012

Reels:

45

Paylines:

1 - 25

House edge:

3.8%

Slot volatility:

Low/Medium

Coins range:

1 - 1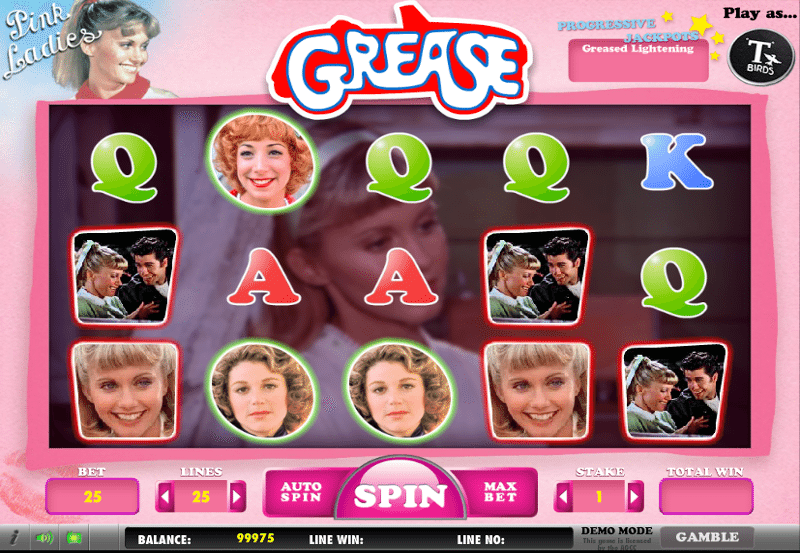 If you don't already know the storyline of Grease by now, we're not going to enlighten you. Suffice to say, the hit movie will soon be celebrating its 40th anniversary (how old do you feel now?) and yet it's still one of the most cherished and celebrated pieces of cheesy-musical movie history in the whole of history! Not that today's youth will probably find it all as cool as kids of the 70s, but never mind.
All the guys and gals from the movie are present and correct, though before getting started you'll need to decide if you want to play as Pink Lady or T-Bird. All the songs and soundbites from the movie also make their presence known – great for fans of the flick, ultimately quite annoying for those that have grown weary of it all. You get to choose the number of paylines active from 1 to 25, coin sizes range from 0.01 to 10.00 when you've decided on the one that you want (cringe…!) hit the button and go for it!
Payout & bonus rounds
There's a pretty epic 5,000X jackpot up for grabs by landing five Danny and Sandy symbols side by size. Right at the other end of the table, hitting two Pink Ladies or T-Bird symbols will see you win back your wager, which is slightly less of a thrill ride.
If you choose T-Bird mode, the first reel sees a flaming wild added while the fifth is joined by a lightning wild. Hit both of them at the same time in any position and you'll be whisked over to the T-Bird Bonus Round, where Danny takes part in a race to determine your prize.
Meanwhile, Pink Ladies mode adds a hairdryer wild to reel five and a wig to reel one. It all works the same way as mentioned above, though in the bonus round there are nine hidden symbols to choose from. You keep picking them until there are three matching symbols, at which time you'll be paid a cash prize.
Up to 25 free spins can be won by hitting three or more T-Bird symbols in T-Bird Mode, or Pink Ladies Symbols in Pink Ladies Mode…no big surprises there. Rydell High, T-Birds, Pink Ladies and Greased Lightning represent the FOUR progressive jackpots up for grabs, which can be awarded at any time randomly during play.
Pulling all the pieces together, gameplay-wise it's probably fair to say that Grease is one of the most enjoyable, feature-packed online slots you're ever likely to come across. But at the same time, unless you happen to be a fan of Grease itself, you might find the format as a whole more than a little on the cheesy side. Still, look beyond the superficial stuff and what you're left with is a truly great game.